Hurdling Barriers to Brazil
$2,075
of $7,000 goal
Raised by
34
people in 40 months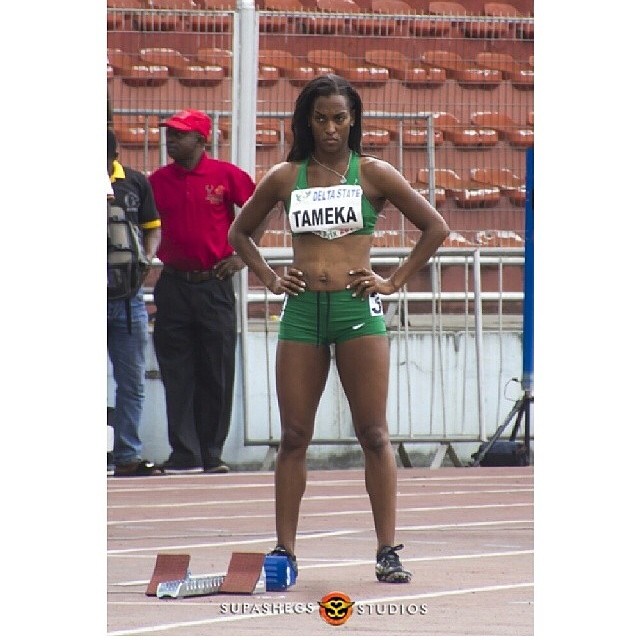 2014. Warri Grand Prix. Warri, Nigeria.

I have been given an opportunity to train at the World Athletics Center located in Phoenix, Arizona. While there, I plan to dedicate every day to becoming the best 400m hurdler in the world. For some, this mission seems far fetched, for me, I KNOW I can do it. I realize it wont be easy, but how I choose to tackle the challenges that lie ahead of me, will ultimately prepare me for the big stage.
I've had a vision since I was 12 years old that I would medal at a major championships. I was at home watching the 2000 Sydney Olympics, when I caught myself paying close attention to how some of the athletes were being introduced. I remember placing myself in their shoes; standing on the staring line, pacing from left to right, focusing on execution. I saw myself driving out of the blocks, running through each hurdle and "dipping" at the line. Taking that famous look up while I anxiously waited for my time to appear on the big screen. I had earned a medal, got to stand on the podium filled with joy that I had finally accomplish, what I didn't know then, to be a goal of mine now. Can you believe I had the nerve to put myself in the 400mH finals with the Olympians? I can. I guess fate is a real thing. A year later, I joined a Track team and my life took off from there.
In my 16 years of competing, I never took my eyes off the prize, dedicating every piece of me, experiencing races that would record career bests for me, and other times, dealing with injuries, but I never gave up. Yet the unexpected was to come. I had just finished my 3rd competition as a collegiate red-shirt, when I found out I was pregnant with my first child. From that day, my life would forever change.
I never understood the meaning of sacrifice until I became a mother. A year after giving birth to my daughter, I decided I would move to Arkansas to train as an elite 400m hurdler after a 2 year hiatus. One can gather, in the sport of Track and Field, average athletes do not make alot of money. I do this to teach my daughter to never second guess her visions. In pursuit of my dream and a better future, I had to leave behind the most important thing to me, Kamryn. I arrived in Fayetteville with $250 in my pocket, my first months rent that a friend donated to me, and my car full of my belongings. For the next 3 months, I struggled on a daily basis, but managed to achieve the basic life necessities: A roof over my head, Food/Water, and Clothing. I came home to a couple of blankets laid out on the floor, this was my bed. As far as food, I would meal prep on Sunday's that would last me all week. Some nights I would sit in the car and cry. One night I thought of committing suicide because I got to a point where I felt life wasn't worth all the sacrifices I was making, But most days I wanted to just throw in the towel, pack my few belongings and move back home. Yet, I kept reminding myself why I had made it as far as I had, because I do not give up. I was as focus as I had ever been. I was grateful to begin this journey in faith, knowing my current circumstances could not compare to the glory that would come.
After being away from competition for nearly 2 years and giving birth, I earned an opportunity to represent Nigeria's National Track and Field team. God was showing me his promises because my faith never wavered. In 2014 I went on to represent Team Nigeria as the 4x400m relay alternate at the World Indoor Championships held in Sopot, Poland. Although I did not run, I gained valuable experience and was introduced to the international side of  Indoor Track and Field.  
Outdoor was approaching and it was time for me to make my big debut in my respective event, the 400m Hurdles. I ran a season best of 57.73 to position myself as the #1 hurdler in Nigeria at that time. I competed in 4 different states before heading to Warri, Nigeria and then Calabar, Nigeria to compete in the African Champs and Commonwealth trials. Due to lack of resources because of financial issues, I was not able to compete at my best even when the races seemed to be in my favor. I ran the slowest time I had ever run in all of my years of competing in the 400m hurdles.  At that point, my ranking in the country was at stake.  Embarrased and discrouaged, I still managed to leave Nigeria feeling accomplished that I had made it that far.  Arriving back to Fayetteville, I knew it was time to shut it down, reunite with my daughter and relocate to Phoenix, Arizona. 
Up to date, my vision remains the same. I have just been accepted into Altis, formally known as the World Athletics Center. I am filled with joy about this opportunity and cannot wait to begin fall training in October. But. I can't do it without the help of my family and friends. All donations are accepted. I am forever grateful of you all's' support. I encourage everybody to continue to follow me on my journey to the top. After all, without God and my supporters, I wouldn't be able to do it alone! In the end, I just want somebody to look at my story and say "because of you I didn't give up on my goals and dreams." If they can say that, then God's work has truly been completed through me. That, is far more greater than any medal I could ever receive.
+ Read More
Be the first to leave a comment on this campaign.