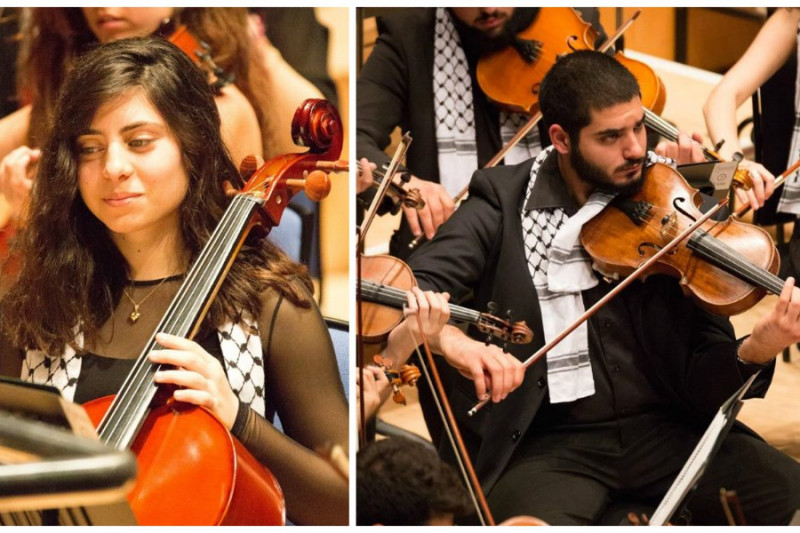 79
6
Help Tibah and Omar to Study Music!
£17,225
of £20,000 goal
Raised by
79
people in 17 months
Hello, my name is
Tibah Saad
, I am
18 years old
and I play the
cello
.
Omar
is my brother. He's  
21 years old
and he plays the
viola
.
We are Palestinians from Galilee, from Maghar village close to Nazareth. We have both been accepted to study music at the Royal Conservatoire of Scotland in Glasgow, starting this September 2017, but we really need your support to be able to make our dreams come true.
We have two more brothers, Mostafa and Gandhi. They play the violin, and together, we are the Galilee Quartet. We are also all part of the Palestine Youth Orchestra. 
Our music has taken us across the world and to many prestigious venues, including the Royal Albert Hall (London), Royal Concert Hall (Glasgow), Leeds Town Hall, Birmingham Town Hall, the Royal Festival Hall (London), Grand Theatre de Provence (Aix-en-Provence), the Royal Opera House in Muscat, and many others.
As Palestinian musicians, this has made us really proud, allowing us to represent our country and to share our music with people around the world, building bridges of trust across cultures and defeating stereotypes.
During our UK tour with the Palestine Youth Orchestra last year, we spent one week rehearsing at the Royal Conservatoire of Scotland, where we received training from some of the Conservatoire's world-class teachers. The musicians we met, the school, the city and the warm welcome we received from everyone in Scotland truly inspired and motivated us. We enjoyed some of the most fantastic experiences of our lives there. I still remember our cello class with Professor David Watkin and our quartet lesson with Professor Lev Atlas. From those experiences and many others, we knew that studying music at the Royal Conservatoire of Scotland would be the best choice for us.
We've been playing music for as long as we can remember; for us, music is not only a career choice but a way of existing. Music has transformed our lives and made us stronger, helping us to cope with all the challenges we face in our daily lives.
As a Palestinian Druze girl, my journey to become a professional musician hasn't always been easy. I am the only cellist in my village and, if I manage to study abroad, I will be one of the first girls from my society to be studying abroad. Music is not considered a serious profession and girls are not encouraged to pursue higher education. I want to change this perception, to inspire and encourage young girls to nurture their talent and pursue their dreams against all odds.
When I was 15 years old, my brother Omar went to prison for refusing military service in Israel. As a Palestinian Druze family with Israeli citizenship, young men are conscripted into the Israel Defense Forces. Omar wrote a letter to Israel's prime minister saying that 'My only weapon is music; I will not be the fuel to the fire of your war". 
Our parents raised us to be kind and respectful, and we don't take part in violence. Peace is our message, and we deliver it through our music. Music is our way of resistance. 
Now both us of us have this life-changing opportunity to pursue our dream of studying music and becoming professional musicians. This will allow us to grow as musicians and as human beings and in the future, allow us to pass our gained knowledge and experience on to the next generation of young Palestinians, giving back to our society and helping it grow.
Our family has been very supportive throughout this difficult journey, but supporting a family of four musicians is not easy. Their financial hardship does not allow them to afford the fees required for us to study in the UK.
The RCS has offered us partial scholarships of £7,500 for each ( out of 15,000 tuition for each )and during our last tour in England in June we raised £10,000. However, we still need
£10,000 each
to be able to cover the remaining tuition fees and the living costs for our first year. 
Please help us start our journey. We promise to bring our passion to the world, and use all of our abilities to make the world, and Palestine, more beautiful and happy.
Any contribution would help us get closer to our target. If you can't contribute, please consider sharing the campaign with your friends and family as this will make a huge difference. 
Our campaign is being supported by Palmusic UK, a UK charity supporting music education in Palestine and promoting collaboration and exchange between Palestine and the UK
www.palmusic.org.uk
Thank you!
Tibah and Omar
+ Read More
Update 1
15 months ago
Share
Dear all,

Thank you very very much for the enormous support you have given us! It has been truly amazing! We did not expect to receive this much support in such a short time and we are very grateful to all of you.
Hopefully, we will be in Glasgow by the end of next month. We will post updates about it soon, but for now, we still have a goal to reach and we're almost there! Let's share this campaign to reach it on time!

Lots of love from Tibah, Omar and the family.

+ Read More