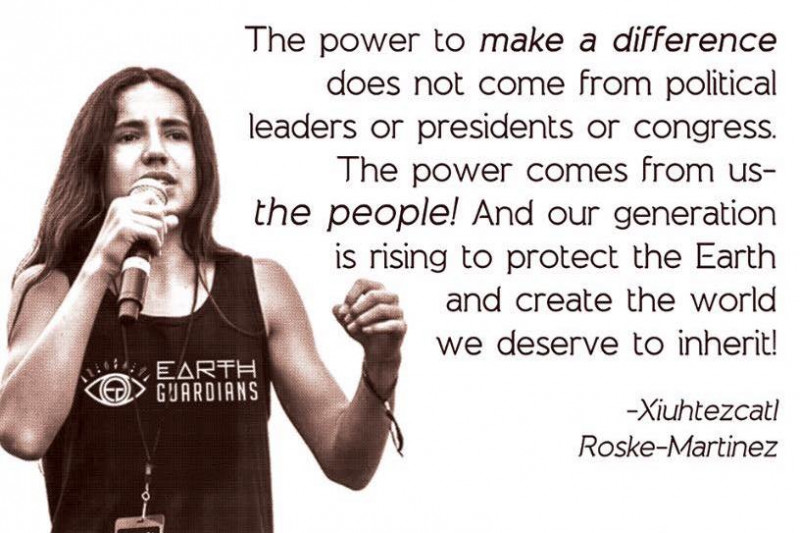 99
9
Support Youth Climate Activism
$9,580
of $50,000 goal
Raised by
125
people in 9 months
As we begin 2018 – Earth Guardians' resilient, multigenerational movement - with youth at the forefront - is turning the tide on the environmental and climate crises - AND, IT IS GROWING STRONGER EVERY DAY! 
By empowering youth as leaders and amplifying their impact, we are moving ideas and people, around the globe, into a real shift toward transformation. 

Young people come with their own inherent sense of justice.  And, Earth Guardians is listening to them… The result is a burgeoning wave of youth stepping forward and claiming their power.  But, these youth can't do it alone - they need mentorship, resources and support. And, that is the work of Earth Guardians. 




We have been running this organization on a proverbial shoestring for a long time - we cannot grow this movement without you!  Thanks to a very generous donor, all gifts up to $55,000 will be matched, so you can double your impact by making a donation now. We at Earth Guardians are clear that assisting youth in their efforts to drive change, in their own wise ways, is the path to true transformation.  So, we are scaling our work dramatically, in order to support thousands of Earth Guardians, in more than 40 countries, and across the U.S.  We are working to keep up with the wave of young people, along with their families, and their teachers & schools, who are stepping up to lead, to carry us through the storm.



With your support, Earth Guardians will provide more youth, in more nations and geographic locations, with mentorship, resources, support, and a social media-like platform that will build community, expand their work, and provide the critical tools necessary for transformative action.  

With the US Government rolling back decades of environmental protections of air, water, and indigenous land, and with these roll-backs threatening to make climate change acceleration even more catastrophic – the work of Earth Guardians is in demand and we need you to join us!

Please give what you can to help youth save the planet for future generations.  Your gift will be doubled!

A Message From Our Youth Director:

Earth Guardians are Worldwide! This map will be updated soon with hundreds of new Crews!

+ Read More
Update 2
7 months ago
Share
Here is a message from a donor. We are so grateful to have this kind of support - a very fine example of doing what one can!
"You and your work are absolutely magnificent! You are an example to all of us - to the world! Thank you for your 'head, heart and soul' efforts to restore and protect this wondrous planet with all its life we have been given."
+ Read More
Update 1
8 months ago
Share
We've broken through the first $1K! Help us keep the momentum going!
+ Read More
Read a Previous Update