Support #21forMaren
$15,000
of $21,000 goal
Raised by
450
people in 6 months

Our Purpose
August 26, 2018, marks the 21st birthday of Maren Victoria Sanchez.
We are asking you to donate $21 to help us put the building blocks in place for the Maren Sanchez Girls Camp – a wonderful, magical camp where girls and young women from anywhere can attend. They'll learn life-changing skills. Resilience. Self-defense. Compassion. Skills that will teach them to be leaders and save lives.
Lives like Maren's.
#21forMaren
Our Story
Maren was a smart, beautiful and creative soul whose energy promised to change the world.
She was a beacon in the community. A lover of music. A uniter of people. A popular and caring influence.
Her life was taken from us far too early at just 16 years old. She was the victim of a violent attack while in her school. What was supposed to be a safe place turned into a source of brutality and cruelty.
Now, through the Maren Sanchez Home Foundation, Maren's energy lives on stronger than ever. It touches more people than ever. And we are using that energy to change the world.
We educate young women and parents about topics like bullying, manipulation, and assault. We train people to be life savers, and not bystanders. In other words, we EMPOWER. We empower families so they don't have to endure the loss and pain of Maren's family. We empower people to take situations that are brutal and cruel, and turn them back into safe places.
Our Camp

The Maren Sanchez Home Foundation has a vision for inspiring, empowering camps. Girls and young women from anywhere in the world can attend. Just like Maren, they learn how to be confident, empowered action takers. They learn how to support and nurture people of all shapes, sizes, interests, and ethnicities. They learn to see potential in people, and how to harness it.
In our vision, the camp also teaches them the truth about risks. They learn how to look for, avoid, and take action around bullying, manipulation, assault, and intimidation. They take our Her-Self Defense class (pictured above), which is already a proven success and empowered many young women.
We see a future where girls and young women leave our camp and take their empowerment, self-confidence, and knowledge home to communities around the globe. They help educate and empower others in their families, schools, sports, teams, and playgrounds. And we help shape a global movement to safeguard our young people and give power to positivity.
Our Goal

Our goal is to raise $21,000 from August 1 through August 26. We need only $21 from only 1,000 people! These funds will help us create the foundation of our camp. Draft a concrete plan, scout and secure locations, purchase equipment, and more. All those important building blocks.
On August 26, we will have a small celebration event in Connecticut in honor of Maren and achieving our fundraising goal. All donors are welcome to attend the event. An update will be posted with more details prior to August 26.
What You Can Do Today

There are a few easy, clear action steps you can take right now.
1. Join our cause and support our work with just $21 right now.  Help us create this magical camp.
2. Share this campaign on social media. Use the hashtag #21forMaren.
3. Talk to people about this campaign. Tell people who knew Maren. Tell parents who want to educate and safeguard girls and young women.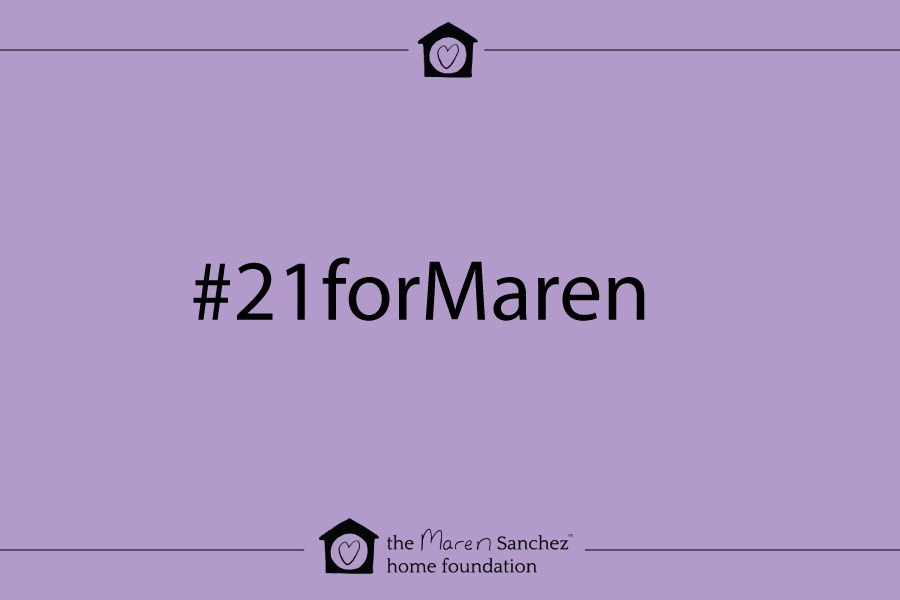 + Read More