STARFIRE ACADEMY
$11,779
of $111,111 goal
Raised by
297
people in 44 months
                
"THE TIME SHIFT EFFECT"
A Starfire Academy Book
                            
My name is Starfire Tor. Welcome to my "Starfire Academy" fundraiser, which includes my groundbreaking Core Matrix research and my future book "The Time Shift Effect". I am the person who discovered Time Shifts, Time Line Edits, The Core Matrix, Co-Existing Time Lines, the workings of Time Travel, the true origin of the Universe, the Dark Matter Aberration - the source of all evil, and the Unified Field Theory of Psi - the foundation science that explains everything paranormal and psychic. All of these discoveries are connected, and together they comprise the Holy Grail of hidden and forbidden knowledge.

Many of you have listened to my interviews on radio, watched me on TV, read my many reports and articles, enjoyed the unique information on my website, and followed me on social media. Your positive response, to my discoveries and research, has been fantastic and uplifting. But what I have shared with you, to date, is only the tip of the iceberg of what I know. My "The Time Shift Effect" book will contain all of the knowledge and life enhancing information that you have been waiting for.

Go here to learn about the basics of my ground breaking Core Matrix discoveries:
This Book Is From The Future: A Journey Through Portals, Relativity, Wormholes, and Other Adventures In Time Travel 

Go here to read an excerpt from my upcoming book:
The Core Matrix: The Holy Grail Of Hidden and Forbidden Secrets

Go here to learn more about my groundbreaking research: Starfire Tor Interview with Whitley Strieber on Dreamland June 22, 2018  or any of my interviews.

Go here to learn about my documented ability to do weather modification using my unique Reality Shift Manifestation protocols:  Operation Lower Southern California Heat Wave Temperatures 

Go here to learn about my documented abilities to psi-see future events: Starfire Tor Future Event Precognitions

Go here to learn about Starfire Academy 

Donating on gofundme is safe and easy to do. Donations are currently accepted from Australia, Austria, Belgium, Canada, Denmark, Finland, France, Germany, Ireland, Italy, Luxembourg, Netherlands, Norway, Portugal, Spain, Sweden, Switzerland, the United Kingdom, and the United States. Just click the "Donate Now" button. No donation is too small or too big. You can even do more to help, by actively raising money for the fundraiser through your own social media networking.

Below, you will find a list of the intriguing and unique topics to be found in my upcoming  book "The Time Shift Effect". These topics, and more, will be taught through my future "Starfire Academy".

ABOUT MY BOOK "THE TIME SHIFT EFFECT"

I have been sharing, some of my unique reality shattering knowledge, with the public for years. But this sharing has only been the tip of the iceberg, of what I know and what I can teach. These hidden and forbidden secrets are at the core of who we are, why we are, and how we function within this covert system of multiple co-existing time lines. Besides, going deeper into an understanding of my discoveries and research, my book "THE TIME SHIFT EFFECT" will also reveal documented information that I have never before disclosed to the public. This includes research documents, photographs, testimonials, and my own personal experiences. The ground breaking knowledge, that I discovered, can enhance and empower your life in ways that are unique, awe inspiring, and genuinely helpful. Just imagine, having all of my revolutionary knowledge in your hands and in one place.

Even though, the main title of my book is "THE TIME SHIFT EFFECT", the more descriptive and complete title is found in the poster that follows:



As you can see, by the intriguing range of subject matter, my discoveries are more than just unique. They are revolutionary. I discovered the Holy Grail of secrets, so hidden and forbidden, that their existence wasn't even suspected until I stumbled upon the truth. At the time, I was searching for the science that explained the mechanism of authentic paranormal and psychic activity. I eventually did discover that science, which I call "The Unified Field Theory Of Psi". But it is what I found, on the way to solving the paranormal and psychic mystery, that led me to the discovery of all time. I discovered the true nature of reality, as well as our true origins - and so much more. Once I had the key, to this hidden knowledge, I dedicated myself to learning everything that I could about it. I'm still learning, and bringing the world along for the ride.

Some of you have been following my work for years, while others of you are new to my work. I am a scientist, researcher, scholar, teacher, futurist, visionary, and paranormal experiencer. I am also known for my many psi based abilities, including my documented precognition ability to accurately psi-see future events. I have researched and written many published articles and reports, and I have a long time presence on social media. I have made many TV and radio appearances, as well as occasionally appearing at live lectures and conferences., My discoveries and research have been either featured or noted in a number of books, films, television shows, and media sites.

A good way, to learn more about my work, is to visit my Starfire Tor website . Despite what was damaged and lost, it is still filled with unique, exciting, and relevant material related to "The Time Shift Effect". My daily reports can be read on my public Facebook page, my personal Facebook page, and my Twitter page .

Here are some of my many pioneering discoveries, all of which will be in my book "The Time Shift Effect":

• The world you think you live in is not what it seems to be. It is really a perceptual illusion, put in place by an assimilation program that sources from the Core Matrix. This program, both protects us and keeps us from learning about the true nature of reality and the true nature of our existence.

• We live in a Universe, that has been resurrected and reconstructed, from an original Universe that was pulled into and destroyed by a supermassive rotating black hole billions of years ago.

• The new Universe, was made possible, because remnants from the original Universe were captured by the rotating ergosphere surrounding the supermassive rotating  black hole that destroyed the original Universe. Within the ergosphere, these original cosmic remnants were nurtured back into a structured existence by the Core Matrix and Spark Of Life [SOL] energy. The Core Matrix still exists within this ergosphere.

• We do not live in a single time line. We simultaneously exist in multiple time lines, all of which are real and physical. I call them co-existing time lines. They are not holograms, and neither are we.

• We physically exist, in each and every co-existing time line in which we are alive. Although not consciously aware of it, we interface with all versions of ourselves in all co-existing time lines in which we are alive.

• All co-existing time lines share the same space, and are separated only by their individual frequencies. This is why there are no parallel time lines. There are only co-existing time lines.

• All co-existing time lines stream from The Core Matrix, which is likened to a hard drive like dark matter system that stores and streams our many co-existing time lines. The Core Matrix sources from the ergosphere of a mega black hole.

• There are many other Universes, but they exist in a Core Matrix driven system separate from our Core Matrix driven system.

• The Core Matrix, and the supermassive rotating ergosphere in which it resides, exist in a dimension separate from the co-existing time lines that it streams and edits. Likewise, the supermassive rotating black hole, that destroyed our original universe - and to which the ergosphere is still attached, also exists in a dimension separate from our co-existing time lines. This protects, the black hole and its ergosphere, from the effects of time line edits.

• Time, itself, does not always flow from the past to the present and into the future. It shifts, according to the co-existing time line edits that it receives.

• Our brains interface with The Core Matrix, and its many co-existing time lines and cosmic elements. This interface is the gateway to all available knowledge. The interface facilitates all psychic experiences, including precognition and extra sensory perception, as well as being the explanation of why and how we dream.

• The Sun's energy, particularly Earth directed energy in the form of solar flares, coronal mass ejections, solar winds, and magnetic filament lift offs can trigger a co-existing time line altering event called a Time Shift.

• The Core Matrix, utilizes Time Shift events and time line edits, to alter some of the elements in the current dominant co-existing time line. In turn, co-existing time line edits lead to the creation of new but short lived dominant co-existing time lines. All versions, of all past co-existing time lines, are permanently retired but continue to stream.

• The Core Matrix has a program called The Prime Directive. Its purpose is to locate any event, in any co-existing time line, that will or has caused a natural or unnatural planet ending event. Upon detection, The Core Matrix will reboot the affected co-existing time line, after editing out the planet ending event.

• Time Shift, time line edits, and co-existing time line edit activity can leave what I call traceable Time Shift markers. Time Shift markers can be personal and/or global in nature.

• All authentic paranormal activity is caused by glitches in The Core Matrix system, with some events being caused by a dangerous negative energy that I call a dark matter aberration.

• No force on Earth, whether human or otherwise, can cause or control a Time Shift or co-existing time line edit. Neither can a human, or any other living entity, choose which co-existing time line to exist in. We all consciously live in the dominant co-existing time line of the moment, as chosen and controlled by The Core Matrix.

• The Core Matrix-brain interface allows a person to naturally engage in various forms of what I call Reality Shift Manifestation. This allows a person, to manipulate elements within their localized co-existing time line. A Reality Shift Manifestation cannot cause a Time Shift, cannot create a co-existing time line edit, and cannot create a new dominant co- existing time line.

• All elements, comprising all stored and streamed co-existing time lines, is held together by a cosmic glue and element organizer called dark matter.

• The dark matter aberration [DMA] is a deviant form of dark matter. Although it still functions as dark matter, it has its own SOL triggered extra agenda that makes it the source of all evil.

• I developed a system, based on my unique understanding of The Core Matrix-brain interface, that can help people launch – at will - their own specialized Reality Shift Manifestations. This includes Reality Shift Healing.

• Time travel is real, including physical time travel and time travel that exists through The Core Matrix-brain interface.

• The hidden science, that I discovered, has led to the solving of many Earth mysteries and cosmic enigmas.

• In order to tell you, about my discoveries and research, I will have to tell you some of my own story as well, including some of my many documented and proven precognition events.

Enjoy the photos that follow. They are from some of my investigations, TV shows, lectures, music video, and more.

Love, Blessings, and Many Thanks,
Starfire Tor
Starfire Tor Website
Starfire Tor on Facebook [original site] 
Starfire Tor on Facebook [fan site] 
Starfire Tor on Twitter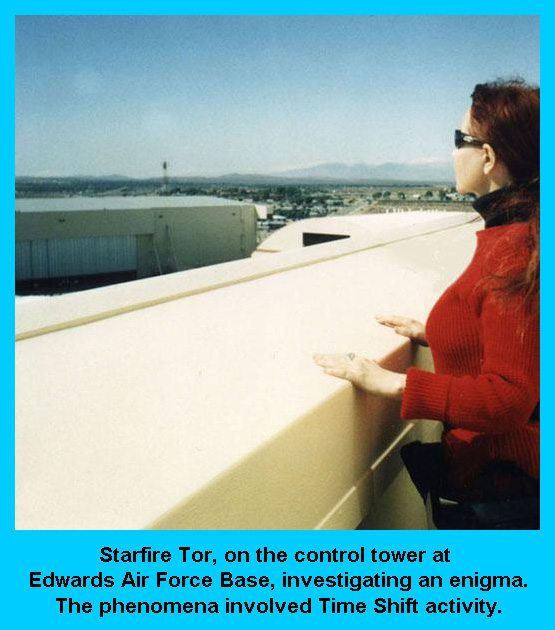 + Read More
Starfire, I donated to help you. In 2008 I had a major brain bleed while camping in the Sierra far from medical help. By the grace of God I made it to a good hospital in time for my life to be saved. I am a life long migraineur and what happened to you sounds like a TIA/severe migraine where your blood pressure shoots up, vessels in the brain dialate and contract, causing speech and vision disturbances and can mimic a stroke. I was told by several neurologists that this can be a precursor for stroke (as it was in my case). I was given IV lisinopril/lalbetolol in the hospital during my coma of 5 days. Later I developed an intolerance to lisinopril. It started with a cough, which was a sign that it was dissolving my kidneys and the pieces were moving into my lungs. Sound familiar? I now take topamax to control seizures and migraines and it helps, but I still suffer from face blindness (as does Anne Strieber) and my seizures take the form of peoples' faces taking on the form of monsters and animals. Good to be alive though! God bless you and your work, and prayers for your complete recovery.
+ Read More
hope & pray it's all sorted out very soon !
+ Read More