S.A.M.E. 1535Y Goes to VEX Worlds!
$1,895
of $1,500 goal
Raised by
12
people in 14 months
Team S.A.M.E. 1535Y
was formed in the Fall of 2015. The first year robotics team consists of Ava Reisinger, Morgan Zieglmeier and Emma Leighton. Ava & Emma are 6th Graders that attend St. Katharine Drexel and Morgan Zieglmeier is a 5th Grader that attends Westwood Elementary in St. Cloud.
The 2015-2016 VEX Robotics Challenge,
Nothing But Net,
is a fast paced game in which the object is to score as many points as possible in high and low goals and also with the elevation of robots in the climbing zone.
With the funds raised from this donation page, the team will help pay the hefty registration fee ($850)  to compete in the 
VEX Worlds Middle School Championship 2016
.
Any additional funds raised will go towards transportation & lodging for the team members and their families during the 4-day Tournament in Louisville, Kentucky, April 20-23. Any support or donation to the team is sincerely appreciated.
This is a wonderful opportunity for these young students to experience.  The entire team worked so hard all season long and deserve this. Many hours of robot building, collaborating and learning how to drive the bot were done during the week in the evenings after other extracurricular activities and on some weekends to prepare for each tournament.  We are all so proud of their achievements and dedication!                     
         Team S.A.M.E. 1535Y                                 2015 Competitions
9/24 - 12/10 - St. Cloud - SCTCC League Play
-
S.A.M.E. ranked #7 out of 24 teams. The team went to the Semi-Finals round and won their first award, a Judges Award.
11/21 - Albany, MN - Imagine! Create! Succeed!
-
S.A.M.E. ranked #9 out of 27 Teams. The team made it to the Semi-Finals.
12/12 - Granite City VEX Tournament
-
S.A.M.E. ranked #9  out of 38 teams. Again, the team got to the Semi-Final rounds.
12/19  - Metro MN VEX Robotics Tournament
-
S.A.M.E. ranked #16 out of 48 teams. Received the Middle School Highest Score Award and the Judges Award. The team made it to the Quarter-Final rounds.                               
Team S.A.M.E. 1535Y
                                  2016 Competitions
1/2 - Foley Falcons Robotics Tournament
-
S.A.M.E. ranked #5 out of 22 teams. The team made it to Semi-Finals again.
1/9 - Northwest Minnesota VEX Robotics Tournament in Thief River Falls
- S.A.M.E. ranked #7 out of 39 teams.  The team went all the way to the finals and were named Tournament Champions!  At this time, the team qualified for the Minnesota State Competition.  The team received the Tournament Champion Award and Judges Award.
1/29 -1/30 Minnesota State VEX Robotics Tournament - St. Cloud
-
S.A.M.E. ranked #10 out of 70 teams.
The team was chosen as an alliance and made it to the Quarter-Finals rounds against some tough High School teams.
Team S.A.M.E. did not go home empty handed though, the team received the Middle School Excellence Award which qualifies them for the Worlds Competition in Louisville, Kentucky in April!
  First-year team S.A.M.E. is Kentucky bound mid April!
*Click here to see the video of Team S.A.M.E. receiving the Excellence Award*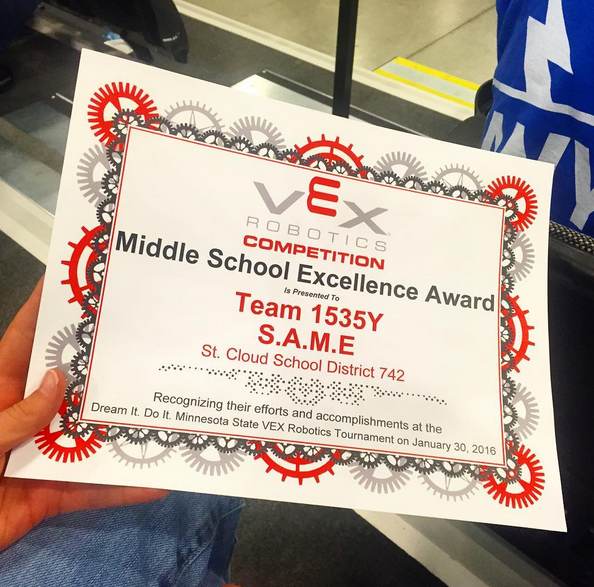 + Read More
Be the first to leave a comment on this campaign.