Roll Tide Phyllis from Mulga
$67,542
of $70,000 goal
Raised by
1,070
people in 31 months
She is perhaps the most famous fan in college football.  Alabama's biggest fan and famous caller to the leading radio show in college football "Phyllis from Mulga" needs our help.  

Even if you're not a college football fan, there's a good chance you've heard her rants on the mothership... She was even profiled in the New York Times. 

Phyllis has been a loyal and devoted fan for over 50 years, and for her it's personal.  While casual listeners may think she's just an overly passionate fan, Alabama football made a real difference in her life.  Many of us don't know the backstory of Phyllis' passion for 'Bama, but another caller into the show composed a blog that shed a lot of insight into her devotion..   Phyllis' story, as told by a fellow caller and author Celina Summers.. 

When her son was born with oxygen deprivation, the trauma caused neurological damage, causing him to be teased at school.  When he came home and told his mom he didn't want to live, Phyllis knew that her son needed a hero, and looked to Alabama Coach Gene Stallings for help.  Coach Stallings not only sent her son a signed poster but requested to meet her and her son.   They remained close and Coach wrote her son many letters over the years. He gave her son the hero he so desparately needed, and she has been grateful ever since.  So when you hear her passion thundering through on the radio, now you can understand why Alabama means so much to her. 

One of the great things about sports is how it can connect people from all walks of life, and this is now easier than ever with Twitter and the internet.  Many callers into the radio show have their own Twitter accounts, and while I've yet to call in to the show, I listen almost every day.  I've always enjoyed Rich from Atlanta's calls as he poses thoughtful and insightful calls.  I had tweeted the show asking if he was on Twitter, and they put my tweet on TV.  Within a day or two, Rich and I had connected on Twitter and we met in person when he was in Boston for business.  When I walked up, he was just hanging up a phone call with Phyllis and I had told him how much I liked her especially after reading Celina's blog about her backstory.  We tried to call her back but got her machine.  

Now, Phyllis needs the help of the college football family.  Her husband has been diagnosed with inoperable brain cancer and sadly is on borrowed time.  We don't have any additional details as to how long that could be, but Rich, world famous Johnny from Cullman (heard throughout Northern Alabama on Cole Cubelic and Tide 99.1 in Tuscaloosa) and I have put ourselves into a call for action to raise funds for Phyllis to ensure she can properly care for her husband as he enters the final stage of his life.  

Alabama football was there for Phyllis and her family many years ago, and I know that now is a time that the entire college football family can come together for her once more.  Johnny from Cullman said "she's one of the sweetest, kindest and loving people you'll ever meet.  Ever." Let's help her in her time of need.

All funds will go directly to Phyllis, she is aware that we are creating this page for her and I know she will be grateful for everyone's help.  No donation is too small, her family is of modest means and every little bit will help.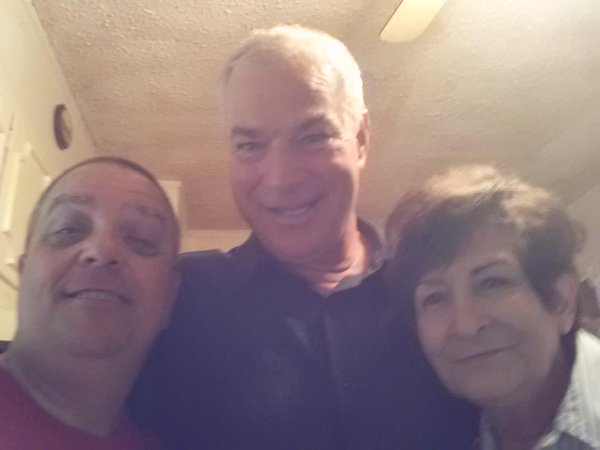 Members of the Finebaum Family with Phyllis.
(Pictured from left:  Johnny from Cullman, Rich from Atlanta, and our beloved from Phyllis from Mulga)

Well wishes can also be sent to her on  twitter  to @PerkinsPhyllis and use the hashtag #RollTidePhyllis

Additional updates:
So many great stories have come out. 
Carol Robinson's article on AI.com that generated so much awareness to the fundraiser and Phyllis' story

Ben Flanagan on AI.com  recapped when Phyllis called into the Paul Finebaum show to say thank you to everyone for their support and prayers. For the video of the call, click here. 

Finebaum caller and author Celina Summers has posted another blog, this time detailing a time when Phyllis saved a bird that was left to die by it's owner and nursed it back to health. It's a very moving story that shows just how kind Phyllis is!

**NEW 1/24/2016**
Here is the link to the piece that has run on ESPN and SEC Now.  It should also air again on College Football Live on Monday 1/25 at 2:00 and re-air on ESPN U at 5:30 (EST).  We're so grateful for the wonderful job ESPN did in producing the piece to increase awareness. 





+ Read More