62
10
K1 Speed's Rally for Rob Amick
$21,060
of $50,000 goal
Raised by
64
people in 10 months
Meet Rob Amick. Rob is a loving husband and father of twin boys who is an avid runner, big Porsche fan, member of the local
R Gruppe
  SoCal chapter and one of those rare all-around nice guys who everyone loves to be around. Unfortunately, Rob also has just endured a terrible snowball of bad luck and needs our help.                                                             
              Background
            A while back, Rob had pain in his right hand, so he got it checked out. His doctor said It looked more like carpal tunnel but told Rob if it gets worse to let him know.  Time passed, but the pain did not go away. He visited another doctor who had diagnosed the problem as
Dupuytren's contracture
 , though his fingers were more stuck out, rather than stuck in. Before Rob attempted an operation for this diagnosis, he decided to get one more opinion – this time from a hand specialist team with over 50 years of experience.
They were baffled.
The specialists saw what looked like carpal tunnel, and maybe some Depuytren's disease as well, but thought there was a possible third culprit. The idea was to go in for surgery for the apparent carpal tunnel, and while operating, take a closer look at what the other problem could be.
The procedure was to take only three hours to complete, but it took six. Doctors informed Rob he'd receive a call with an answer the following morning as to what they found. The next morning, he was told he had an infectious disease that required antibiotic treatments every day of the year for up to two years.
Three weeks later, after doctors finished some additional tests, Rob was given a new diagnosis – cancer.
Rob was diagnosed with a rare form of soft-tissue cancer called
epithelioid sarcoma
. It appeared to only reside in the right hand and wrist, but this would mean that the hand and a portion of his forearm would need to be amputated.
"It could be worse," thought Rob. "It's only my hand and part of my forearm." 
Photo: Rob showing off his sense of humor despite the recent amputation and subsequent battles. 
But unfortunately, Rob was to be hit by another bit of bad news –
the cancer had spread
. Pea-sized lumps of cancers had been detected in his armpit and another two had been found on his lungs. A full attack of chemotherapy was now on the cards, with pills costing $15,000 a month. But again, Rob didn't let this get to him – at least he had insurance to help take care of the bills.
Rob's been making the hours-long commute from his residence in Palm Desert to UCLA Medical Center, one of few places that treat the rare sarcoma.
Yet, Rob turns it into a positive. "I make a day of it," he says.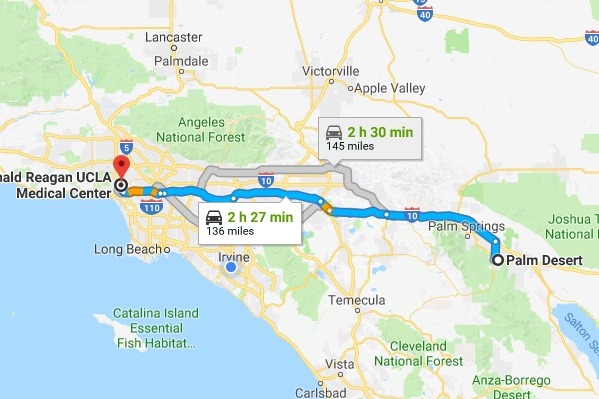 Late February added perhaps the most difficult challenge for Rob. After 90 days of being away from work on disability due to his battle, he received a letter in the mail. His wife opened it, and Rob noticed the blood drain from her face – it was his termination notice. His income and insurance were to suddenly disappear just when he needed it most.
Despite his struggle, Rob has maintained a positive upbeat attitude throughout. "Just a bump in the road," says Rob. "I'm lucky. It could be a lot worse…I've got an amazing family and group of friends – everyone has been so nice and supportive."
As usual, Rob is still not thinking of himself, but rather thinking of ways he can help others as well.
"People have helped me, and I want to help people who don't have that support. I can't imagine what it'd be like to go through this alone. It'd be devastating."
Prior to his cancer diagnosis, he was always one to give and never expect anything in return, and he's continued this admirable quality (even this fundraiser was set up without his asking - but he's over the moon it's taking place).
He has also maintained his optimism and upbeat personality despite the obstacles that have been hurtled towards him over the last several months.
Photo: Rob with his 11-year-old twin sons. 
Here's How You Can Help As a result of not having insurance and a steady income, Rob's medical bills and other related expenses are considerably stacking up.
 Rob's also hoping to attend physical therapy and to obtain a prosthetic arm and hand – both of which aren't cheap and aren't guaranteed coverage, even if Rob does obtain insurance in the future.
K1 Speed is hosting a fundraiser event for Rob at their location in Torrance, California  on April 21st, from 9am-11am PST
before the location opens to the general public. Proceeds from any race during this time will be kindly donated to Rob's cause.
The time and date is also appropriately set in between the events of Luftgekuhlt – there's a
VIP event at the Petersen Automotive Museum
  on Friday, April 20th, and the
fifth installment of Luftgekuhlt
  will take place in Torrance on Sunday, April 22.  
If you can't make it to the event, wanted to donate more, or continue to help Rob after the event - this GoFundMe page is your place to donate!                                                                            
Thank You

Let's make this fundraiser one to remember – so come on out and enjoy some karting for a great cause, donate some money on this page, and
let's all get together to Rally for Rob!
Photo: Rob (left) with friends Chad McQueen (right) and artist Andreas Somogyi (center) during a recent R Gruppe event at Thermal Club 
+ Read More
Wow, you've all collectively given Rob over $10k so far! Thank you so much to every supporter!

Our Rally For Rob event was a huge success, and we were able to raise over $2K through karting! Thank you so much to everybody who came!

Though the event has come and gone, this page will continue to serve as a dedicated spot for you to leave donations for Rob.
+ Read More
Update 1
Posted by K1 Speed
9 months ago
Share
BIG THANKS to all of our donors so far! We hope to see many of you at our Torrance location on Saturday morning for a great day of cars, coffee, and karting to support Rob!
+ Read More
Read a Previous Update