ResistAIM Resilience and Resistance
$19,937
of $12,500 goal
Raised by
317
people in 30 months
ATTENTION: Friday, December 9 at 4 pm:

Last night, 12 water protectors were arrested stopping Spectra's pipeline pull across the Hudson River. 

We need jail support right now at the Westchester County Jail. Address:
Penitentiary Service Road
Valhalla, NY 10595

We have folks who were on jail support until 4am this morning and were back at it at 8am to start arranging bail for those arrested during last night's action. The protectors are being held at the jail while we arrange bail for them.

We've got really exhausted folks and need fresh bodies to help organize.

If you are willing to put up the entire bail and adopt-a-comrade ($5000 or some significant portion thereof) reach out to us directly:
resistaim@gmail.com
DO NOT USE GOFUNDME FOR MONEY YOU WANT RETURNED, we do not have the capacity to handle that.

THANK YOU!!!

Sincerely, 
ResistSPECTRA

PREVIOUS: 
Our Campaign supporting Resilient Resisters, those who put their lives literally on the AIM pipeline and were arrested, is 2/3rds funded since we began in May! 
Here's what we've been able to pay for:
$3000 toward our renown attorney Marty Stolar;
$1500 toward our local Peekskill attorney Colin Smith (attorney Dave Wright in Peekskill has donated his services); 
$1250 toward the Verplanck 11; 
$1680 toward the Peekskill 21;
... and there's approaching consensus to give Marty Stolar more compensation for his efforts on our necessity defense. 

We still have almost $1000 in container fees and costs to determine its fate. 

As you may be able to see and count, this does not leave much for the court fees of the Montrose 9!

Any contribution you can make would be solely and deeply appreciated. Thank you for joining us in this coordinated effort to #StopSpectra !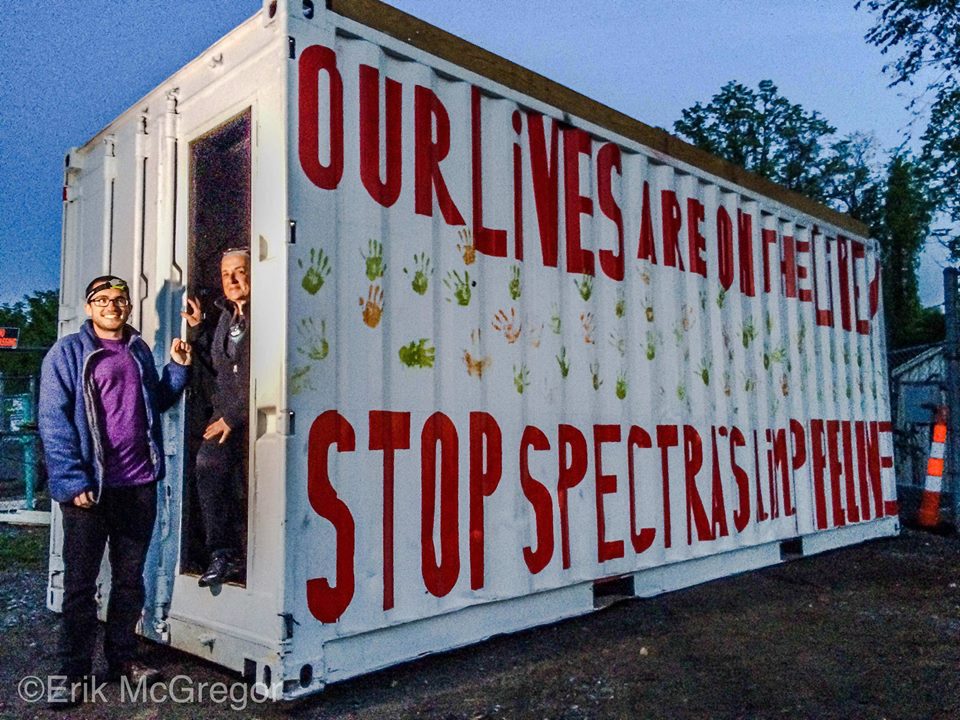 VIDEO worth millions of words
- SATURDAY, May 21:
 Hundreds marched and demonstrated resilience with non-violent direct action on the AIM pipeline in Peekskill, with
21 arrests in the community
 that stopped Spectra work.
- MONDAY, May 23:
With our building pressure,
U.S. Senators Charles Schumer and Kristen Gillibrand publicly called for Spectra to stop work.
They join New York Governor Cuomo and the N.Y.S. D.E.C. in asking Spectra to stop work while an independent health and safety risk assesment is completed. 
- WEDNESDAY, MAY 25:
In a symbol of resilience and resistance, 
two ResistAIM-ers people courageously locked themselves into a renewable-energy powered, 20-ft recycled shipping-container home at the work site, directly on the AIM pipeline route.


We need your support now. 


Your donation will be used immediately for court support, renewable prop building, web site growth, targeted outreach and more of the strategies and actions, the resilience and resistance spirit building, that will allow us to #StopSpectra. 


We are so grateful and will keep you updated with news.
+ Read More
Be the first to leave a comment on this campaign.