Rebuilding SlowMoneyFarm
$635
of $950 goal
Raised by
13
people in 20 months
We are a microfarm in a small Alabama town. On the afternoon of June 8, 2015, SlowMoneyFarm sustained heavy damage from a sudden storm. Straight line winds, heavy rain and a fast moving system blew down sticks and limbs at 'the office' where we were tending to birds when it hit.
Within minutes, our summer, and life, changed. One tree blew down on the mobile, landing in the living room and kitchen. It took limbs from two other trees and uprooted the original chicken hoop. It went through the home and covered the front pen. A second tree came down and lodged in another tree, uprooting another pen. When it went down completely days later it uprooted fencing to all pens remaining.
With the initial minutes ticking, two dogs were missing. Taffy normally slept on a chair which was now under the tree. Bella was in a wire crate near the kitchen. When the rain stopped and limbs stopped falling we were without a home, power, phone and internet. We had immediate help with a community of awesome people helping us remove limbs to assess the damage and search, we feared, in vain for Taffy and Bella's bodies.
Miraculously, Taffy and Bella walked from the rubble unharmed when found. Our macaw was trapped inside for a few days - we could tend to her but not get her out due to trees/limbs blocking her in. Stress following the storms has resulted in losing some animals, but none were lost in the initial storm.
Command regroup as been at 'the Office" where much will be needed. We have been working on recovery of personal items, day to day suvival and regrouping to see what is needed. Much has been lost - winter seems far away but is so much to do cleaning up, rebuilding, reusing, salvaging what we can and it's going to be here far too quickly. One suggestion was to start a page to donate here.
We need help. We need repairs to make the kitchen at the Office (which was an extra storage area) functional. We need wiring - all small appliances and many daily use items are gone. Many things are $40-60 but when there are many it adds up.
We are so very thankful for neighbors who brought us meals or brought chainsaws that were critical in finding Taffy and Bella alive. We are thankful to have friends and family to be there in the toughest of times with immediate needs at an overwhelming time. We need to replace household items, construct shelters and pens and so much more unseen.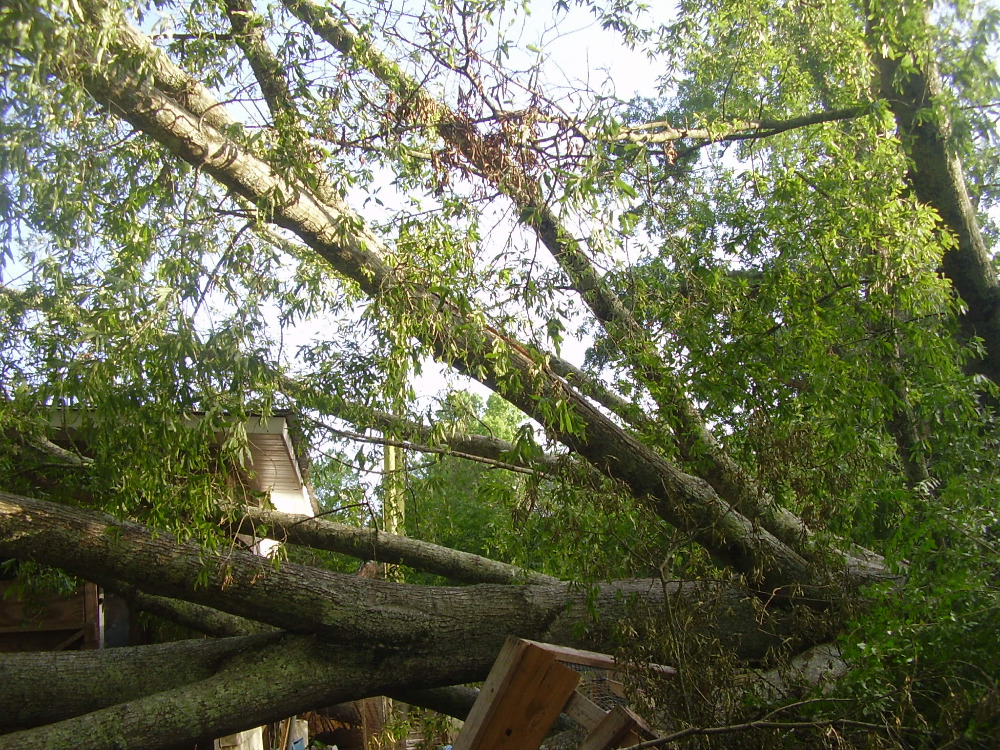 We will survive this. We will rebuild. While we need our peppers and other things to grow, we need to prepare ourselves and our animals for next year. We are asking for help from those who believe in small farms, heirlooms, rare breeds and microfarms. We are asking for help despite it being an unpleasant thing to do, in order to be able to help others again.
Immediate needs are many - a focus here is:
Wiring
- unsafe at present - materials only $300
water system
- gutters, tanks. $420
Fencing
- $440
A rabbit hoop is in progress. Chain link kennels were provided to get some of our birds, all turned loose in the storm, contained. A chicken hoop and portable arks are in progress of being built - only so many hours in the days!
It won't be long before winter - better sheds and housing for the animals will be needed.  Extra funds will go to that. A barn has been priced at $3,600 for the shell. We have to start somewhere and power, water and basic things is that start. 
Thank you for your support. Help us spread the word. Without computer , it's harder to spread the word and relies on those who can pass it along - you! Thank you.
+ Read More
Help spread the word!
 443 total shares
Be the first to leave a comment on this campaign.