Ricardo Peña Everest Expedition
$28,410
of $30,000 goal
Raised by
255
people in 51 months
Ricardo's Everest Expedition has now finished. A million thanks to all donors for making this incredible expedition happen! For those who didn't donate if you'd like to receive the final trip report with all the best photos, videos and a detailed narration of this exciting adventure make a donation of at least $25 to help cover the costs of this expedition and receive the complete trip report now! Donate more than $25 to receive the perks mentioned.
In 2013 I decided to try to climb Mt. Everest. The biggest and most obvious obstacle to getting a chance to do this was the exorbitant cost of this expedition. It was completely out of my possibilities as a mountain guide and musician, but I decided to try and raise money and see how far I would get. The most amazing thing happened! Friends, family and lots of past clients of mine, clients that I had guided on many expeditions, donated generously! My good friend, famous Andes Survivor and painter Eduardo Strauch not only painted the great expedition logo but donated several paintings that sold for thousands of dollars and further helped fund the expedition! I ended up raising the incredible amount of $31,685 dollars!! I never expected such an amazing response! It was incredible!
I was still more than $25,000 dollars short of what the final cost would be but I was not going to pass on this incredible opportunity. So I used up my credit to pay the rest of the costs for this chance to realize a life long dream of mine.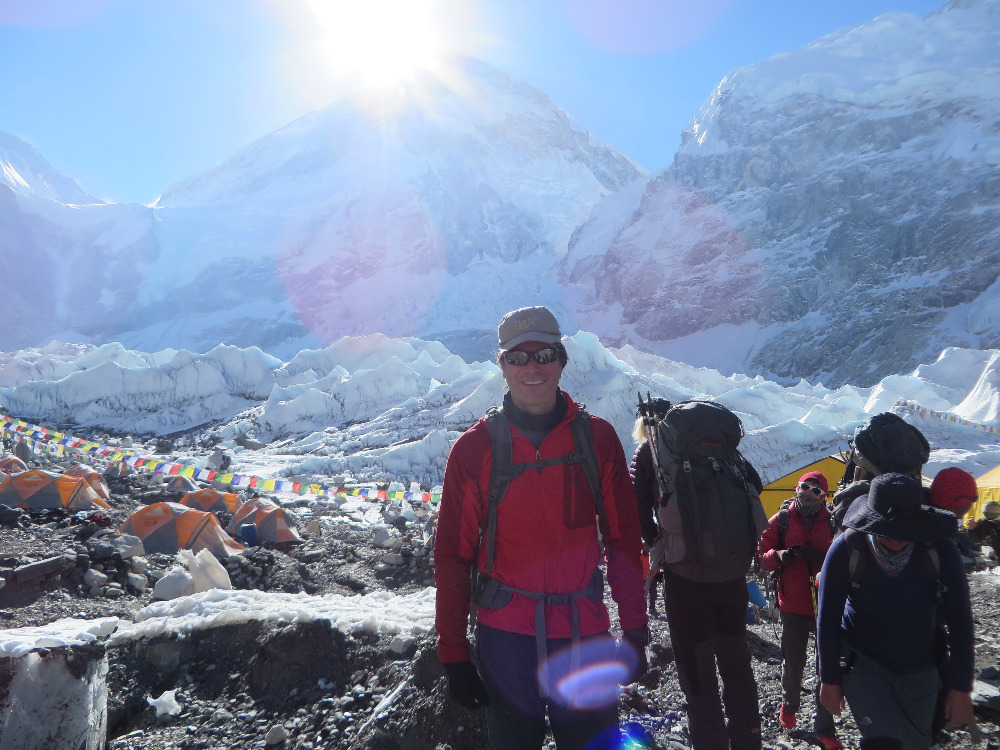 I trained as hard as I could: working out 6 days a week, including many trail runs up in the Boulder foothills and more than 40 ascents (in one year) up Colorado high peaks as well as several ascents up the Mexican Volcanoes, and Mt. Rainier, many of these ascents during an unusually harsh, windy and stormy winter in Colorado. All this while fundraising and working full time in music and guiding. Finally in April 2014 I went to Nepal and after some initial set backs (a cold and fever on the trek up to Base Camp and some sleep apnea on the first week there), I found myself, after a week at base camp at 17,500': healthy, strong and ready to go for the summit of Mt. Everest! But on April 18 as we were headed up the ice fall for the first time an avalanche hit the glacier above and killed 16 sherpas and injured many more! I helped with the injured at the medical tent and did what I could to help during this tragedy. It was a tough day for all of us on Everest and we were very lucky  we didn't leave earlier or we could have died on that same avalanche!  That tragedy set a chain of events that resulted in all of the expeditions being forced to abandon their summit attempts. Two weeks later we were all forced to leave the mountain with no chance to do any further climbing.
My life long dream of summiting the highest point in the planet vanished and I was left with the sadness of seeing 16 sherpas, fellow mountaineers that climbed for a living (like me) die.
To make things worse, I was left with a big debt of over $25,000 that after a lot of hard work and sacrifices, as of October 1 2016 I finally paid off. 
After the 2014 expedition many of my donors offered to donate again and make this happen once again!! I was extremely moved by this incredible gesture. It reawakened my life long dream! Can I really get a chance to summit Everest like I thought? Their generosity has inspired me to try again and this is why I started a new fund raising campaign.
 It seemed impossible to make this happen again but we did it once, and mostly with small donations (as well as a few very large and extremely generous ones!), and so I know it's possible to do it again if YOU want to make this happen! Luckily, I have the gear necessary for Everest now and Nepal has offered us to use the $10,000 2014 climbing permit within 5 years. So that is $10,000 less I have to raise. Also I have found ways to cut costs. That is why the goal is now set to $30,000 now.
If you donated money for my last expedition, you know what your donation large or small can do! We made the Everest expedition happen!! We really did!
We made it to the exotic and fascinating places in Nepal including the highest mountains in the world! This adventure not only changed my life in a very positive way but inspired a lot of people! I was very happy to hear from friends/donors who told me this expedition was inspiring them to start working towards important goals in their lives that they had previously thought too hard to attempt!
If you are thinking about donating for the first time, consider that you can be part of this very exciting adventure. Even with a small donation of $25 you can fund your own expedition to the highest point on the planet!... and I will show you, up close what is like to do this step by step with my dispatches and photos.
If you want to sponsor your own Everest expedition, if you want to help me realize a life long dream of climbing the highest mountain in the world, if an adventure like this inspires you and you want to help inspire more people to achieve great things in life: Donate now! We can make this happen if YOU donate!
From the bottom of my heart: Thank you!!!
Ricardo Peña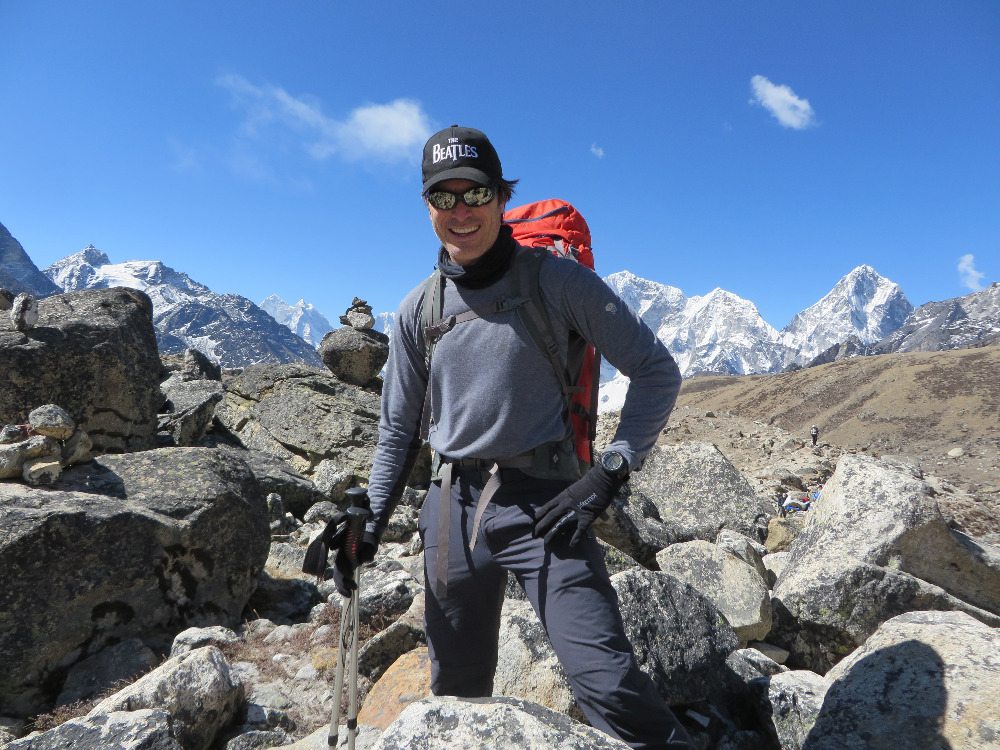 For more information about my mountaineering visit:
www.alpineexpeditions.net
+ Read More
te mandamos abrazos y besos desde Austin y todos nuestros pensamientos estan contigo para desearte que todo siga bien como tu lo has planeado y tu sueño de llegar a la cima se te cumpla.
+ Read More