Pediatric Trauma Kits
$410
of $24,000 goal
Raised by
9
people in 23 months
Kiwanis Pediatric Trauma kits save lives.
  These kits are given free of charge to the volunteer first responder squads in across Nebraska and Iowa.  These kits have specialized, age specific, medical equipment; different sizes for different ages. 
Two examples of the equipment in these kits.
Infant vs. adult hook to clear airway.
Infant blood pressure cuff.
The small volunteer squads do not have the budgets to buy these kits.  Most of these squads are having fundraising events to barely make ends meet.  Our Big K Family Foundation is working with the Marion Metro Kiwanis club to give these kits to them free of charge.  The State of Iowa also supplies a free training class to go with the kit.  This is a great private/public partnership but we need your help.  The Kiwanis clubs in Nebraska and Iowa over the last 15 years have bought and placed over 700 of these kits at a cost of over $280,000.  These kits cost $400.  Our Foundation has $24,000 to provide matching grants for the last 120 squads that need one of these kits.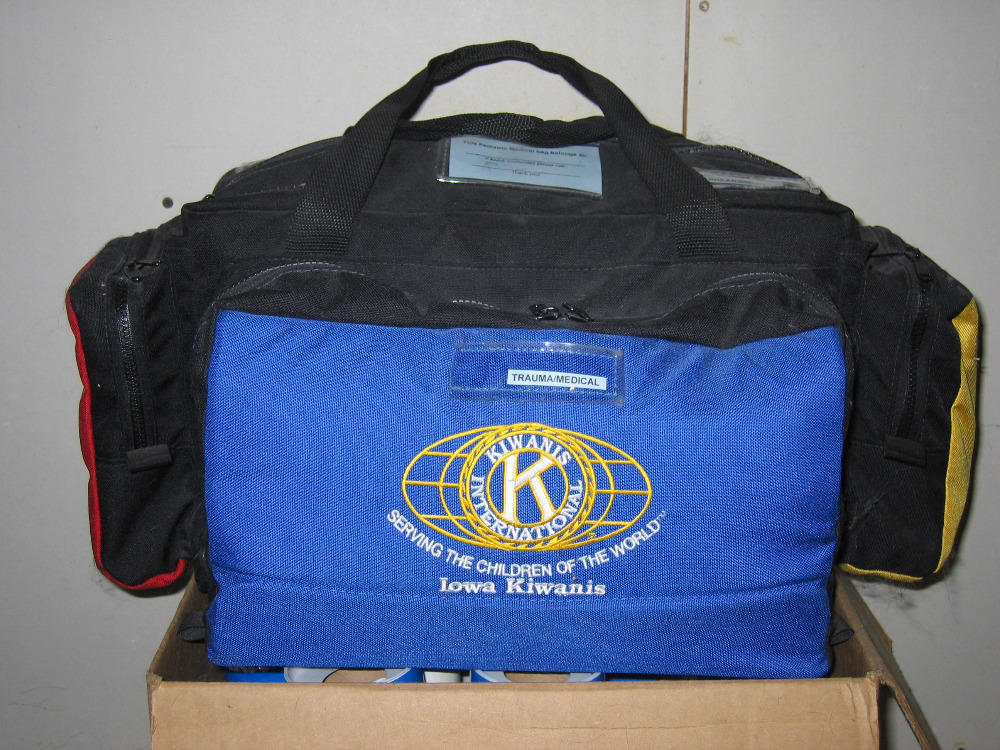 On the surface it looks like the kids are the only real beneficiaries of our efforts but we were told of three cases where the kit was used by a squad.  The first story was where the kit was used and the kid's life was saved by having the right equipment.  The second story was where the kid's life wasn't really at risk but the kit allowed the kid to be more comfortable through the ordeal.  But the third story had a very different point to make.  There was a horrible car crash on the interstate and when the first responders arrived they knew it was bad.  The eventual outcome was very sad because the child did eventually die.  But having the kit at the scene allowed the volunteer first responders to know they did the best anyone could in that situation.  There was no second guessing themselves.  "Could we have done this or that differently?"  So we learned that these kits also help the mental health of these dedicated volunteers that many people rely on when something terrible happens.
When we present the kits we always tell the squads that we hope the kit sits on their truck and gathers dust.  But much like an insurance policy if you ever need it you better already have it.  When they open the kits and see what they contain the look we get is like kids on Christmas.  The squads are so appreciative and thankful. 
There are 120 squads in Iowa that need these kits.  Until we have these kits everywhere there are kids at risk.  If you have a car wreck, an ATV accident, or you fall out of a tree in the wrong part of the state you are pushing your luck.
If you want to see the squads that need this equipment you can visit the Marion Metro Kiwanis website page here ->
PTK Website
.   We have been working on this for years now and really need help to push through to the completion.  Every day that goes by might be the difference between life and death.  We have had a couple of times where the kits were used to save a life only a week after receiving the kit.  What if we were a week late?
Up to this point we have used donations of $200 or more to fund the kits.  Our Foundation matches that for the $400 needed to buy and deliver the kits.  We have decided to use gofundme to harness the power of many smaller donations to see if we can reach our goal quicker.  It will probably save a kid's life.  Any amount you give will be matched dollar for dollar by our Foundation.  If you want to fund a particular squad with a full $200 donation please contact us through the website so we can act on your wishes.
The writer has actually had the chance to meet a young girl that had her life saved by one of these kits.  I am forever grateful to have been part of this project and hope that you can join me in making Iowa a safer place for our kids.
Please donate and pass this on to your friends and neighbors.  It will never be easier to save a child's life.
+ Read More
Be the first to leave a comment on this campaign.