10K Run For Paired Kidney Donation
$1,780
of $1,000 goal
Raised by
19
people in 40 months
According to the National Kidney Foundation, more than 3,000 patients are added to the kidney waiting list each month and 12 die each day waiting for a transplant. The
Alliance for Paired Kidney Donation
(
APKD
) is rewriting that story.   
The 
APKD
 serves kidney patients through technology, education and generosity. When a patient is in need of a kidney transplant, family, friends and loved ones may step forward to offer the gift of a living kidney donation. Many times the willing donor is not compatible with the recipient. Paired donation matches one incompatible donor/recipient pair to another pair in the same situation. Altruistic donors can choose to donate without an intended kidney recipient and are paired with the best possible match, and this can start a chain reaction!
As for me, a little over 6 years ago I felt a deep spiritual conviction to give one of my kidneys away (read
John 15:12-14
). Acting on that conviction and subsequently getting to know my recipient (Troy Lewis) and his family has made my donation experience exceedingly priceless. 
Hear a small part of Troy's testimony here:
Troy has invited me to run with him this year at the
Transplant Games of America
 in Cleveland, OH. I will be challenging myself by running in the10K. To commemorate this exciting privilege, I wanted to create a fundraiser to make more second chances at life possible!  Here's what I ask:
1. Please give a dollar per kilometer =
$10
 or a dollar per kilometer x 6 years = $60
.
This would be a great honor to both myself and Troy, as July 28th of this year will be the 6th anniversary of my donation! 
My goal is to raise over $1000 for 
APKD
 by race day on June 11, 2016. Your donation will help fund much-needed research, technology and services for the 
APKD
 and the patients they help.
2. If you have 2 kidneys and you are healthy, I also challenge you to give one away.
Seriously, I wouldn't ask you to do something I haven't done.
Donating a kidney will likely be the best and most rewarding gift you ever give! Your kidney donation can impact 7 families like my donation did, or it may impact many, many more.  As of August 2015, the longest paired kidney donation chain was over 51 recipients from one willing donor! Talk to me if you are considering this, as I'd be honored to be your donation mentor. 
Remember, we are defined by our actions and not our intentions, so please donate.
Thank you so much for your generosity, as I am truly honored to have you as family and friends!
Blessings,
Jay Dee
Here's a small part of my own testimony: 
+ Read More
Update 1
38 months ago
Share
WE DID IT!!! Tammy and Steve Reineck, Sandy Flick, Shelly and Mark Mills, and Mike and Susan Rees, thank you so much for your donations today, as they helped exceed the fundraising goal!!!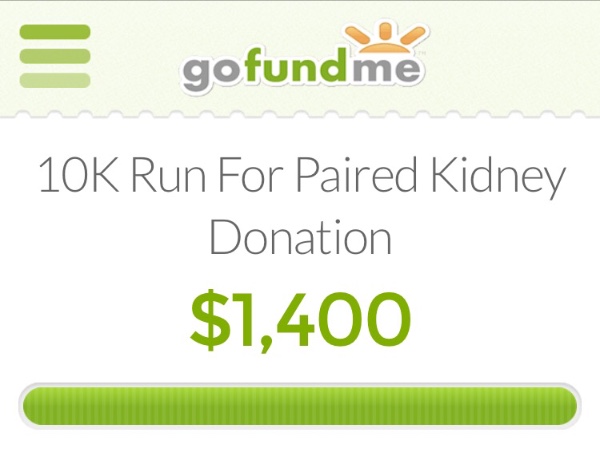 + Read More