PM Reading
$721
of $2,000 goal
Raised by
17
people in 29 months
Just 5 years old my son "Mikey" wrote a book,   at the age of 6 his dream came true, his book was published!   The  community dared to believe in his dream and now he wants to return the favor.  
Like most 5 year olds, Mikey was learning to read and needed some support.  His teacher suggested he rhyme at home and often.  That night we rhymed about everything we did.  I made note of each rhyme, at the end of the night I said (in a joking tone)  "you wrote a book".    Mikey took this very serious and while learning about books in school he began to bring home illustrations and add them to the pages.  After two weeks of (unrequested) hard work I began to wonder what if.... What if I took my son as serious as he took me? 
So I dared to join his adventure in hopes to applaud his hard work and excitement for learning.   I was so impressed by his continued focus at such a young age.
Long story short we heard "I am sorry but no" by many.  We heard "I would love to for a fee"  before I knew it the cost was upward of $5,000 - $7,000!!   I refused to give up on his dream as he worked very hard and was so excited to print a book and one day have it in the library.  
I turned to the community for support and the Clarksville community answered in the most amazing way.  We found guidance, an illustrator, and the most engaging local printing company. Most importantly we found that accepting "no" as a response to your dream is not acceptable.  
We are raising funds by selling Mikey's first published book and accepting donations.  50% of all book sales will go directly back to PM Reading to pay for a first time publication of a Clarksville child.    25% will go directly to the illustrator that donated their time and work.  25% (up to $1,800)  will go to the child (in this case Mikey) to fund his next book!   ** Any unused funds will be returned to PM Reading**
Each book published through PM Reading will follow the same process.  The end result is quite basic, bring  PM Reading back to the nightly routine.    Every night disconnect from electronics, and reconnect with your child.  Watch as the imigation goes wild and dare to believe it could become reality.   Explore the fun of books with your child as an opportunity to unwind, dream a bit and most importantly help them learn to read. 
We have only 200 copies of the book remaining.  If your donation (Min -$20) is for a purchase of a book, please comment below with your name and address or message us through 
https://www.facebook.com/PMReading/
Thank you for your support!!
+ Read More
Update 2
Posted by Jamie McAdaragh
28 months ago
Share
Today was our first Public event and I must say, Mikey had a blast. He was sharing his story and passing out candy. For the first time the children's design center was revealed! Not only did the children love it, they began to start their very own story. We met a handful of children that already have a story and or multiple stories that may never be shared!
Mikey raised over $261 today! The more we raise the more stories we can share. Stay tuned as we have more events to come!
Thank you again for your continued support !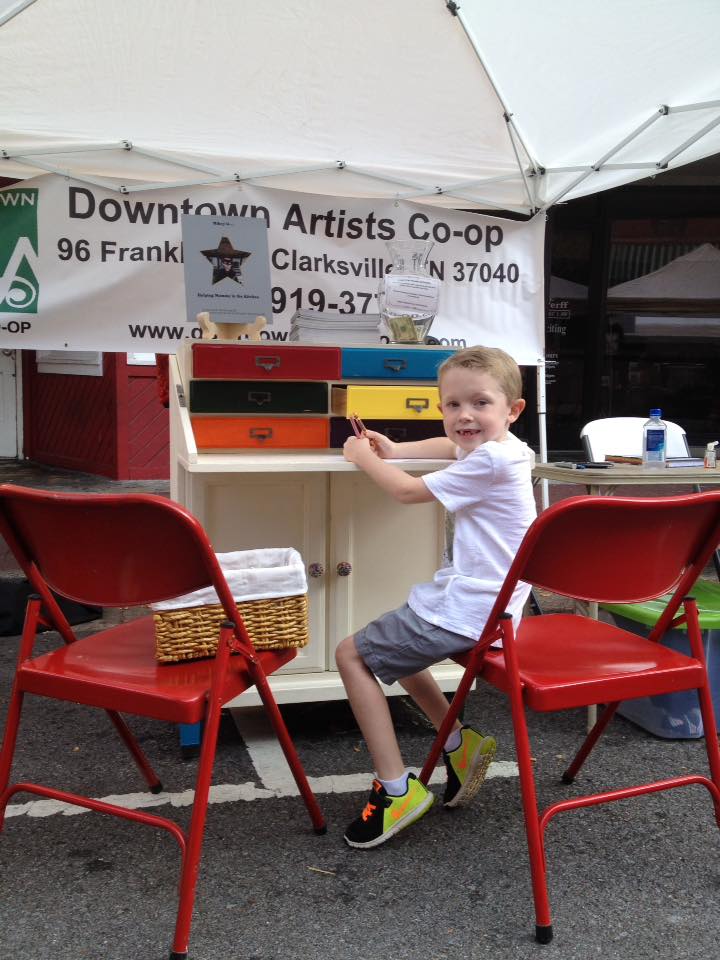 + Read More
Update 1
Posted by Jamie McAdaragh
28 months ago
Share
So much has happened this week.
1. Mikey's book was made available at the Downtown Artists Coorperative.
2. He was invited to participate in "Frolic on Franklin" Sept 24th.
3. The Town of Sand Lake Library accepted his book.
4. The Todd County Library accepted his book.
In addition to all this excitement we are building out our website
www.pmreading.org
More great news to come!!
+ Read More
Read a Previous Update
Be the first to leave a comment on this campaign.