Ohlin's Bakery in Belmont Rebuild
$24,621
of $50,000 goal
Raised by
538
people in 29 months
Just so you know this is real and going to the Ohlin's Bakery owners. Here is a screen shot of their Facebook endorsing this Go Fund Me.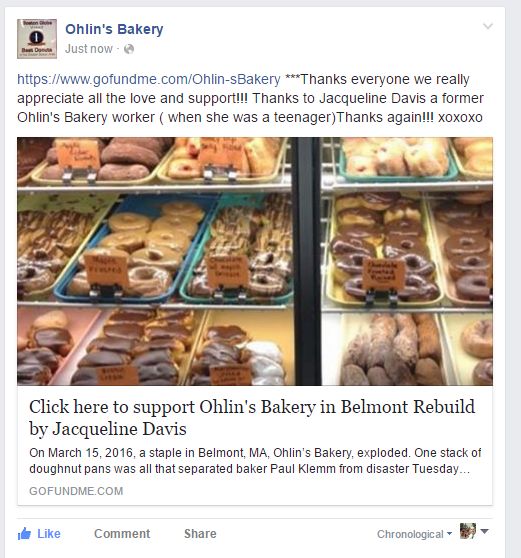 I chose $50,000 since we don't have a number that they need so lets exceed it! 


On March 15, 2016, a staple in Belmont, MA, Ohlin's Bakery,  exploded. 
One stack of doughnut pans was all that separated baker Paul Klemm from disaster Tuesday morning as the oven at his Belmont bakery exploded just feet from where he stood.
"If it wasn't for me behind those pans . . . it would've done some serious damage," Klemm, the owner of Ohlin's Bakery, said at the scene. "That's what saved me."
He had just walked behind the pans — stacked 6 feet tall — when something ignited the gas that had collected in the large industrial oven that he had turned on moments earlier.
The blast around 2:45 a.m. was powerful enough to blow out a brick wall and partially collapse a roof at the popular century-old family business, but Klemm escaped with only his hair and eyebrows singed by the flames.
"I'm lucky to have no marks on me," he said. "I really wasn't hurt, and I was less than 6 feet away."
Klemm had just walked behind the stack of sheet pans when the blast rang out. He had been standing next to the oven just seconds before the explosion.
"It's really a miracle that I had moved from that spot," he said. "I could feel all the pressure around me."
One other bakery worker was in the building at the time, but he was not harmed.
The blast also knocked out two windows at a barber shop that shares a wall with the bakery. Construction workers Tuesday morning were placing wooden panels where the glass had been.
A large pile of bricks surrounded the back door of Ohlin's, and the area was blocked off by police tape. The roof showed obvious signs of damage.
The exact cause of the explosion is still under investigation, Fire Chief David Frizzell said at the scene.
Donata Barber, who owns a consignment shop on the other side of the bakery, said she was relieved when she arrived and saw that nothing in her store was broken.
"I thought it was a miracle I didn't have any damage, considering all the glass and fragile stuff I have," she said. "My heart goes out to these guys. It's a miracle nobody got hurt."
The bakery, which celebrated its 100th-anniversary last fall, has the "best donuts in town," Barber said.
It even made the Globe Magazine's recent list of "Boston's 13 greatest doughnut shops."
Barber said when she was a young girl, her mother took her to Ohlin's every year to get birthday cakes. The shop hasn't changed since.
"I don't know where I'm going to get my donuts with my coffee break this morning," Barber said.
On July 19, 2016, the owners of Ohlin's Bakery posted the following message on their Facebook Page. 
Dear Customers,
A lot of you have messaged us asking when we will be reopening, and for the longest time we really had no idea.
We have learned that the landlord will be rebuilding the damaged part of the building soon. Her insurance company will pay to make it into a retail store ----- not a bakery. A bakery has special requirements, and we would be responsible to make it into a bakery. The problem is a bakery would need different code up grades than just a retail store, such as... a certain kind of flooring, fire suppression system, walls, new sinks, electrical up grades, plumbling up grades, plans from architect, etc.
Our insurance company will pay for the things that were damaged during the explosion, like the oven for instance. Our biggest problem is our insurance will not cover any code upgrades that we need. We are trying to figure out how much all this will cost us. We will need to see if this is something we can personally afford. We are incredibly nervous and stressed about the unknown. It is difficult telling you all this information, as we wish it was all good news, but unfortunately this is what we are trying to deal with at this time. We were hoping the insurance would cover everything we needed, so that we could have confidently told you we would be opening soon.
Our family has been in the bakery business for 100 years and we would like to continue to bake again. We love baking and feel proud that we have won recognition as a bakery, and for our donuts! We want more than anything to get back to doing what we do best. We pray that this will be possible.
We miss all our customers and want to see you all again! We love that you miss us and send us messages every day! It truly makes us feel loved to hear your kind messages to us. We will keep you posted when we figure all this out.
Kind regards,
Paul & Marybeth Klemm
This was passed around the Facebook group "You know you are from Belmont..." and we decided we need to help!
 So we have created this Go Fund Me Page to make sure Ohlin's Bakery will be around another 100 years!
+ Read More