Help Me With Kidney Dialysis Misc..
$420
of $10,000 goal
Raised by
11
people in 32 months
I am adding help for kidney dialysis and misc other medical expenses to my list of stuff I need help with. I have to take the bus about 200 miles round trip 3 times a week to get to a treatment center. It's usually a 12 hour plus ordeal each day. There's also the trips to the doctor down there too not to mention having to head all the way to Medford Oregon for doctors...
I am hoping I can eventually qualify for Peritoneal Dialysis which would allow me to do the treatments myself at home. You just hook up to a machine 4 times a week at night while one sleeps. They put a deal in your stomach area with tubes hanging out that you hook up to. At the moment they are using a catheter deal that entails  two tubes hanging out of my chest that they withdraw blood, filter it and put it back in. When I was life-flighted by jet over to Providence Hospital in Medford Oregon they put the deal in my chest and before I left the 11 day stay, Dr. Craft squeezed me in his schedule and did surgery to install a fistula into my left upper arm. In about another month or so they will be able to use that to do my treatments and they take this damn thing hanging out of my chest out.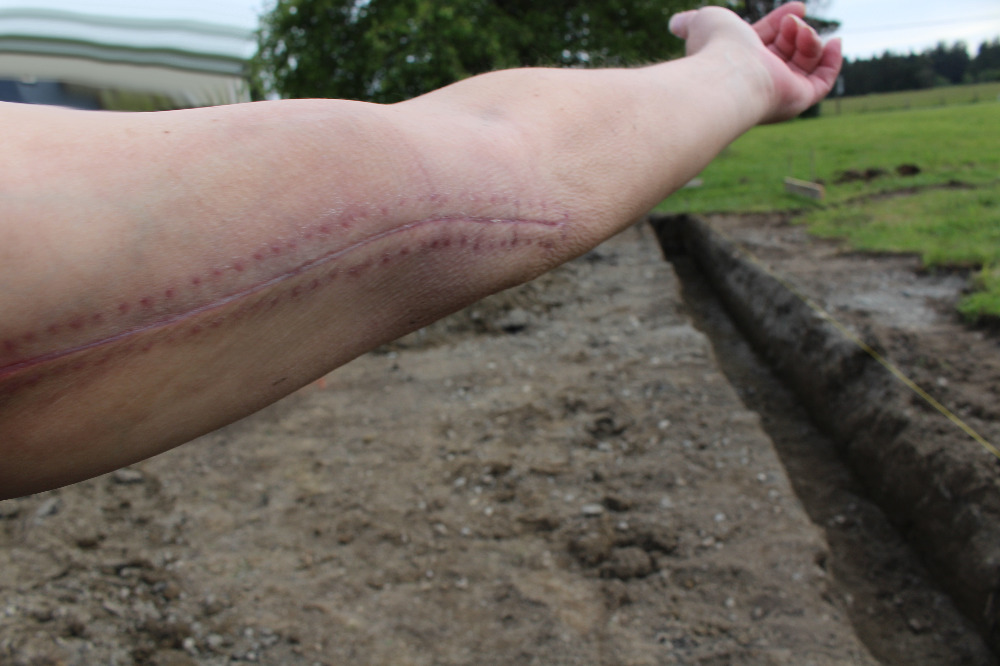 This is where they installed the arteriovenous  fistula. 
Once my brother and sister-in-law get the garage built and hopefully can afford to get the studio apartment built for me I am going to try to get on the home set up.
My brother and angel-in-law whom I have been living with since my heart problems, congestive heart failure, kidney cancer leaving me with one kidney working at less than 10%, COPD, chronic pain from the hit and run motorcycle wreck by a car load of illegal aliens that broke both of my wrists, crushed my hands, broke my shoulder which had to be wired back together, crushed my knee... (lol sigh) is building a new garage and said we could build me a studio apartment in it to get me out of the tiny room in their house I have been living in. If, I can somehow help pay for it which I can not do alone as I can no longer work...
So I am gonna give Go Fund Me a shot in the dark because a little place of my own would be life changing for me and get me out of my families hair who has gone above and beyond awesomeness with all the help, love and support they have given me through my insane medical bad luck. So if ya see me spamming or the auto-posts from Go Fund Me just ignore em if they bug ya or toss me a buck or two if ya can help me out. Sorry to be a pain in the ass. Love you guys and thanks for putting up with my madness over the years. <3
And don't forget to get out and vote! Peace..
Mike - aka: -Nsaney
+ Read More