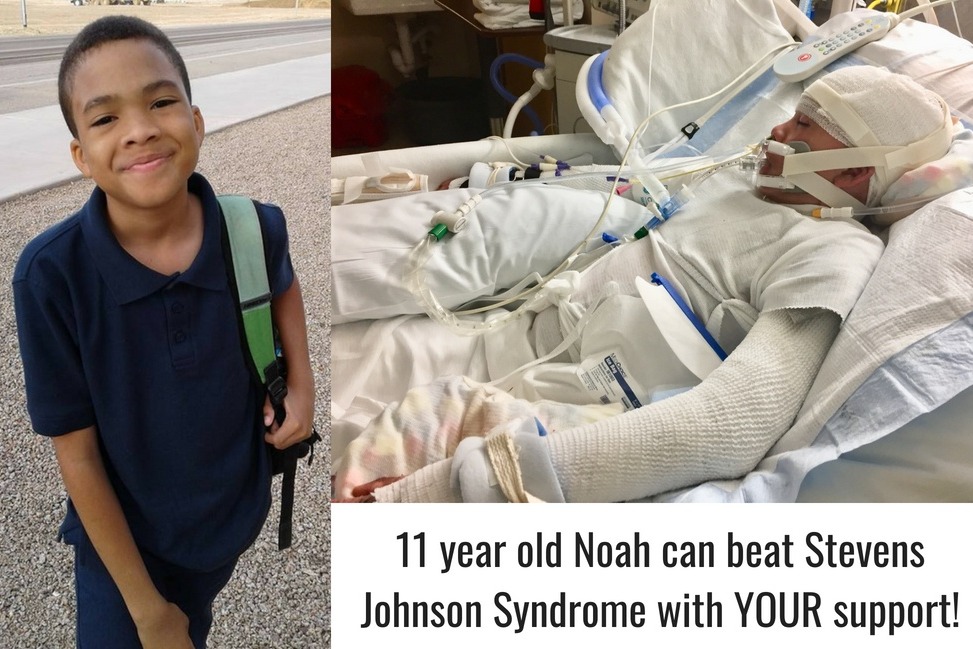 136
5
Help Noah Win Over Rare Disorder
$13,080
of $60,000 goal
Raised by
143
people in 10 months
Hello all!  I am of the firm belief that we can't do it alone. Sometimes circumstances arise in your life where you have to seek out the assistance from your family, friends and people who want to support.
Such a time has arisen for my dear friend Bari Barnes and her son Noah Barnes.  On behalf of Bari and Noah I'm asking for your financial support.  Noah is a vibrant, talkative and extremely intelligent 11 year-old.  In his words "I'm going into the 6th grade but I'm doing 7th grade work".  Since the third week of July, Noah has been hospitalized with Stevens-Johnson Syndrome (SJS)--a "flesh eating disease", resulting from an allergic reaction to medication.  Stevens-Johnson Syndrome is a life threatening serious disorder of your skin, mucous membranes and eyes. It's usually a reaction to a medication or an infection. Anyone can get SJS although it strikes children at greater numbers followed by women, and almost any medication can cause it such as antibiotics, pain relievers, cough and cold medications, NSAIDs and more.
It began with Noah feeling flu-like symptoms, followed quickly by a painful red/purplish rash that spread, then his skin started to blister, and decay. Because of the agonizing pain of losing skin, Noah was heavily sedated. He's now been hospitalized for nearly a month in ICU at the burn unit at the hospital here in Phoenix with the most severe form of SJS known as TEN (Toxic Epidermal Necrolysis). He has lost 90% of his skin and is bandaged from head to toe. It has been every parent's nightmare to watch their young child lose mostly all of his skin, fight infections such as MRSA, throat inflammation, nearly go into cardiac arrest, receive blood transfusions, and breathe with a ventilator. SJS/TEN is a long journey and requires a lengthy hospital stay. We are praying and holding daily vigils at Noah's bedside to heal and move from ICU to rehabilitation.
His mother Bari has been by his side every day starting early in the morning before work and in the evening after she gets off; however she has two other children to care for, as well as a full time job.  Family and friends are assisting with food prep, school transportation, moral support and more.  That's great, but she also needs financial assistance.  Trust me when I say this wasn't easy for her to agree to but the need is real.  Bari is raising funds to pay for the  sky-rocketing medical bills that are now beginning to pour in as well as take leave from work as needed. Studies have shown that when family and close friends are at the bedside of loved ones, it helps with healing and recovery. Noah like every child, needs his Mom at his side and to be part of his recovery without the added stress of medical expenses.
Bari and her family are extremely grateful to everyone for their love and support during this difficult time. Stevens Johnson Syndrome requires months of recovery, rehabilitation and in Noah's case, educational support so that he will be able to catch up and re-enter school. Often patients have to cope with the after-effects of SJS such as loss of hair, nails, eyesight and other chronic illnesses such as bronchitis, COPD, etc. so we don't know what lies ahead for Noah but we are praying for a full recovery with no severe health problems or relapse. Prayerfully, when this is all over, Noah just wants to spend time with family & friends, go back to being a 6th grader and one day, attend a Raiders or Falcons game.
I ask that you give what you can from your heart or just leave a comment in support and if you will, please share this page. 
Sending Love and Light to everyone who reads this.
+ Read More