Miss Major's Monthly Giving Circle
$126,798
of $200,000 goal
Raised by
5,909
people in 66 months
,
MAJOR LOVE:
A monthly fundraising circle of care for Miss Major!
Miss Major has given her life to supporting countless people and movements, and now it's our turn to support her.
A circle of people are joining together to make sure this cherished trans leader has the medical care, housing, and food she needs on her journey through her elder years.
Will you help show Miss Major some Major Love?
THE SITUATION:
Miss Major has fought tirelessly for justice and freedom
from the Stonewall Riots in 1969 to her role as Executive Director of the Transgender, Gender Variant, and Intersex Justice Project (TGIJP) in San Francisco since 2006.  As a black, formerly incarcerated transgender leader, mother, and grandmother, Major has paved the way for us to be who and where we are today. This
Major Love Monthly Giving Circle
was initiated two years ago due to the difficulties of aging, rising medical costs, and budget cuts in 2012/3 to TGIJP that left Miss Major without an income. The giving circle had a powerful revival about a year ago, when Miss Major's apartment caught fire and almost all of her personal belongings were severely damaged. Thankfully, she and her pooch Moose were unharmed.
Through all of this, Miss Major continued to steer TGI Justice Project's work, hold the broader extended TGIJP family together with love and strength, and make the magic that is Miss Major's method to life!
In August 2015, Miss Major and TGIJP announced her retirement as Executive Director and the herstoric passing of the torch to Janetta Johnson, long time Program Director and incoming ED of TGIJP. Due to the context of world, retirement is a precarious option for anyone, especially our beloved trans justice leader.
Please help us grow the circle that is showing up to ensure Miss Major has what she needs on her journey through her elder years.
Will you help show Miss Major some Major Love?THE REQUEST:We are inviting you to join this circle of monthly donors to collectively contribute $2,965 monthly to cover Miss Major's basic monthly expenses
, including: rent ($1,050), utilities ($329), transportation ($834), health care premiums ($182), in home support ($120), food ($250), among others. This circle will not only send a clear message of support to Major but also be an example of intergenerationally caring for our elders during what can be their most challenging years.


You can give at whatever monthly level is meaningful for you:
Pussycat - $10 or less/month
Diva-ette - $25/month
Princess Diva - $50/month
Shining Star - $100/month
Major-ette - $150/month
Please make your pledge TODAY!
IMPORTANT: Be sure to specify "MONTHLY DONATION"!If you have any questions
about how the Major Love giving circle or if you are in the Bay Area and would like to find out more ways to support Miss Major, contact
majorlovetime (at) gmail.com
.
Thank you for taking this opportunity to honor Miss Major and all the ways she has supported our communities for decades.
Please help us to spread the word by reposting and forwarding this campaign!
With gratitude,
Morgan Bassichis, Caitlin Breedlove, StormMiguel Florez, Reina Gossett, Paulina Hernandez, Vanessa Huang, Malachi Larrabee-Garza, Alex Lee, Dori Midnight, Annalise Ophelian, Nat Smith, Dean Spade, Danni West, Beck Witt, Luke Woodward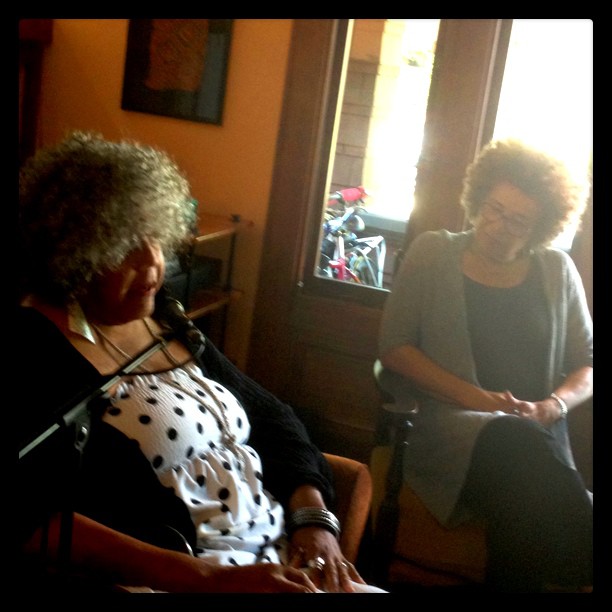 Miss Major & Angela Y. Davis, 4/21/13 (photo by Cecilia Chung)
+ Read More