Ruth-Davis Family Legal Expenses
$51,352
of $77,000 goal
Raised by
1,172
people in 38 months
We have an upcoming fundraiser ! Please visit
LoveIsLoveLuau.eventbrite.com
We are the Ruth-Davis family from Avondale, Pa. We are a family of four: 2 Dads, Keith and David, and 2 happy adopted boys who have completed our lives together!


NBCphiladelphia: 'Not At All About a Fence': Same-Sex Couple Targeted in Anti-Gay Vandalism
http://www.people.com/article/same-sex-couple-anti-gay-vandalism-devastating-lawsuit
http://instinctmagazine.com/post/anti-gay-vandalism-case-may-be-over-lawsuit-broke-bank
Long story short, five of our surrounding neighbors have banded together to attempt to force us to remove a fence on our property and in turn would force us to leave our home, and we feel it is being done because we are two gay men with kids.  Since moving into our home, we have dealt with this frivolous lawsuit, as well as harassment from neighbors, and multiple times someone has vandalized our home. With these accounts put together our situation has become too large for us to handle on our own.  Now, we need your help.
We need help paying off Legal Fees, which have amounted up to $77,000, to fight the lawsuit that had been filed against us.  The suit was filed by members of our neighborhood and the suit has cost us a great amount financially, and emotionally.  Sadly, this lawsuit has costs us our entire life savings, and even now after winning our case we may still have no choice but to leave our home behind. 
We are happy to announce that the trial is complete and the judge has returned a ruling in our favor. The first sentence of the judge's decision even states "This case is not at all about a fence". We are now waiting out a 30 day period to see if the neighbors decide to appeal the judge's ruling.
The Whole Story:
We, Keith and David Ruth-Davis, got custody of our boys in 2011 and quickly our small house was clearly no longer large enough for our growing family. In winter of 2014 we moved to a larger home in Pennsylvania, to a neighborhood and home that was advertised as having no HOA, and no restrictions. We did all our homework, we spoke to our realtors and the township zoning office before we moved in and put up an upscale vinyl 6 foot privacy fence on our property to protect our children and 4 dogs.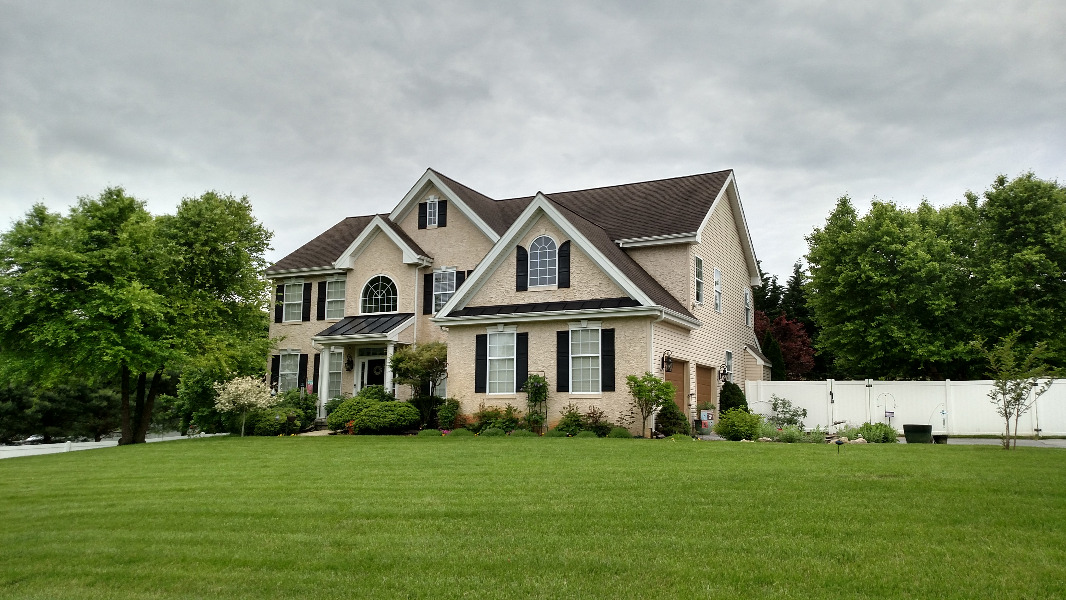 Our home and the fence
The fence took over 3 weeks to put in place. After the fence was fully installed and we moved into the home in December 2014, we had many neighbors stop by to welcome us and tell us how nice the house looked after we spent a substantial amount to fix it up. Many complimented the fence!
After the winter one set of neighbors decided to join with another neighbor and filed a lawsuit against us in March of 2015, stating that the fence had to come down at our cost.  The neighbors were aware that without the fence we would not be able to stay in our current home due to safety concerns for our children and dogs.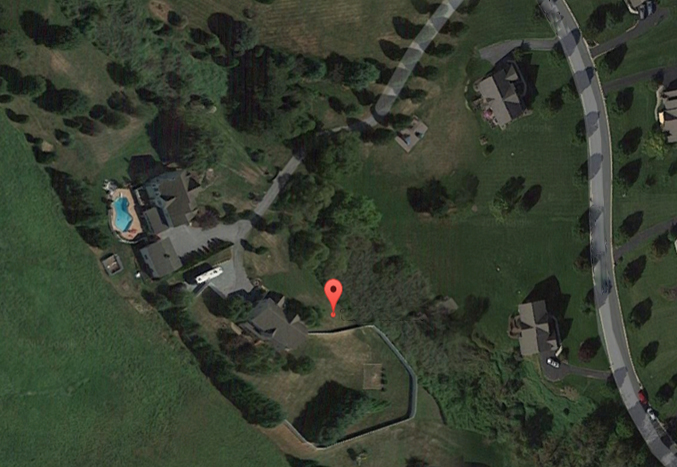 Our home is located behind the neighborhood
Due to the nature of our children's biological parents (both are extremely dangerous heroin addicts and dealers) a security fence as well as many other safety precautions, such as special locks, security system and a surveillance system were necessary for us to be able to live in the house securely. All of these concerns had been addressed with the neighbors. We tried to find a compromise, such as planting trees and shrubs along the fence line to mask its visibility but no compromise was acceptable to these individuals. We felt they were irrational and strongly unwilling to compromise.
These neighbors attempted to use an Architecture Committee that has now been proven in court to be defunct and had no documentation of functioning since the neighborhood began, which had already been broken by more than a dozen other homes in the 26 home neighborhood over the 15 years that the development has been in existence, as a grounds to bring the lawsuit against us. We feel this "informal verbal" system that the neighbors use to run this committee has been used to selectively enforce against us.
View of our home and fence from the neighborhood
Over the course of the last 15 months due to this lawsuit being brought against us we have had to face and fund lawyers, court time, depositions, and investigations. In addition to the lawsuit we have had to deal with regular harassment (both written and verbal). We are forced to hear the slander spoken by these neighbors spread through the neighborhood. Also, from January thru April of this year, our neighbors would call the police on a regular basis and falsely report that our dogs were outside barking, which would result in the police arriving at our home to question us.  Each time the police arrived we were able to prove that the dogs were not outside barking, by producing our surveillance video.
Beginning in June of last year, someone has been vandalizing our home and property:
-  Our garage doors were spray painted with the words
"Get Out Fags"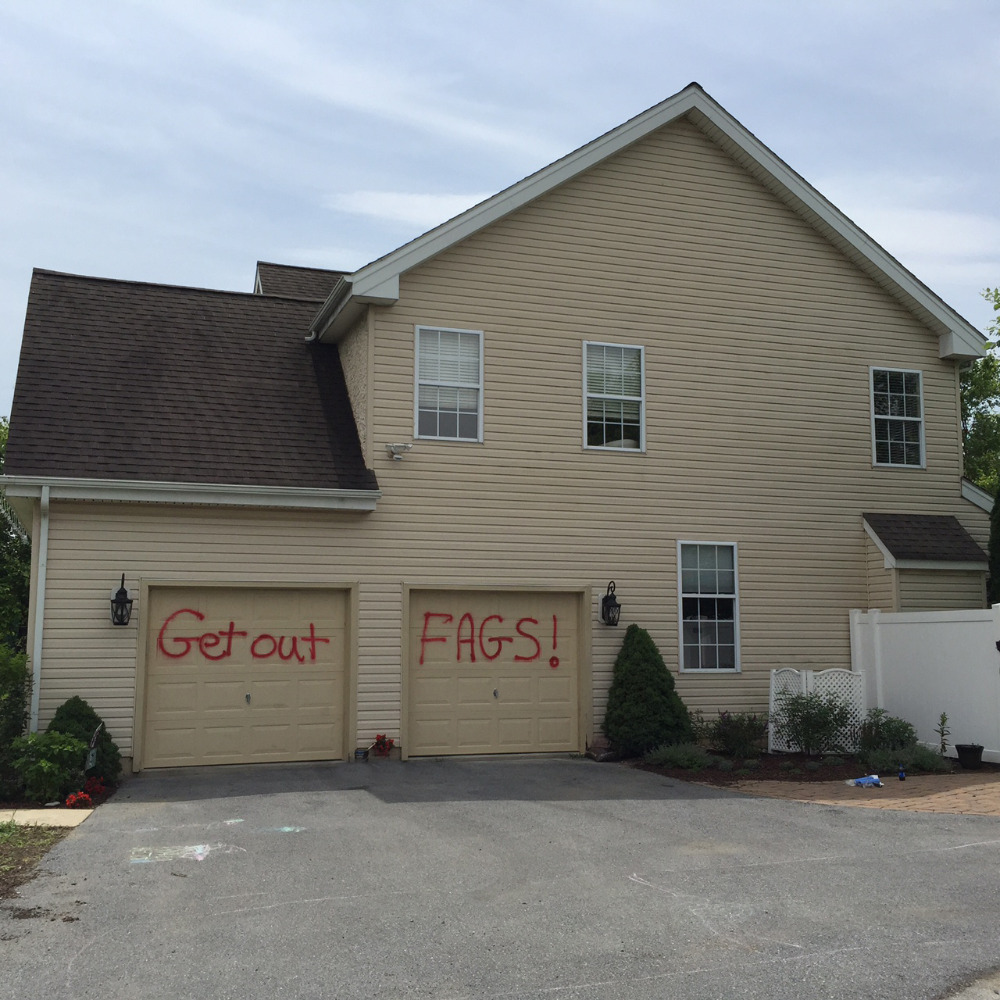 "Get Out Fags" graffiti
-  Our fence was cut down in the middle of the night on two different occasions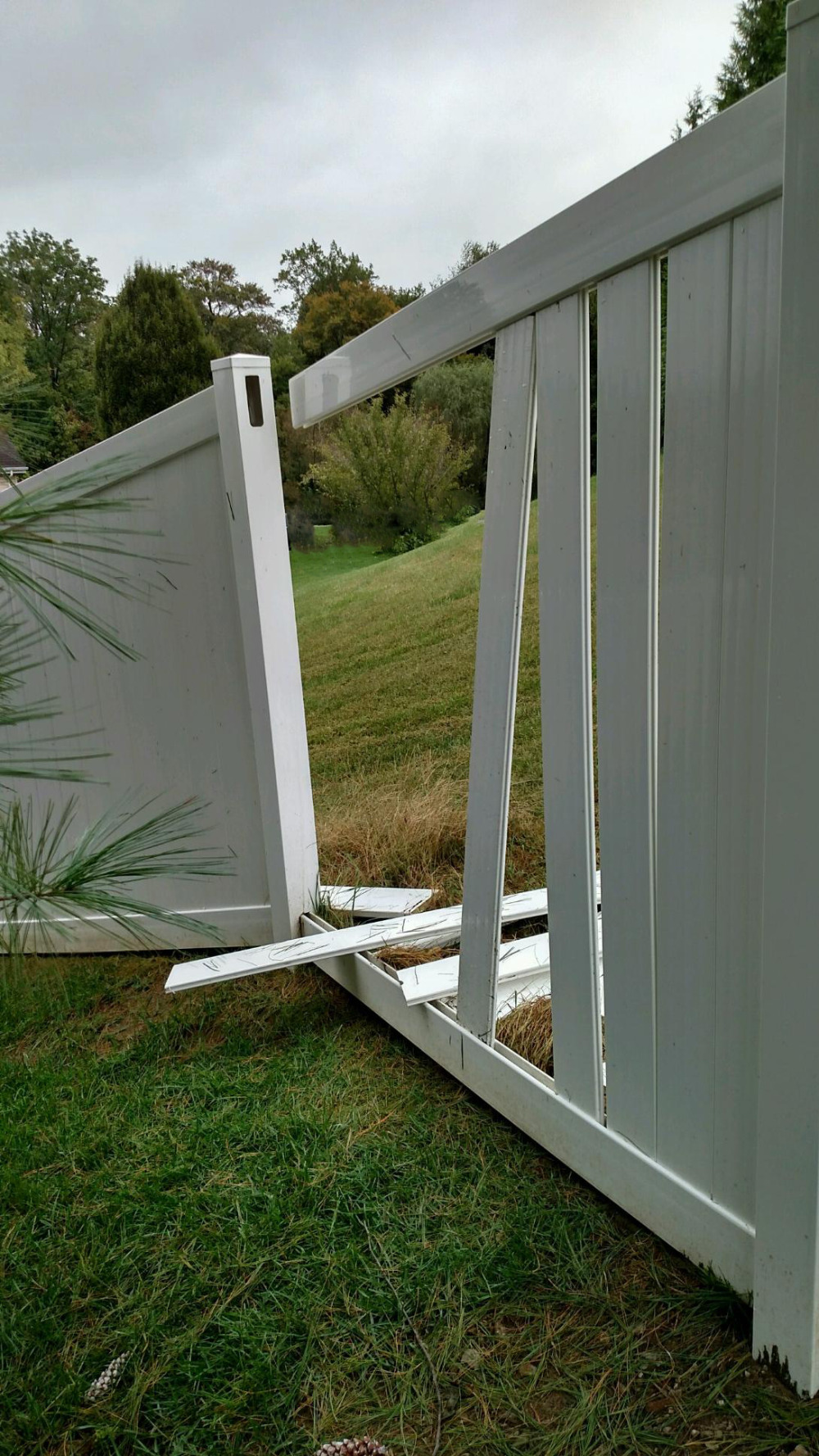 Fence vandalism
-   Our security ground sensors for the alarm system have been destroyed five times
The police have investigated, but have not been able to prove who has been committing these acts of violence against us.
Over the last 15 months, it eventually became very clear to us that this was never about a fence, it is about us being a homosexual couple with children. 

During the trial, one neighbor testified to yelling in the direction of our property. Later in the proceeding additional testimony was made that one of these neighbors has yelled homophobic slurs in the direction of our property, our children and our dogs.
We are a quiet 2 father family who keeps to themselves and we are being targeted by a group that would like us and our fence gone, and in our opinion, are doing what they can to get us to leave.  This has affected our family emotionally, and financially as well as our children's well-being due to their confusion, anger, and mistrust over the vandalism in addition to this case making it difficult for them to make friends after becoming the "talk of the school bus".
This frivolous lawsuit has eaten away at our funds, time, and most of our business (our only source of income). Now, we have won the case against us but our funds have run dry, if we cannot finish paying our attorneys for this lawsuit, as well as what we now owe on back payments on the house (money that has been eaten by the lawsuit), we will not be able to fight any further legal actions against us and we will have to leave our home. Then, even after winning the lawsuit, these neighbors will have won anyway.
We want to fight this, we want to show these individuals, that they cannot use the legal system to selectively enforce their will on others or to attempt to evict people that they don't agree with from a neighborhood. We just wanted to provide a nice safe home for our children, and we don't even feel safe to let them outside our home anymore. We need help to set things right!

The option to start a fund did not come lightly, and any contribution made no matter how big or small is appreciated and our family is grateful! All donations will go towards paying off the legal fees incurred in the past year as well as any future legal fees.
We will keep this page updated on the lawsuit and any other details of the case going forward.
To see an online copy of the judges ruling on our case visit:
https://www.scribd.com/doc/316358666/Fence-Decision-1#from_embed
Here are some links to news article that have been written about our story:
http://www.philly.com/philly/news/384124691.html
http://www.chestercounty.com/2016/06/14/114020/couple-embroiled-in-legal-issue-with-neighbors
http://www.chestercounty.com/2016/06/28/115499/the-fence-stays-judge-rules-in-favor-of-avondale-couple
http://www.dailylocal.com/general-news/20160621/judge-allows-couple-to-keep-pool-fence
http://www.dailylocal.com/general-news/20160611/lawsuit-over-fence-roils-new-garden-development
http://www.southernchestercountyweeklies.com/article/SC/20160621/NEWS/160629995
http://www.epgn.com/news/local/10639-judge-security-fence-for-lgbt-household-can-remain
http://www.theprogressnews.com/news/state/judge-dismisses-lawsuit-against-gay-couple-over-pool-fence/article_21615f25-76c6-5e31-8360-358833fb1503.html
Gay Star News: Couples ideal home vandalised

Vista Today: Community rallies together support avondale lgbt couple


http://www.newnownext.com/despite-giant-get-out-fags-graffiti-neighbors-swear-dispute-with-gay-couple-isnt-homophobic/07/2016/
+ Read More