Life Without A Fork | Angioedema
$360
of $25.5k goal
Raised by
8
people in 15 months
"Vanessa Williams cares for so many and needs your help with continuing her work to help save lives for survivors of idiopathic angioedema (IAE). Please give what you can to help her raise awareness for IAE." ~Katya
Vanessa Williams, world renowned advocate for the rare, potentially fatal condition, idiopathic angioedema (IAE), founder of 
The Life Without A Fork Advocacy Group
, Executive Producer of, 
Life Without A Fork
, documentary feature, and my best mom ;) is making history and invites you to join us as we work to find cure and improve upon quality of life for survivors of chronic angioedema, urticaria and mast-cell related disorders via extensive research, outreach and the visual media of our medical documentary feature. Finally a point of reference for doctors, patients, family, and friends. 
We have tried four times to raise funds to help put idiopathic angioedema officially on the map, grow our advocacy and philantrophy, and HELP SAVE LIVES since 2009.
Living with angioedema has made my mom's struggles so very real. More often than not, she goes to bed hungry and awakes swollen and visually impaired from her middle of the night histamine down-pours into her bloodstream.
This year, alone, Vanessa Williams has missed meals for over 50 days!!! She is extremely underweight and undernourished, missing many meals, not only because she is unable to handle eating 95% of the world's alimentary, they are triggers (allergens) for her, but also because she can not afford to buy food from the pricey markets where she is limited. 
Now a public figure, Vanessa Williams, foregoes sharing her hardships with the world but as her daughter, I get to see firsthand what both the disease and the work do to her. She chooses to share only her love, instead. But please know they exist! She is very sick, very tired, fighting an uphill battle with advocacy, health, and finances for herself and others, and she needs your help today! 
Photo of Vanessa Williams: 10.06.16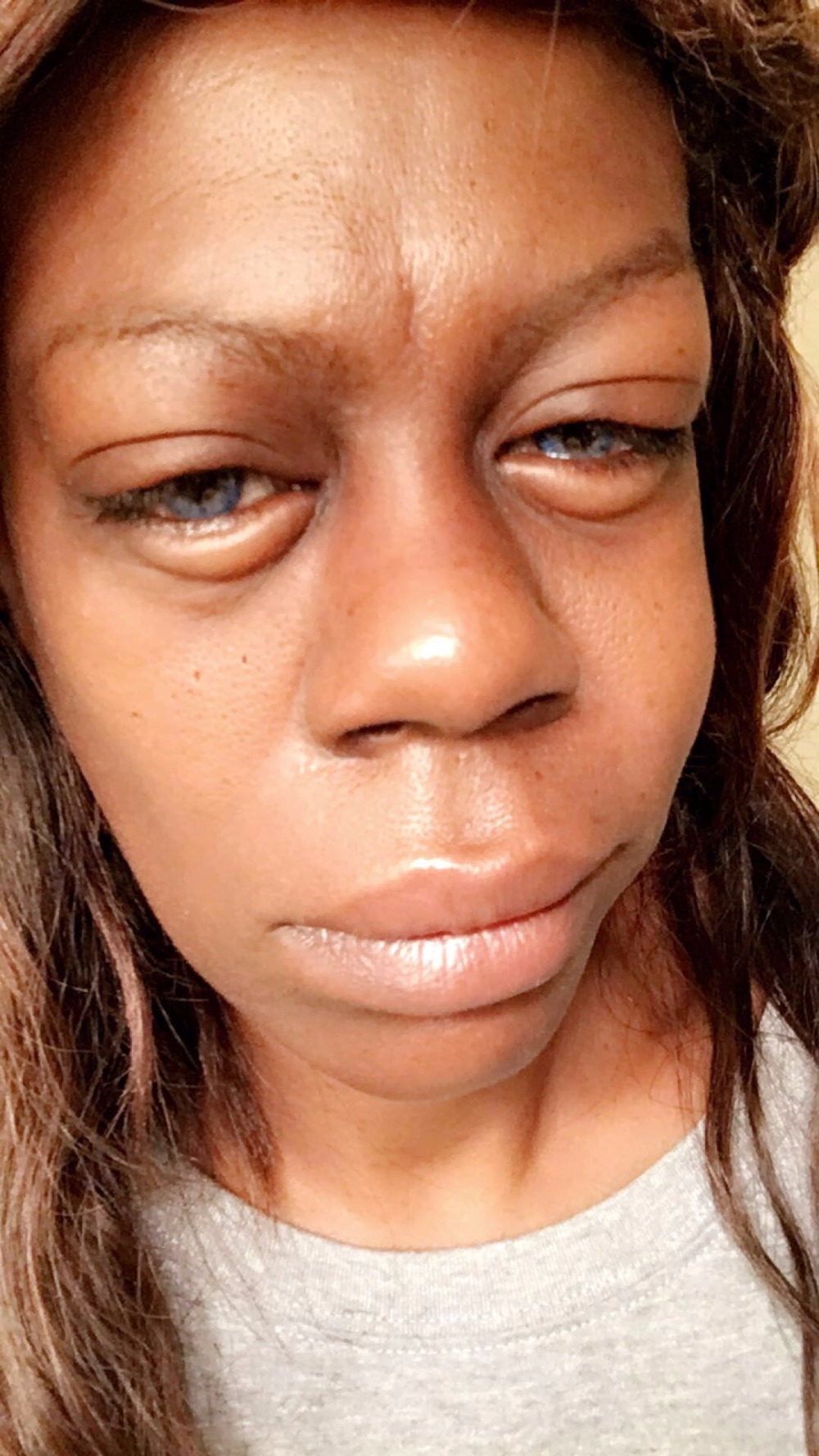 Mostly, it hurts her knowing that there are so many people out there who do not know they have angioedema or are new to the disease and are gripped with fear, completely losing their minds! This is why, 
Life Without A Fork,
 documentary is so important--people need to know they are not alone in this and can find important information on how to survive IAE and mast cell activation disorders!
My mom and I have grown to know and love many angioedema sufferers from all classes and all over the globe. I have also come to know that many people, our friends, family, and fans, are rooting for us to succeed! Way cool and we thank you, guys!
The challenge still remains with the support we need from each and everyone of you! 
We ask for monetary assistance
~Please donate to our gofundme, buy tickets for the online screening, or click the PayPal button on our website. You may also donate to other's campaigns as shared on our website as well as to our unique fundraising events!
Additionally, we are needing help with many other things which may not be of a financial nature, including:
~COMMITTED volunteers
~Professional editors
~People reaching out to the media on our behalf, daily
~Bloggers
~2 MacBook Pro's
~2 GRaids - TB's
~Software--FCP X, Premier, Motion, etc.
~Music 
~Grant writers (I'm great at it yet it is but one more thing that falls on my lap), 
~Filmming equipment--a couple of Canon EOS' would be great, The RED, would be great because my mom always says she's going to marry it!!! ;)
So, may you bring leftovers for lunch for a day or so and donate that $10 you may have spent to help save and improve upon quality of lives of the many people with the rare, potentially fatal condition, idiopathic angioedema and help make my mom's dreams of bringing right attention to IAE a reality?! Do you have a dollar you can donate? May you give what you can and do it today?! 
We hope to have much success with this current campaign and the opportunity to bring global awareness around idiopathic angioedema once and for all!"
~Katya Williams | Supervising Producer | President | Muse | Youth Advocate | Daughter | Do Something
Visit our website, today! 
Life Without A Fork
As part of our ongoing advocacy efforts, "Life Without A Fork," is also medical documentary feature starring, world renowned angioedema advocate, Vanessa Williams | leading angioedema speacialist and head researcher at US HAEA Angioedema Center at UCSD, Dr. Marc Riedl. 
~ We are also raising funds to help fellow swellers attend this year's #SwellnessExpo, 6 November in exclusive Baloba Beach and thank you, in advance, for helping to make life happen for #TEP!
+ Read More
Be the first to leave a comment on this campaign.