Catching The Spirit of Legacy Ranch
$235
of $200,000 goal
Raised by
6
people in 39 months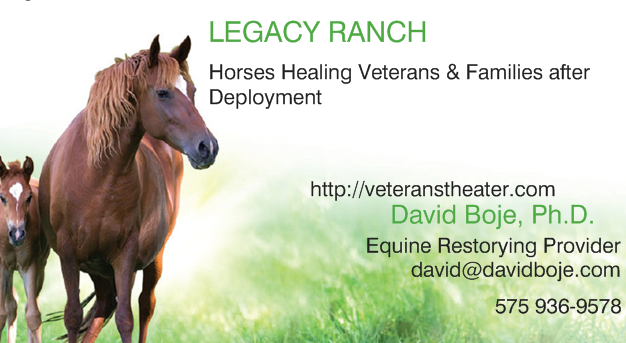 Our story is that we do not currently have a ranch in Southern New Mexico where we can do deployment support for Veterans and Family members.  We are veterans helping veterans.  This money will allow us to get a ranch in Southern New Mexico. It will be dual purpose
1. Serve veterans and family members when they reunite post-deployment
2. Work with homeless veterans and homeless in transitional housing to provide training in; ranch life, working with animals, and  learning skills to develop their own entrepreneurial ventures 
3. Bringing in rescued horses that not only help rehabilitate the veterans but are rehabilitated by the veterans. So they help eachother!
Veterans and families need a place to DECOMPRESS and to get in tune with Nature. The ranch will feature equine-assisted work and I, Dr. Boje, pioneer in restorying.
See video for examples of our work with horses we are
applying to veterans
Legacy Ranch will have Equine-Assisted-Growth-Learning-Association (EAGALA) activities as well as spaces for veterans and family members to decompress after employment. It is initially one, and in the long-term several ranches dedicated to services and ongoing research that will help veterans (& their family members) make the transition after deployment to sustainable- economics, living, health, and community participation. One of the activities will be equine-assisted care for veterans (and family members) using groundwork. Veterans and family members will stay in cabins for weekend, week-long, or month-long decompression activities.
Decompression means being in nature, being with animals, and being with family and friends to decompress after combat or post-combat military experiences. The purpose is to help veterans and family members who experience the stress of deployment to reintegrate. Another activity is 'embodied restory process' that is part of 'material storytelling'. Material storytelling uses sandtray events, and can include equine-arena work, where material objects are places in a space, by facilitators and/or by veterans (& family members) to depict their past, present, and future. Other activities include working with nature, with ranch animals, and having counselors available for confidential help with veteran and family issues.
The next video is our work with the veterans using storytelling, with Material Storytelling and a Restorying process.
Make a sizeable donation and we will name this ranch after you. 
We put on Veterans Theater plays to help raise money for this project. Help all you can
http://veteranstheater.com
7 STEPS of Restorying with ♥ of Care  for Veterans & Family
1. Recharacterize (authentic Self identity): 'Time Travel' to when you were at your best with Sustainability & Stress
2. Externalize (re-label): Make the Problem the old story, not the person. E.g. Mr. Unsustainability, Mr. Stress, etc.; Travel to Sanctuary (safe place) to theatre room for image readjustment
3. Sympathize (benefits): of old story of Mr. Unsustainability, Mr. Stress; Map the payoffs
4. Revise (consequences): Map the Organization & Economic influences of old story/old stereotypes of you as Unstainable/Stressed
5. Strategize (Little Wow Moments of exception to grand old story): Time travel to reclaim best of you in Being Sustainable & Unstressed
6. Restory (rehistoricizes the Grand old Story by collecting Little Wow moments into New story)
7. Publicize (support networking): e.g. letter writing with supporters of your 'New Story'of Sustainability Awareness and Balance Selves
+ Read More
Be the first to leave a comment on this campaign.