Help Get the Music Out There!
$1,020
of $1 goal
Raised by
33
people in 48 months
Help us get the music out there right now by clicking on the big blue "Donate Now" button  on the right hand side of this page ------------------->


Hi, it's Kev Rowe. Thank you for stopping by!
First, let me tell you a little about myself. I am a touring singer-songwriter, have released 5 solo albums, and am the lead guitarist in a touring band called Big Leg Emma. My personal idols are guys like Paul Simon, Jerry Garcia, John Denver, Trey Anastasio, James Taylor, Jackson Browne, Jim Croce, Gordon Lightfoot, Cat Stevens, Neil Young, and Bob Dylan. If you like any of their music I definitely encourage you to check out all of my videos below and hopefully you hear those influences in my music.  

Second, I love internet marketing. I will do almost anything to be heard (the ads :) but I have a lot of fun with it. And my fans on the internet are amazing. Currently I have over 38K fans on Facebook and growing, and we have a lot of fun interacting and sharing all of our common musical interests.  It's an amazing time to be an independent musician and I feel very grateful to be a part of it.  I strongly believe that enjoying the process of marketing and advertising my cds and having fun doing it... is as important as making the music itself.  So that's what this page is all about... getting the music out there.
Basically the funds raised here will go towards on-line marketing and advertising campaigns that will help us find new fans and music lovers out here in the cyber universe.  Specifically, YouTube, Facebook, and Twitter Ad Campaigns are all methods that I use to find new fans.  And it's probably how I found you :)

What you can do... make a donation ! And help me get the music out there right now! In return you can get some exclusive CD Packages  here that include autographed cds, T-shirts, handwritten thank you letters from me and more...

Just go to the right hand column and near the top of the page you will see a big blue "Donate Now" button . Please click on that button and choose the reward package of your choice. It's super easy, safe, and fast and I will love you forever for doing it. We will be releasing my music to the world... together!

Again, thank you for stopping by and taking the time to check out my music. 
-Kev

P.S. Wanna really really help out? Choose the Monthly Donation  option when donating. You will be continually supporting me as a working artist and I won't forget it. I know I couldn't do what I love for a living without your support.
Now check out these really cool exclusive cd packages...

REWARD PACKAGES 
Platinum Level - The Ultimate Fan Package - $100 Donation - THE MOST MUSIC! - All 5 cds autographed, T-shirt, sticker, and handwritten letter from me thanking you for supporting my music.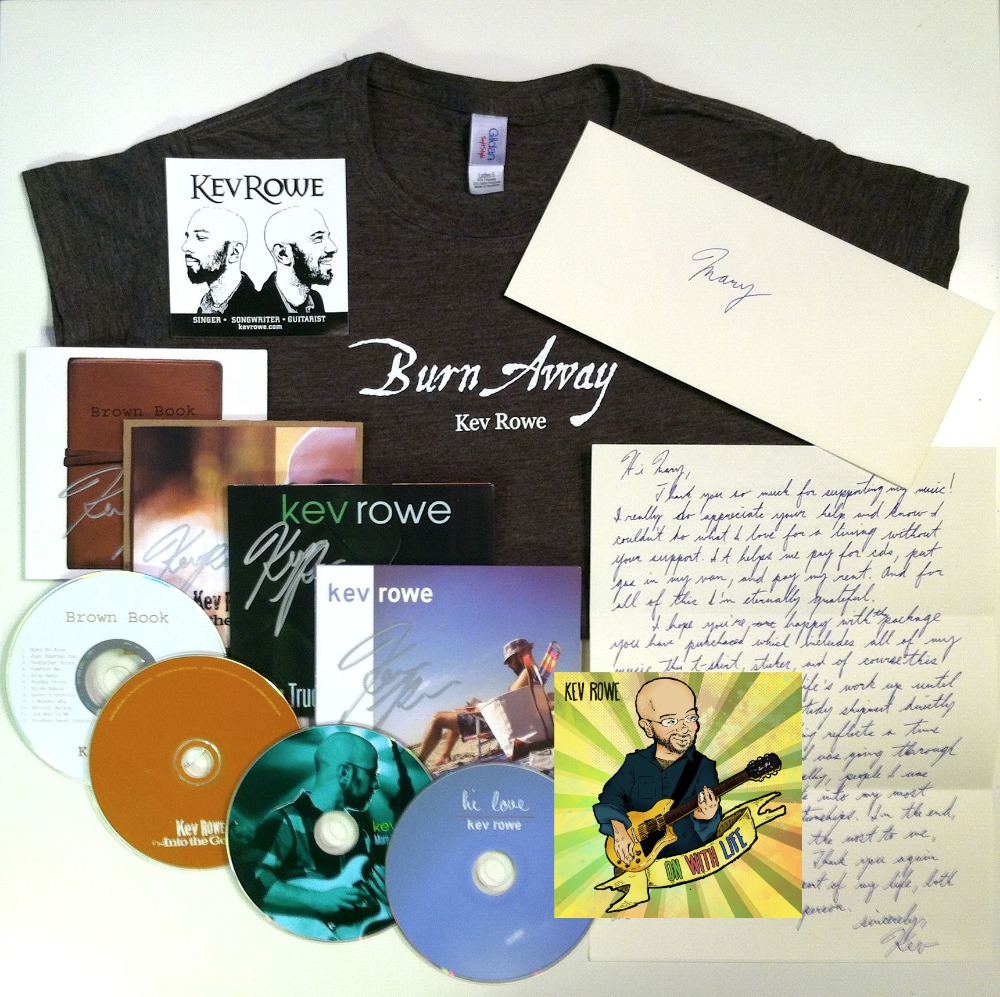 Gold Level - New CD/T-Shirt/Poster/CD/Sticker - $75 Donation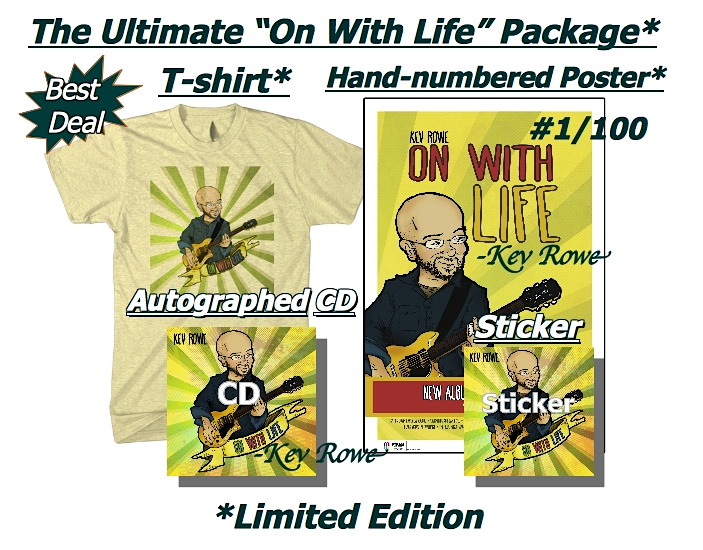 Bronze Level - 3 Autographed CDs - $50 Donation
Green Level - "On With Life" T-shirt and Sticker - $30 Donation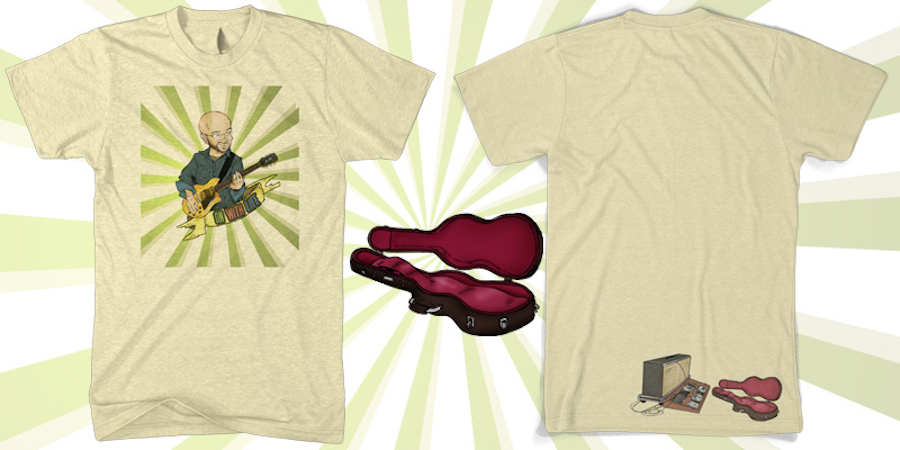 Red Level - "Burn Away" T-shirt, "Hi Love" CD, and Sticker - $35 Donation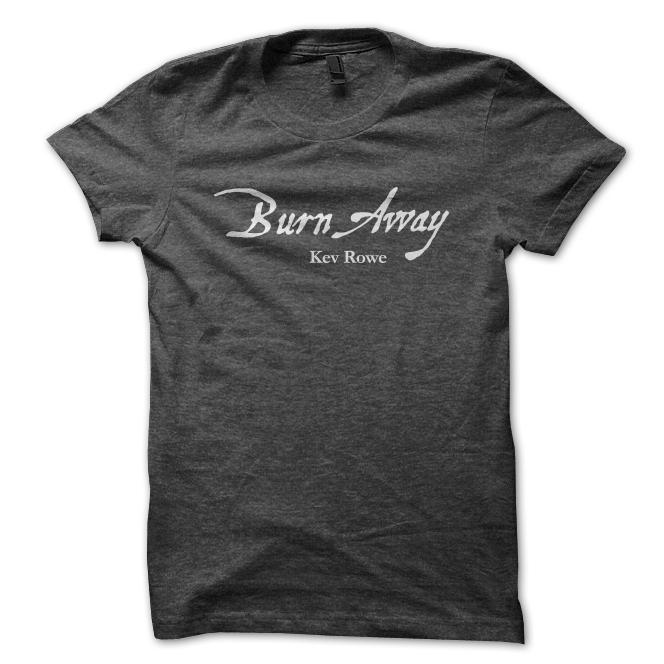 Yellow Level - Autographed New CD and Sticker - $25 Donation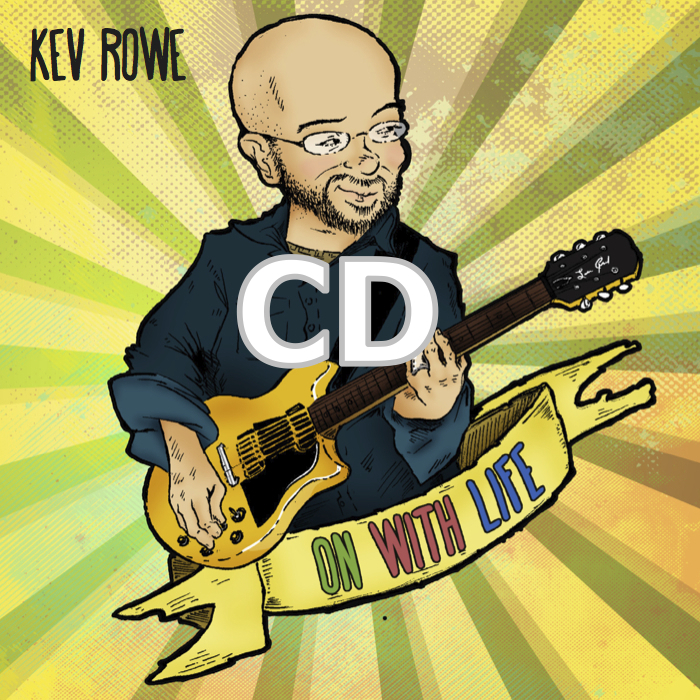 White Level - 2 Stickers - $5 Donation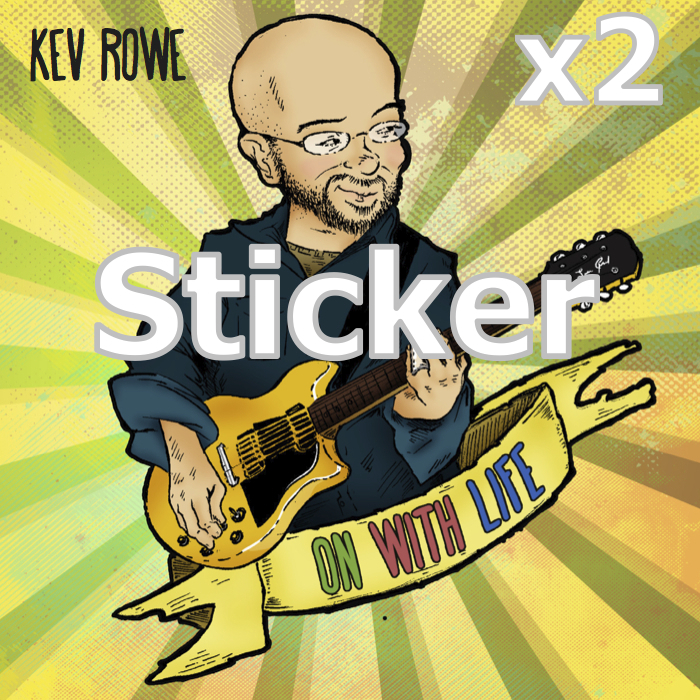 Private Benefactor Level - $500 Donation   
If you would like to support my music career in a substantial way but don't quite know how, you can become a private benefactor. You would be a primary reason for my stability and general happiness in the next year and greatly affecting not only my life as a working artist but on a personal level as someone who sacrifices a great deal to be a working artist . I will never forget such an amazing gesture. Also includes any of the above packages that you desire...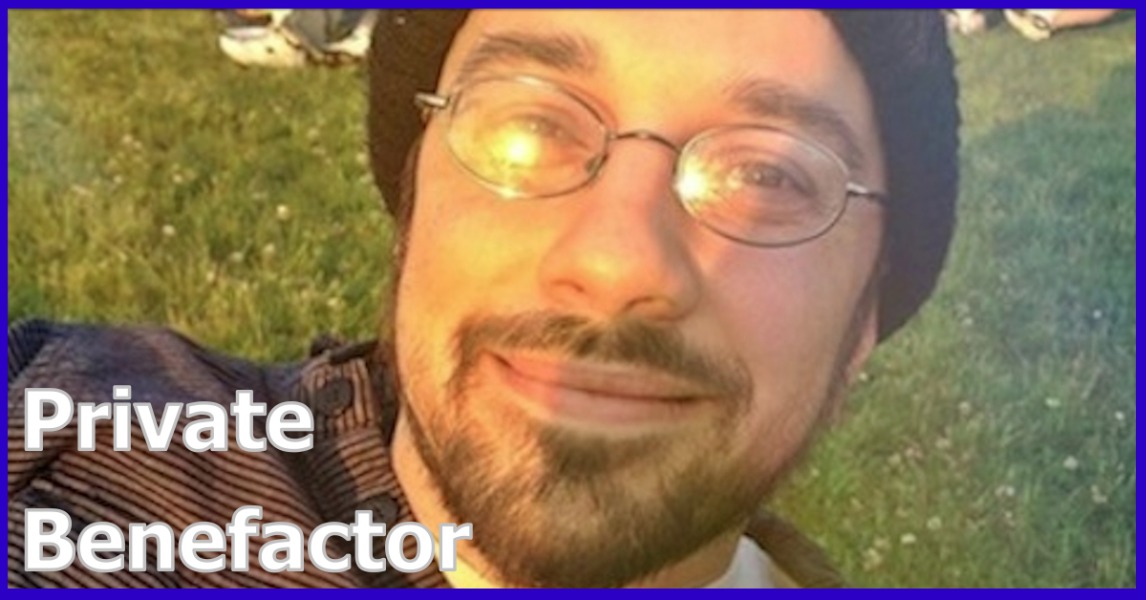 **All shipping and handling fees of the rewards are already included in the price of the reward package.

Please click on a sponsor reward package  now and help us get the music out there!

By purchasing the music directly from me you are supporting me directly as an independent artist.  Thank you so much for being a part of this journey with me.

sincerely,
Kev

Bio
Kev Rowe is an american singer-songwriter. He has released five highly praised studio albums. He continues to garner national attention in the singer-songwriter scene for his intimate, personal, singing style and lyrics. Kev also plays lead guitar in the touring americana band Big Leg Emma who hails from Jamestown, NY Rowe's hometown.

Kev has been a touring musician for 15 years now doing over 1000 gigs either by himself as a solo musician or with Big Leg Emma. Throughout the years he has met a lot of interesting and amazing people. Recently he opened for songwriting legends America and was asked to play the encore "Horse with No Name" to a sold-out audience at the legendary Birchmere Music Hall in Alexandria, VA. He also made his debut at the #1 songwriting venue in NYC, The Living Room, and also at the legendary spot, The Bitter End. Over the years he's shared the stage with an incredible list of musicians (see below).

Kev lives in western, NY, home to a very fertile and loyal roots music scene. When he's not recording or writing at home he's on the road playing his personal tunes. 

Awards
-14th Annual Billboard Song Contest -3 honorable mentions-
"Singer-songwriter of the year" -CCMA's 
-Great American Song Contest -finalist                            
-Unisong International Songwriting Competition -finalist
-Pacifici Songwriting Competition -judge favorite
-"Best Solo Musician of chautauqua county" -word magazine
-Great American Song Contest -honor award
-United Kingdom Songwriting Contest -semi-finalist
-"Chautauqua county's person of the year" -word magazine

Throughout the years Kev has shared the stage with...
America      
The Wailers        
Rusted Root                   
10,000 maniacs    
Derek Trucks Band       
Los Lobos                 
Del McCoury Band          
Little Feat            
Sam Bush                     
Keller Wiliiams         
The Weepies                  
Moe.                            
Donna the Buffalo       
and many others..

OFFICIAL VIDEOS
"Kev, your music is refreshing and honest. I love your voice. It reminds me of Paul Simon. But you still sound unique in your musical stylings are brilliant. I'm a fan for life!" -Susan, Michigan
"Kev Rowe tells a story of hope, happiness, and overcoming the worst of obstacles. He reaches out to the simple, and sheds light into the complex." -JK

"Hi Love" captures listeners with a sound that is reminiscent of the dreams of love that we've all had the but can't quite put into words" - Dusten Rader, Chautauqua Star Newspaper
"Here's a man who knows about love and it's complexities - worrying about the future while trying to live in the moment." -Kocher, music editor, Press and Sun Bulletin, Binghamton, NY

"5 stars! I love this cd! ("Into the Gold") He has a soothing voice and a great rhythm. The songs relax me and brighten my mood. This cd is funky and different from others I have heard and it is one that you won't regret buying. :-) MB, CDBaby
"Kev Rowe's Brown Book cd is filled with wonderful songs of love and true life experiences. Pick up the book and you too will gain great insight from the lyrics of one of America's finest songwriters." -Tom Ball, Just Plain Folk radio, 91.3 FM (The Summit), Akron, OH
""Hi Love" is Rowe's most personal release thus far. The message is to look for beauty that surrounds you and let it help you see the brighter side of life." -M. Kamin, The R & R Report
"Hey folks, this is John. If you are just tuning into Kev's music, you're gonna love it. Nice and relaxing, smooth tunes. Kev's guitar playing is great, and his lyrics terrific. And he sings them well. Though I have liked everything I have heard from him, check out the tune "Cool Me", it has become one of my fav's. And, check out Kev himself. He is a pretty cool guy.Talk to ya later Kev." -John, Texas


"With an acoustic guitar, Kev Rowe creates his own little space in the world." -Zabrodsky, music editor, The Post Journal, Jamestown, 


PLEASE CLICK HERE TO MAKE A DONATION NOW
+ Read More
Be the first to leave a comment on this campaign.