Josie Eugenie's Birthday Invitation
$555
of $275 goal
Raised by
7
people in 27 months
"Being Autistic I've always had difficulty making and keeping friends. I can't help but feel disappointed when everybody my age goes out with friends or has a big party. It makes me feel like I'm not really worth getting to know" -Josie Eugenie
Hi! My name is
Jolie Abreu
 and I am the Director of Development for
crowdFunnit
 .
Our latest crowdFunnit  birthday party is for Josie Eugenie.   Let's let Josie know she's worth getting to know! You are cordially invited to celebrate Josie's 24th birthday party with her.
Party: Saturday, October 1 at 12 PM – 2 PM in PDT at Oaks Amusement Park 7805 SE Oaks Park Way, Portland, OR 97202 RSVP and/or wish Josie a Happy Birthday here

We are looking to raise 275 towards basic party supplies and a quiet sensory area that's away from the excitement, in case Josie or any of the attendees gets overwhelmed. Every dollar helps and any money over our goal can also go to help others in need of support.
Josie was born with a rare connective tissues disorder called Ehlers Danlos syndrome, and autism. However the only thing on her mind right now is her upcoming 24th birthday.
This year, like all others, she just wants to celebrate with a big party full of friends and family. Unfortunately, since she's started school, no matter how many people she invited, only her mom and grandparents, and an occasional cousin or friend of her mother attended.
Josie says "Being Autistic I've always had difficulty making and keeping friends. I can't help but feel disappointed when everybody my age goes out with friends or has a big party. It makes me feel like I'm not really worth getting to know" Josie was nominated by Laura Wolfenson, a RISE Family Services Coordinator, to crowdFunnit, a project of the nonprofit Cherab Foundation. crowdFunnit helps to bring awareness about differences to those that are bullied or alienated, while fostering acceptance, compassion, and friendship through open-invite birthday parties. Our program typically only goes up to 18 but we were so touched by Josie's story we just had to make an exception.
Please show love and support by RSVPing to attend Josie's birthday party at Oaks Amusement Park 7805 SE Oaks Park Way, Portland, OR 97202 All that attend will be able to
purchase a discount deluxe ride bracelet for 10 dollars
 . The deluxe ride bracelet provides unlimited midway rides and a roller skating session with conventional skates from 12 till 7 PM. Celebrate Josie's birthday and stay as long as you want after to enjoy Oaks Amusement Park!
For those that are not able to attend, Josie loves receiving and opening mail. She loves when her mom and grandmother mail her birthday cards instead of handing them to her, because those are typically the only two cards she gets each year on her birthday. We are hoping that this year she'll get a few more. You can mail birthday cards to Josie Eugenie through her service coordinator Candice Gage who works for Clackamas County Developmental Disabilities.
County DD
Josie's Birthday C/O Candice Gage
2051 Kaen Rd.
Oregon City, OR 97045
If you would like to send a gift, Josie's favorite colors are purple, light blue and light pink. You can find her
Amazon "wish list"
 and you can also mail them to Josie in care of her service coordinator Candice Gage.
More details about Josie and her party here 
http://crowdfunnit.org/2016/08/05/josie-eugenies-birthday-invitation/
crowdFunnit is project of the 501(c)3 nonprofit, Cherab Foundation, devoted to building friendships, while reducing bullying and alienation through community supported birthday parties for friendless children.
Children all over the world, including your neighborhood, go year after year without anyone showing up to their birthday parties because they are either alienated, bullied or both. Founded by members of the Cherab Foundation along with like-minded souls who simply care, crowdFunnit fosters acceptance and compassion for those children that need a little help making friends. Following on the heels of Camden Eubank's successful "open-invite" birthday party in the summer of 2015, the pending 501(c)3 nonprofit for the crowdFunnit Foundation was created, serving as a proactive measure to help these celebrations come to life.
Having friends helps build confidence and self-esteem and you can help by making these special children the focus of a birthday celebration full of fun and friendship. crowdFunnit strives to provide a safe way for parents to invite the community and the world for that matter, via social media, along with local businesses to help create a birthday celebration of interest to their child.
Together we can help every child enjoy the simple pleasure all children deserve, a happy birthday with friends.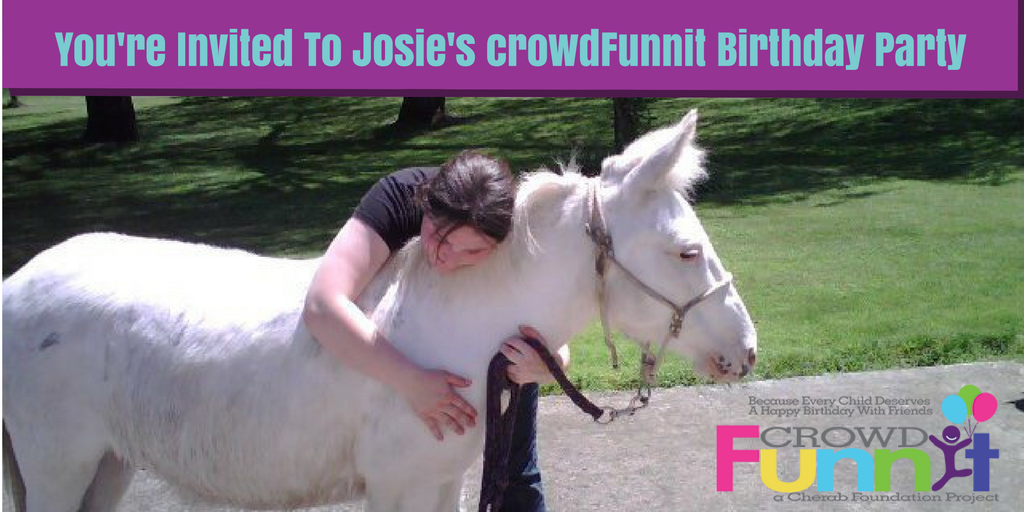 + Read More
Update 2
2 months ago
Share
Update 1
26 months ago
Share
We have reached our goal for Josie's party, but there is more work to do! Any additional donations will be used to help even more kids!
+ Read More
Read a Previous Update