I Tamburisti di FIREnze - BM 2016
$1,105
of $2,000 goal
Raised by
17
people in 28 months
I Tamburisti di FIREnze:  The Drummers of Florence


Our
Website is Here.
Our
Facebook page is Here
. 
This year at Burning Man, our drum-building collective is incredibly excited to 
recreate a 16th century Florentine craft guild
! Located in the Piazza at the foot of The Man,
we will be giving interactive tours of our guild workshop space, teaching classes on various drumming styles and techniques, and gifting drum-making experiences
. After crossing our threshold, your goal is simple: RANK UP! You'll start out as a recruit, become an apprentice, and just maybe, if you're worthy of the title, you'll leave as a master. 
Our 2016 collective of 29 burners will descend on the playa from all over the U.S.! Every year we grow and add new skills & talent to our collective, and this year is no exception! We're adding two major elements to our drum-building installation: we are teaching several classes daily in our play space
and
 we are offering burners a chance to help us build a dozen drums to gift to a school
off-playa after the event.
Help us do our part to spread Burning Man culture outside of Black Rock City!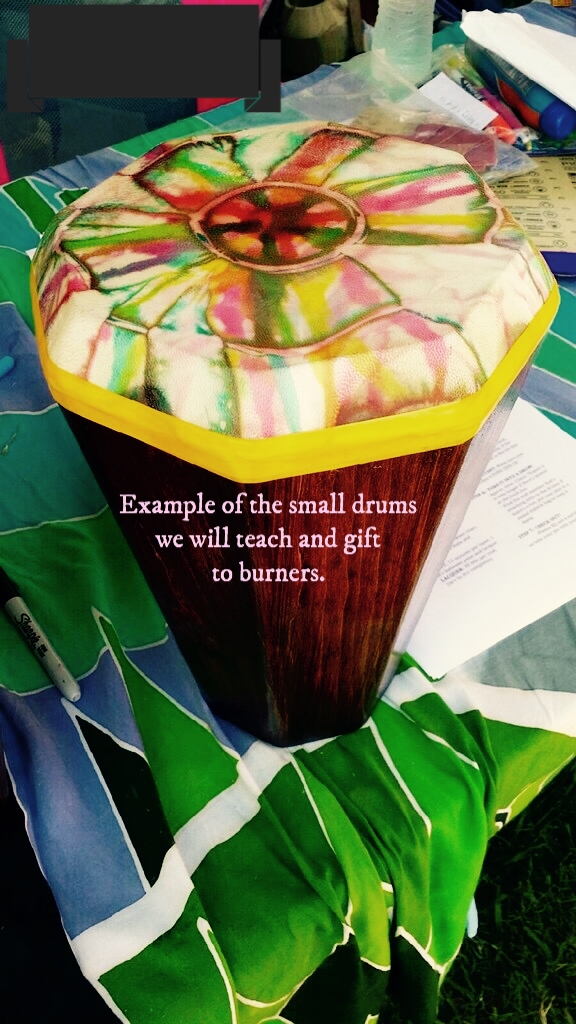 Why We Need $$
Our fundraising goal is to transform our 30x40 space into a functional craft guild and gift as many drums as possible. Each drum we gift on the playa costs about $15 in materials.  Each of the drums we will donate *after* the event costs about $50 in materials. Our space will have an exhibit area, workshop & stage. It will be staffed by 6-8 volunteers from 9am-midnight each day, and it will cost us thousands just to get there with our materials in tow. 
Why YOU Want to Help Us
It's entirely possible that you're reading this and thinking, "I'm not even going to this event. Why should I help make it happen?"  Well, first and foremost, our project is created by a unique collective of individuals and our "big ideas" germinate and grow each time we meet. Imagine a group of CEO's or politicians sitting around a table -  only instead of executives worrying about how much money they can make, we're a group of like-minded creatives who seek to make the world a better place through rhythmic artistry. We have an uncommon blend of musicians and artists amongst us with unique skills and perspectives that you'd be hardpressed to find anywhere else. What do you get when you put musicians, drum-builders, visual artists, music therapists, ethnomusicologists, drum circle facilitators, and audio professionals all in the same dusty camp site for two weeks?
That's us, Camp ThumpThump, at your service. 


In 2016, our vision stems from the overall theme of Burning Man, "Da Vinci's Workshop."  Through the lens of a Renaissance-era craft guild, let us gift you a drum, an experience, drum-playing skills, and memories that will last a lifetime!
Here's the Gist: 
For the cost of your morning coffee, you can help our team come together and create something spectacular in the Desert. It's simple: more funding leads to more drums in the world. We are incredibly appreciative that you've taken the time to read this page. Please help us spread the word!
+ Read More