International Artists Group
$1,635
of $9,000 goal
Raised by
6
people in 45 months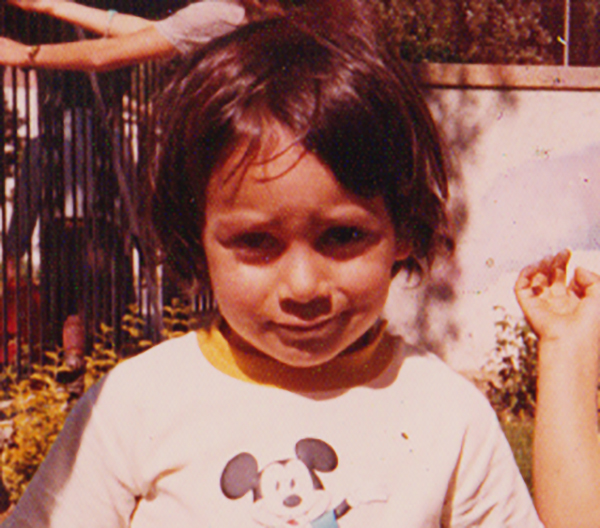 During his childhood and early teens, Giuliano Cavallo traveled throughout Argentina and Chile as a member of a Worldwide Organization named " The Family " also known as " The Children of God ". During this period he developed early communication skills, including the Arts from International Painters and Musicians. These skills would include singing, puppet shows, drawing, and fundraiser. Unfortunately, there was a more Sinister Organization behind closed doors. He found himself in a world that preached tough love, physical abuse, mind control and humiliation, all in the name of Jesus. As he confessed to me "God is not for sale nor the search for spiritual achievement, it belongs to all of us who search for the meaning of life and happiness, I deeply regret to have raised thousands of dollars for a religion "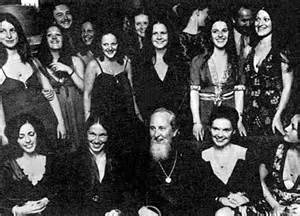 The Family by David Moses Berg (Self Proclaimed Prophet "Evangelist")
Victims Support: 
http://www.xfamily.org/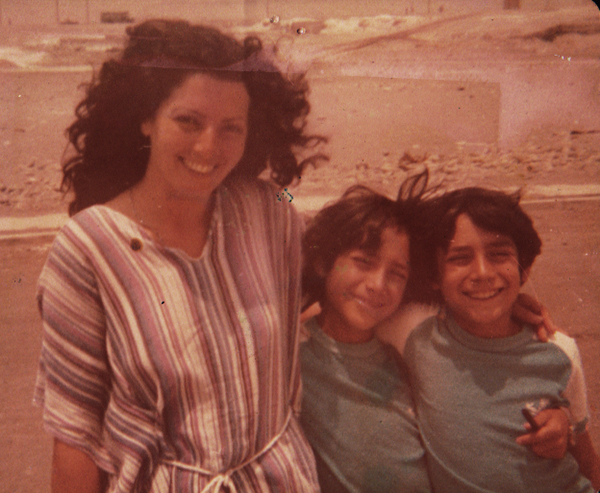 Ana Caneo with Giuliano Cavallo aka John & Gianfranco Cavallo Aka Daniel (twin brother)  " a trip on Faith "                                          ( Arica - Chile )
It was until 1987 that he finally moved to the US to live with his father that wondered for many years where he was, because of political issues they have kept apart. The reunion let Giuliano Cavallo continue his education in the Arts but it wouldn't be long for this to go south, as he had a bad accident during a summer job that nearly killed him with " Deco Builders" (construction company) right before going to college. For the next 20 years, Giuliano Cavallo will go under 7 complicated surgeries and excruciating pain and seizures. During his second procedure there where complications and he was left almost brain dead by Jackson Memorial Hospital. But there was a light at the end of the tunnel. It was during this period that he painted most of his paintings and created his own style known as "Abstract Diffusion". Because he did not have insurance or access to medications he learned to block the pain with Art Therapy. The new style would be attracted thousands worldwide through the years, including 2 publications by Pop Art Books London UK "Madonna in Art "and "Diana in Art" (in memory of her passing). As the Internet developed to faster speeds he created "International Artists Group", a Network of Artists, Graphic Designer and Webmaster's that Created Art Websites & Blogs. This led to a Newsletter Exposing the Top 100 Art Sites free of charge to Artists Worldwide via email in 2002.
Webliography:
https://www.facebook.com/notes/international-artists-group/webbliography/10150783884185484
Pop Art Books London UK by Caxton Press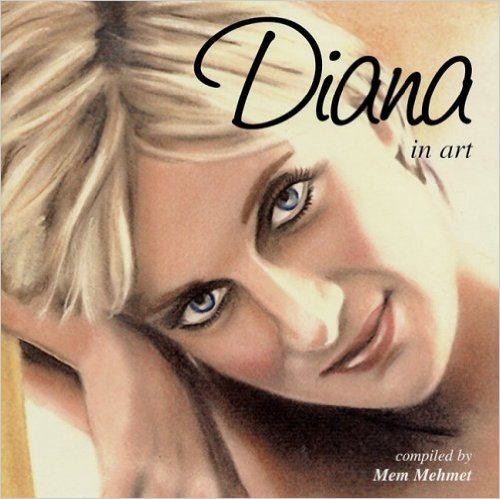 As the Internet grew and Social Media began to surface everywhere, he was ready to take his newsletter to the next level. But it wasn't till he met Ms. Piyanut Wilhelmy in 2011 on Facebook that the group would develop from 2,000 members to over 80,000. But they were not out of the woods yet. Because of all his childhood traumas, bad experiences and medical procedures including medications with many side effects, the Artist developed some kind of Bi-Polar Disorder that according to doctors was diagnosed first 1991 at Mount Sinai Hospitals but finalized in 2003 according to Henderson Mental Clinics and the Federal Government. The Diagnosis will be puzzling to Giuliano Cavallo as he started learning about Mental Health and how to manage as he was allowed to draw patients in the crisis unit and it will label him as " an Interesting Patient to Doctors". The injuries soon spread to his Spine and hip in the form of Arthritis. He had to get painful spine injections and had to take pain killers of all kinds. As he explained to me "I remember a time when I was taking up to 7 different medications that nearly killed me".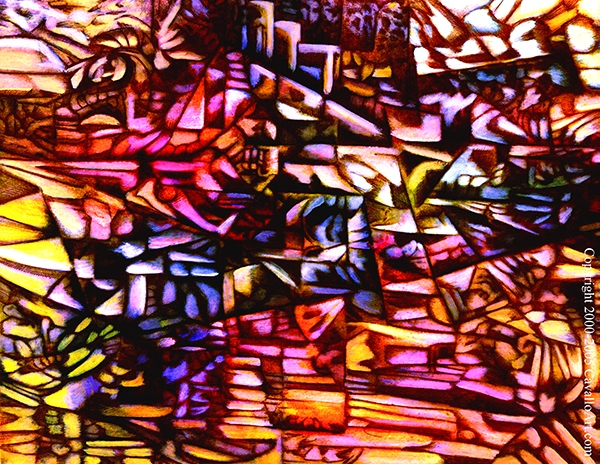 Picasso Study (Henderson mental clinic's las olas crisis center) one of the first studies in Abstract Diffusion.
It was during this period that he needed an income as the caseworker explained to continue with his vision as he ended up unemployed and homeless. Starving and stranded with very little support from his divorced parents and no place to go, He became The Art director for a Non-Profit Organization (501 c3) to help the Homeless named "Starting Over Inc." by Susan Bain aka Snow White (recommended by Henderson Clinics) an Angel to The Homeless Community. ( by the press) also known as e.e. Productions (entertainment company) Many years of waiting led to granted SSA & SSI benefits from the Federal Government, but unfortunately there was not retroactive pay and the Tax Payers ( his fans) ended up paying for over 500,000.00 Dollars in Medical Bills, Medications, Procedures, Food Stamps & Section 8 Benefits and still growing. As he broken hearten explained "How can a Federal judge rule in favor of a huge company like "Farmers Insurance", when I'm protected by Workman's Compensation laws? These are the same laws they go by in case they get hurt." The Artist desperately needed a helping hand to run the group. Ms. Piyanut Wilhelmy (Art Collector), who has the same passion for Arts and the same intention to support other artists, suggested to Giuliano Cavallo to continue with the group and not to give up as they recruited additional administrators on the Facebook page.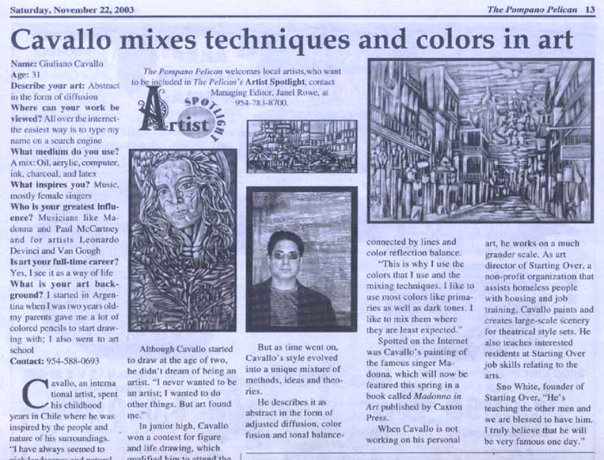 Today, Giuliano Cavallo is happily married to Piyanut Wilhelmy and runs the group together with several friends that donate their time and efforts. "Were would the group go next?" I asked him. Giuliano Cavallo feels that there is a lot of talent out there and that many Artists don't get the recognition they deserve or not even a thumbs up. There is a lot of room to grow and many great opportunities out there completely free of charge. Super excited he tells me "I have been accepted in over 200 sites and been Published in Magazines, Books, and Newspapers all for FREE".
Our Goal:
The Goal of Ia group is to get the Artists involved and develop relationships with galleries, museums, websites, magazines etc. But many of them need help to achieve their own STYLE. He tells me that there has been an increase in Internet scams targeting Artists for several years and that these entities need to be verified to protect the Artist and keep the environment scam free regardless of who they are. The Art show business can be expensive and we are trying to find legitimate business that promote Artists for Free or at least in 50/ 50% basis on the sale to keep it fair, as he further explained " Art Galleries or Museums can't guarantee the sale, that also includes websites & online stores " so if the artist does not sell, he or she will get burned for the expenses like: fees, framing, shipping, web services fees as he reiterated " It's about being at the right place at the right time with the right piece of Art for the right concept of the Art Show being in question"
The Mission :
Today Ia Group has reached almost 70,000 members, 250,000 email contacts and is expanding through many sites as he said: "Have you Yahoo-ed me lately?" Giuliano Cavallo will put the donations in a fund that will be used when the time is right. These funds will go to help artists benefit of their talent under his supervision. This will be a challenge because many artists are not hybrids or have computer skills like web developing skills of their own and GC stated that " I remember a time when people did not even know what a Jpeg file was". As Giuliano Cavallo continues his studies not in Art this time but Web Design & Development, Programming, Cyber Security and Networking, there have been thoughts in creating an e-commerce site where artists can sell their work, but this will be done through contracts and management because some Artists don't have too many experiences, resources for such a campaign and in many cases no financial support from anyone. "We are a not for profit group not to be confused with a 501c3 non-profit org"
We don't have the resources to apply nor do we apply for government grants, do the extensive scrutiny which is time-consuming because of the grant writing processes and justification. (red tape) We have canceled our intent to apply until we can afford a grant writer, personnel, a building with lots of Wall Space, Art Supplies for Artists, Hardware, Software, etc. This would allow the group to expand. We have not picked a location at this time as we build our database of local supporters and sponsors including affiliations with the press. once we have raised the necessary funds, we will apply for a 501 c3 org and we will be able to justify the grants with the community and IRS.
Giuliano Cavallo 
Web Developer at A1A-Studios.net
Art Consultant at 
TheCavalloGallery.com
Piya Wilhelmy Cavallo 
Art Collector / Administrator at IA Group
Advisor to head of Administration at the German Embassy.
Administrators: Giuliano Cavallo, Piya Wilhelmy, Erika Schuster, Elena Davis, Teddy Bears Club.
Sponsor:
www.RedChemistry.org
To become part of this International Group go to
https://www.facebook.com/groups/120438105483/
+ Read More