Help Dhurmus to Rebuild Giran Chaur
$45,034
of $50,000 goal
Raised by
493
people in 40 months
This fundraising for Dhurmus Suntali Foundation was voluntarily initiated by
Santosh Ojha
 , a young fundraising professional in Nepal and
Saral Gurung
 , a journalist from Kathmandu. Background
The comedian duo of Sitaram Kattel (Dhurmus) and Kunjana Ghimire (Suntali) of the weekly sitcom Meri Bassai were in the US in the middle of a two-and-a-half month tour when the Great Earthquake rattled Nepal on April 25. One week after the quake, the duo—who are also the Sanitation Brand Ambassadors for the Nepal government—were back in Nepal. They had to cancel the remaining scheduled 18 shows, which were meant to raise money for sanitation programmes back home. Since they have been back, they have focused solely on carrying out relief work.  The husband and wife have successfully rebuilt Pahari Basti, Danda Gaun, ward no 16, in Kavrepalanchok district, with the help of locals and volunteers by making earthquake-resistant houses for an Integrated Model Village. (Text credit: The Kathmandu Post)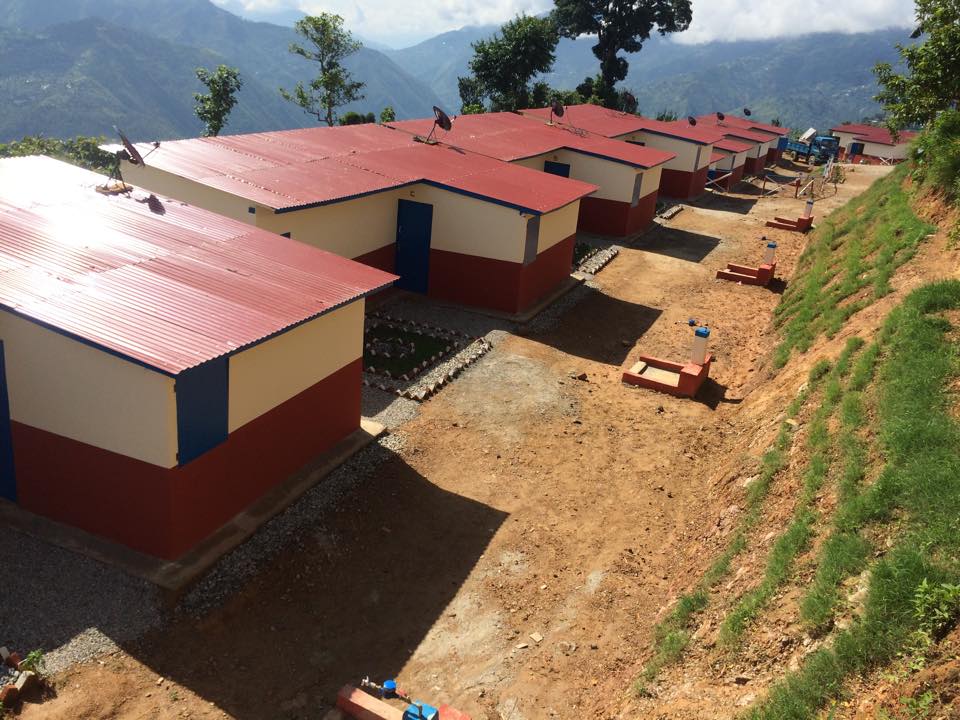 Photo: First Model Village at Pahari Basti, Kavrepalanchwok district. 
After the successful efforts to rebuild the Pahari Basti in personal efforts, the comedian duo aim to rebuild the Giran Chaur Village at Melamchi Municipality, Sindhupalchwok. This time, they are more organized with the Dhurmush Suntali Foundation.
Rebuilding Giran Chaur Village
Giran Chaur was a beautiful village at Melamchi municipality, 8 in Sindhupalchwok. After the earthquake in April, 2015, homes in the village completely collapsed (shown in the picture below) forcing the villagers to stay in the temporary shelter.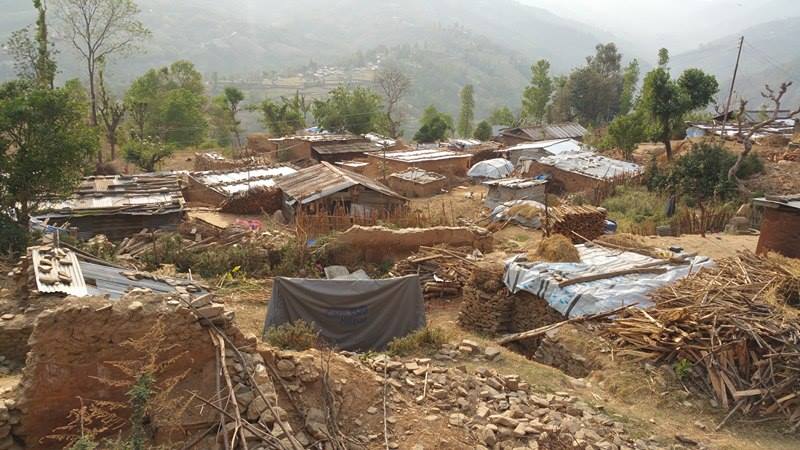 Photo: Giran Chaur village at the moment. 
The village and the homes are not rebuilt even after a year of the earthquake. Indigenous needy Tamang communities, who lost their homes and loved ones still live in the temporary shelters as monsoon is approaching soon that makes their life more complicated. (Sketch of the design to be updated soon)
What we have planned? 

There are 5 15 people from 65 Tamang families staying in the temporary shelters in the village at the moment. We're planning to change the face of this village to by building a model village for the Tamang community and help them for decent living with beautiful homes as gift after the earthquake. There will be 65 quake resistant homes for 65 families with toilets and small gardens in each. Following is the plan in specific:
Location:
Giran Chaur, Melamchi-8, Sindhupalchwok
Area of the village:
5 Hectare
Types of homes to be built:
4-room earthquake resistant single stair building
Estimated Cost: 35 million Nepali Rupees
Each of the 65 homes will have a tap with running drinkable water, a toilet, small garden, children friendly structures and the model village will have one big community hall. 
Photo: Dhurmus with the children of Giran Chaur village

Even a penny counts!

We know we all have some kind of strength. Some can afford time to take initiative to lead on the ground; some may not be able to do that but can contribute little of what we have. Here we are, on the ground to build the village. If you cannot come on the ground, you may consider contributing the amount whatever you can. Let us work on your behalf. Even a single penny counts as we're running out of money already.
Transparency of the money you contribute
Dhurmush Suntali Foundation is the legally registered entity under the Social Welfare Council of Government of Nepal. Each of your contribution will be audited by the registered auditor and details of the expenses will be made public on dhurmussuntali.com and other social media platforms. Names of the contributors will be added on the inscription to be placed at the community hall.
+ Read More