Help Chloe Live Again
£24,520
of £75,000 goal
Raised by
409
people in 22 months
*new goal: £75K, half of the overall Stem Cell price or approximately 30 cycles  of intravenous IGR. 

Hello Everyone! 
I'm Chloe, an 19 year old who has a bundle of severe debilitating chronic conditions after being severely injured by the HPV vaccine 7 years ago. In October 2016 I died and came back to life due to the severity of my damaged ANS: I was resuscitated and put on life support until my internal organs recovered and until I could breathe without a ventilator. I'm so thankful for this second chance and I make every breath count, but my life is still more than challenging, which is why I am asking for your generous financial support.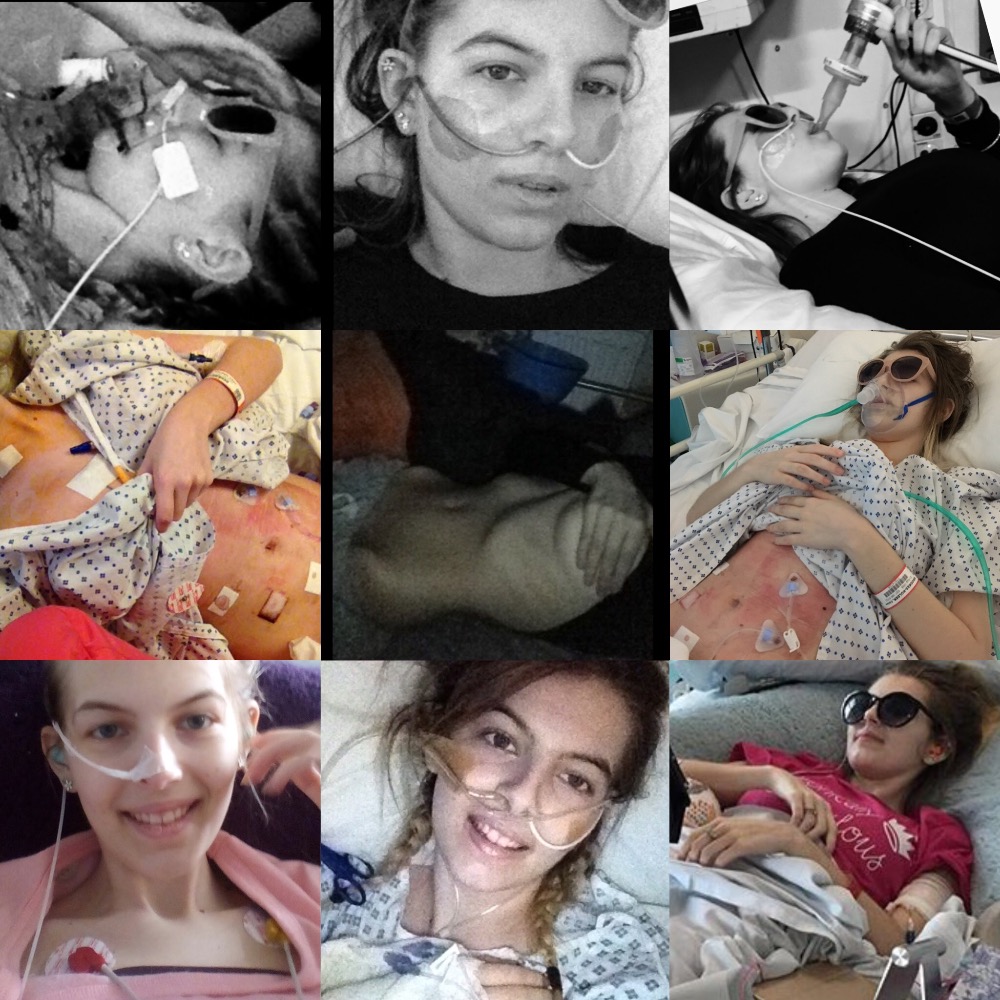 My Life Before The HPV Vaccine
Before I was vaccine injured, I hiked, mountain biked, went to the park, rollerbladed to the shops, had social gatherings, went to the cinema, had birthday parties, and I had friends. I had an artistic, busy and athletic lifestyle. I was on the right road to getting A's at GCSE. I lived life to the max because life has always been important to me, and even more so now I'm isolated from the real world.
I Was A Dancer
I also danced 6 days a week: I loved to go to after-school sport and dance clubs every night. I really wanted to have a dance career, and now my heart bleeds with the torture knowing I may never walk again, let alone dance again. 

Life After The HPV Vaccine Injury
Each day is a battle against never ending symptoms: constant paralysis, extreame mast cell anaphylactic-like reactions, oxygen deprivation, random and exhausting seizures that leave me with short-term memory and speech loss, then the agony when meds, feed and water is pushed down my feeding tube. There are also many invisible aspects many don't see, such as: bladder retention, intermittent catheterization, nausea, migraines, vision problems, light and noise sensitivity, multiple injection wounds from daily anticoagulant injections, a paralyzed stomach, delayed motility of my GI tract, the raw inflammation and ulceration in my colon, the over active nerve endings, blocked signals in my brain and spinal cord, and of course the intense chronic widespread pain and unpleasant "voodoo doll" sensations.
It's all hidden until I tell the world my story. The adverse reaction to the vaccine and the conditions I have developed over the years has had an enormous impact on my life. In a nutshell, I live a daily hell. 
Above is a very informative documentary about uncovering the truth of the HPV vaccine; I feature in it!  I was thankfully filmed before my abnormal eye movements deteriorated & before I lost my speech completely! 

Official Medical Diagnosis
Gastroparesis:
stomach paralysis, I can't swallow, I'm fed through a Jejunostomy tube and I have a partially paralyzed bowel.
Eoinisophillic Colitis
,
IBD
,
dysphasia
and other gastrointestinal disturbances.
POTS
: a neurological cardiovascular condition.
Myalgic Encephalomyelitis:
Paralysis and loss of muscular tone. I can't walk.
Fibromyalgia
: severe chronic pain, musculoskeletal inflammation, central sensitisation, hypersensitivity & post exeritional mailise.
Fowler's Syndrome
: bladder dysmobility. 
DDD
: a spinal disease causing  dehydrated & herniated disks due to internal dehydration & lack of muscular stability.
MCAD
: I'm allergic to life- even my tears! I endure severe
allergic reactions
daily which floods my lungs with secretions. Too much histamine releases in my body causing airways to close,
oxygen deprivation
&
neurological hyperactivity
which has made my neurotransmitters, cell simulators & my body's receptors malfunction to a dangerous level. I.e. I can have acute sepsis shock & it won't show up in ordinary blood tests.
Non-epileptic Seizures
: compromises airways.
Adrenal dysfunction
: high cortisol levels.
Mitochondrial damage
: limited energy cells in my muscles /internal organs.
Autonomic Failure 
Metal toxicity
, query
EDS- hypermobility type,
 the
MTHFR mutation
 and much, much more that is undiagnosed.
My Current Situation & Outlook
Today, my life is complicated and my future is uncertain. Tomorrow is another day but I never know what tomorrow or even the next hour will bring - I can't predict the future and I can't plan ahead. I don't know if I'll be able to have children as many women are infertile thanks to Cervarix or Gardasil from the young tender age of 17-18. 
I have lost the ability to talk.

I may have a broken body which persistently disobeys me, however I am lucky enough to be a mentally strong individual who's managed to build up her own coping mechanisms and psychological techniques despite negligence and terrible past experiences. Despite hardship I find happiness. Despite pain I find inner peace. Mindfulness may help others in my situation, and yes it will keep the demons of depression and anxious thoughts away. However, no amount of mindfulness and positivity will change the immense pain I endure every day or magic the mobility and loss of sensation back into my once healthy, sporty, dancing body of mine.

Whether you're anti-vax, pro-vax, pro-science or a skeptic it's not time for a heated debate; I'm severely sick & I'm pleading for your kind gesture.
Your Financial Contributions Will Help Me!
I'd love you to be a part of my journey and your help would mean the entire world to me. As much as I loath asking for money, many families that I met in the hospital (where I recently lived for 11 months) suggested and discussed it with me; and then Larry Cook of
www.StopMandatoryVaccination.com
finally persuaded me to do so to help with the costs of the following:
General Medical Costs
For anything that will significantly make my life easier from medical appliances to reclining wheelchairs to life changing housing adaptations.
My current goal is to fund a fully reclining power chair so I can go outside- approx. £15,000
[so close!!]Pain Management Costs
For example: Daily Reiki healing (It's a controversial treatment but it is works for me- it's keeping me out of ICU!!), CBD oil (now allergic), Pulsed Electro Magnet Frequency healing (PEMF), oxygen therapy [now provided by the NHS.]
Specific Medical Costs
- Find and pay for doctors who specialize in HPV vaccine injury✅
- Additional blood tests: MTHFR gene, ADEM, Myelitis, GBS, Lyme, Full panel for antibodies-IVIG, Allergens, Live HPV active proteins, Adrenergic, 
Muscarinic, all sent to Europe & USA.✅
- Private phlebotomist, special delivery courier, plus clinic and lab charges; Est. £500 per destination; approx. £1,500 in total.✅
- Medical intervention: the options are low dose allergy immunotherapy, IV anti-viral drugs, IVig-immunoglobulin therapy infusions or cellular replacement  (as suggested by a professor) or Rituximab.
- The last resort but potentially the most effective treatment: Stem Cell Thearpy. £140,000.
The blood tests are important: they will reveal and determine what intervention  (private) treatment within the UK or aboard (current costs unknown).


EDIT: I WILL BE RECEIVING IV IGR! This will be done privately due to my complexity. It costs £1750 per cycle every fortnight for 6 months- 3 years. As the dosage gets higher unfortunately so will the price. We've been told that it's life prolonging not life changing because too many of my immunoglobulins are dead/damaged (AKA im too sick) but we will be using this therapy method as a strengthening treatment to get me somewhat 'fit to fly' to the US for Stem Cell Therapy, which will save & significantly alter my life!

Thank You So Much!
I guarantee my future won't be how I planned it, but it will be full of determination and dedication to get a better quality of life that I've forever dreamed of for 6 years. I dream of traveling the world! I want to WALK again! And with your help I may be able to!!
"A successful person is a person that can build a firm foundation with the bricks that life has thrown at them"
THANK YOU IN ADVANCE!
~Chloe✨

My Story On Stop Mandatory Vaccination
www.stopmandatoryvaccination.com/vaccine-injury-2/a-once-healthy-teen-is-destroyed-by-the-hvp-vaccine-and-now-lives-a-daily-hell/

Follow My Journey On Facebook
www.facebook.com/ChloesVaccineInjuryJourney
www.facebook.com/HelpChloeLive

Instagram: @ChloesChronicals_of_illness 
Twitter:

@ChronicallyChlo
+ Read More