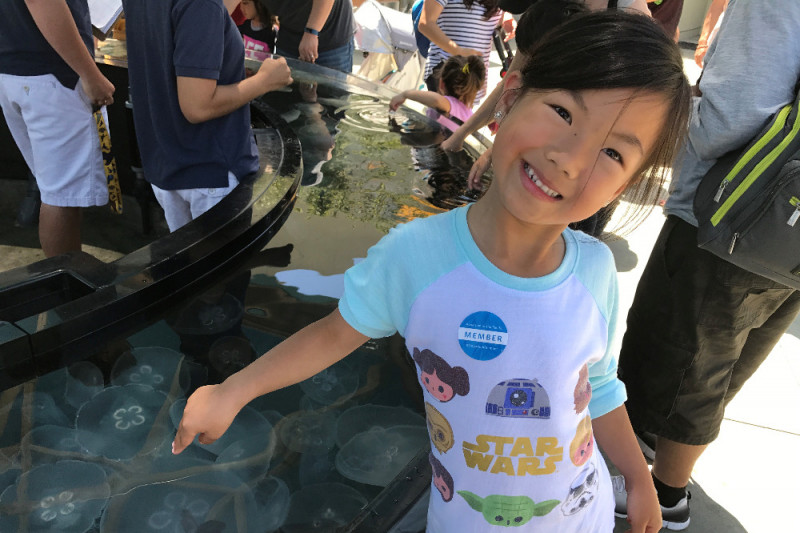 6
8
Help Audrey Change The World
$550
of $15,000 goal
Raised by
7
people in 9 months
#HelpAudreyChangeTheWorld
Who is Audrey?
Audrey is a 7-year-old girl fascinated by the world of STEM (Science, Technology, Engineering and Mathematics). This girl would prefer a trip to the Aquarium of the Pacific and the Natural History Museum over a trip to Disneyland. Her mind is always moving forward and she is never afraid to ask questions about why thing are, and how she can make things better. At such a young age, Audrey already displays many of the skills that are essential for success such as critical thinking and problem solving, creativity and innovation, communication, and collaboration.  We have monthly STEM projects delivered to her every month, and we have had to raise the skill level by 2 years to keep her challenged. I have looked into STEM grants and scholarships for her age group, but could not find any at this time. Instead of buying snacks or raffles from Audrey, please help support her mission to make the world a better place for the future.
What is this for?
Project Scientist Summer Camp is to educate, coach, and advocate for girls and women with an aptitude, talent, and passion for STEM. Through engagement of top STEM companies, universities, teachers and hands on curriculum, girls discover the endless opportunities available to them in STEM.
Image Credit:
Stem All Stars
Where:
California Institute of Technology (Caltech Campus)
When:
Summer of 2017 thru Summer of 2022
Why is this important?
As parents of a young girl who is eager to learn and study sciences, we feel it is important that we encourage her, and supply her with anything we can to let her grow and continuing pursuing her interests. We do not want her to feel intimidated or that she is incapable of being successful in fields dominated by men. This program provides female professionals who have broken the stereotype and volunteer their time to teach, mentor, and guide young girls exploring their interest in STEM.
Statistics:
Draw-A-Scientist Test (DAST) is an open-ended projective test designed to investigate children's perceptions of the scientist.
The original test to "draw a scientist" in the 1970's was designed to figure out just how kids see researchers. In the original study of nearly 5,000 children, the results were clear. Children depicted scientists as old white men in lab coats. Only 28 drew female scientists, and all who did were girls. In 2010, 40 years later, women are still only depicted less than 40% recent surveys.
Census Bureau's 2009 American Community Survey, women comprise 48 percent of the U.S. workforce but just 24 percent of workers in STEM fields
In 2015, women in the United States represented 24.7% of computer and mathematical occupations 15.1% of architecture and engineering occupations. For women of color, this gap is even wider. Asian and black women and Latinas made up less than 10% of working scientists and engineers in the United States in 2013.
Image Credit:
statista
How you can help:
There are a couple of ways that you can help us reach our goal:
1.       Monetary donations: Every little bit helps. If had 100 people forgo 1 morning of Starbucks, it would pay for a week of camp. Should 50 people bring a home lunch for one day, instead of going out for lunch, it would pay for another week.
2.       Share this campaign across your social media platforms. The median number of friends a Facebook user has is 200. If 300 of my Facebook friends click SHARE to 200 of their friends, I will have reached 60,000 people. Add in other Social Media such as Twitter, Instagram, Snapchat, LinkedIn, and many others, the numbers will soar.
I know that not everyone is in a position to help financially, but it only take a few seconds to click SHARE. Therefore, when I say I only need a few seconds of your time, I really mean it.
What is the goal of the campaign?
The goal of this campaign is to help raise money to assist in continuing Audrey's STEM education with Project Scientist's specialized program while she qualifies up to age 12. If this should reach the number of people stated above, a donation less than $1 per person, we could easily reach our goal.
What will contributions cover?
Contributions will assist in covering tuition costs for 8 weeks of Summer STEM Science camp. Each week has a cost of $725. Additionally, funds will also cover costs for mid-year science expeditions at $120 per event.
Last Summer

In 2016, we were able to send Audrey to 2 weeks of camp. She chose Designing Your World and Space Explorers. A few of the projects that they had for those two weeks were building a city in grids and sectors, creating and launching air rockets, volcanos, and art projects.
Summer 2018


Below are the 3 classes we have enrolled Audrey in for the upcoming summer.
Girls Take Flight - Combining the forces of flight gives us lift off into the field of aeronautics. We'll explore natural and manmade fliers such as birds, planes, helicopters, hot air balloons, and hovercrafts and launch our own into the sky.
Digging the Dino - Jump back to a time where dinosaurs ruled Earth. We'll be archeologists and paleontologists sorting through bones, fossils, and artifacts in our prehistoric world.
Tech Maker & Creator Lab - Take the tech world by storm through a variety of coding and robotic platforms including Makey Makeys, Beebots, Scratch, CodeSpark, and mobile app development.
+ Read More
Update 1
8 months ago
Share
Hope everyone had a wonderful Thanksgiving. Thank you all for your support. We've started to raise funds, and want to keep this going. Please take a moment to SHARE.

#HelpAudreyChangeTheWorld #womenintech #womeninstem #stemsquad #ilooklikeanengineer #engineeringgirls #girlengineer #girlpower #womenwhocode #science #girlswhocode #womenintech
+ Read More