HIV EDUCATION India- JUNE 01
$935
of $1,500 goal
Raised by
12
people in 43 months
!Ways to Participate
1. Visit
www.gofundme.com/HIVed
- and forward link to others and/or post it on you Facebook  or
a. Send a Check, payable to: TRIUMPH CHURCH - Note on Check: "Micro-Enterprise India"
b. Mail to: 23046 Avenida De La Carlota, Ste 150, Laguna Hills, CA 92653
2. Include your email address to receive a blog from my trip
Please Read, Pray and Help As You Can
In just a few months I'm traveling to India to teach hundreds of women whose lives have been crushed by HIV/AIDS a way to turn their lives around, gain self-esteem, and to provide for their children
HIV+ Women and HIV+ Widows are Considered Failures in India
HIV+ women and women whose husbands have died in India of AIDS are unwanted in every way - with no way to take care of themselves nor their children without resorting to prostitution, begging and/or having to sell their children into slavery, the sex trade or as child brides.
There IS Hope, there IS a way to change this around!
Years ago I became involved in the principles of Micro-Enterprise and accountability in small groups. I've seen the miraculous success of these programs, and I know – this works! Besides the powerful statistics, I have personally seen the results, and they are lasting, and truly life transforming.
In 1978 the Grameen Bank established small accountability teams to assist the people of Bangladesh to start small businesses: A small loan ($30 - $100) is provided as seed money, along with education, training, and accountability. Before the recipient can take any profit, all monies are paid back in full (no interest). The program is so effective that since its inception, the payback rate has stayed at a consistent 97% and the original seed monies from the profits are paid forward to the next team. So your donation will multiply over and over again.
Please Be My Partner!
I can't do this alone, so I'm reaching out to you for help. We need much more funding for these loans, supplies, and meeting materials. Your generous donation will make a huge difference, and it will continue giving forward. Please keep me in your prayers for wisdom, health, and safety! Don't forget that your donation will continue to keep rolling over into new loans for even more hope and healing to these desperate women!
Why I'm going… I feel called and I know that I must go. I can deeply relate to these women: I am a widow living with HIV – this enables me to reach their hearts. God has given me a message of empowerment to lift up those who feel helpless, and to share how His amazing love brings hope. Hosea 4:6 "My people will perish but for lack of knowledge" and Genesis 50:20 "What they meant for evil, God turns into good. "
Please Donate Today – Every Bit Helps, and is Truly Needed! kathi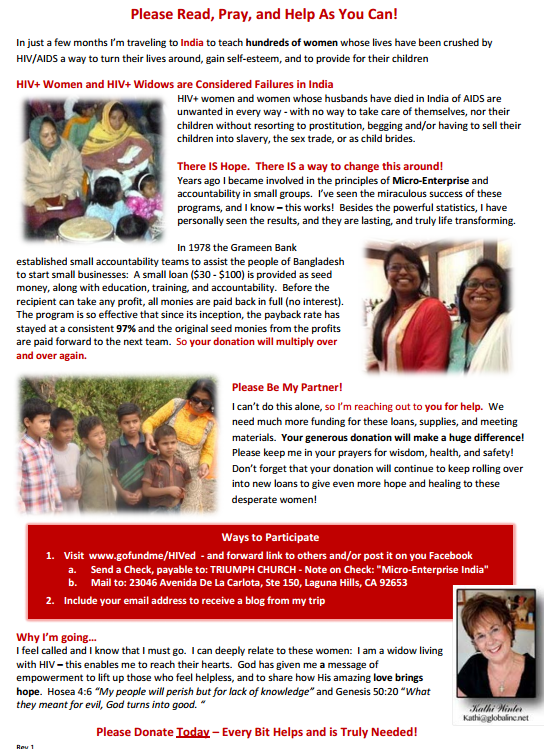 + Read More
Be the first to leave a comment on this campaign.