Hyperbaric Oxygen Fighting Cancer
$3,680
of $20,000 goal
Raised by
30
people in 49 months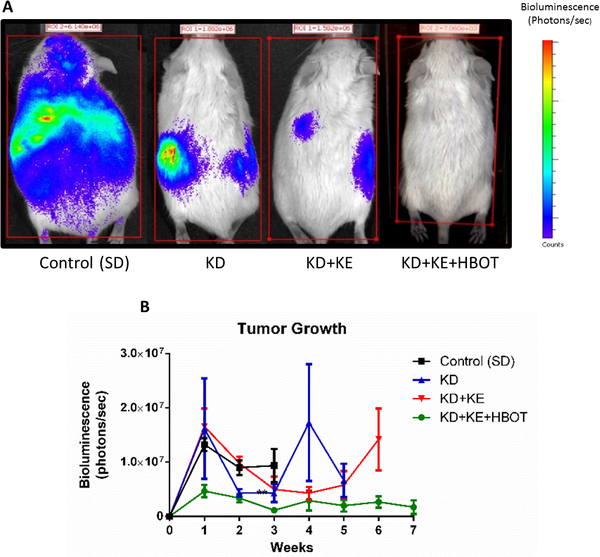 We are raising money to support the work of  
Dr. Dominic D'Agostino
.  His research has shown tantilizing glimpses into the synergy of nutritional ketosis and hyperbaric oxygen therapy (HBOT) for targeting cancer metabolism, cancer growth and metastasis.  Survival of laboratory animals has been more than doubled by this combined approach, and would likley enhance many standard care therapies. 
Before HBOT/Nutritional Ketosis can be studied in humans, however,  the question of dosing ( how much oxygen and how frequently) needs to be addressed and Dr. D'Agostino has a study designed and ready to go. All that is required is the funding to get it off the ground!  
Aim 1:   Test the efficacy of 3 levels of oxygen (1.4, 2.0 and 3.0 ATA O2) on cancer growth and metastasis in vivo. 
Aim 2: Test the efficacy of graded levels of oxygen on 4 different cancer cells types, including brain cancer, breast cancer, pancreatic cancer and ling cancer in vitro.  
Please consider funding his important research into the possibility of a therapy with few side effects, that could save many lives and make the quality of life better for cancer patients.
All of your contributions will go directly to fund the cost of the study! 
Check out Dr. D'Agostino's latest research to support the science behind this approach: 
Ketogenic Diet (KD) and Hyperbaric Oxygen (HBOT): 
http://journals.plos.org/plosone/article?id=10.1371/journal.pone.0065522
Combination Therapy: KD, Ketone Supplement and HBOT:
http://journals.plos.org/plosone/article?id=10.1371/journal.pone.0127407
+ Read More
Be the first to leave a comment on this campaign.