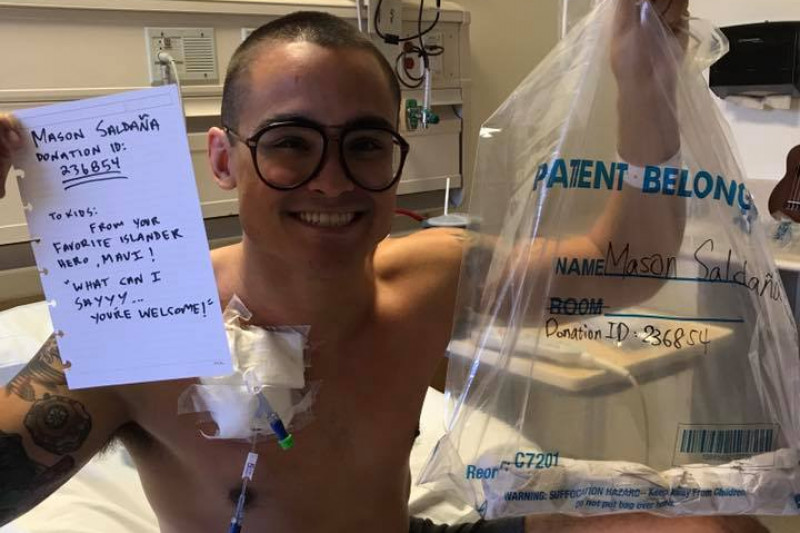 583
22
Mason Saldana - Beating Cancer
$51,750
of $160,000 goal
Raised by
595
people in 17 months
June 5, 2017
Last month the world was Mason's oyster having just graduated with his Master's degree in Safety from the prestigious Embry Riddell Aeronautic University. He was getting his resume and applications out into the world and after a short family vacation, was ready to embark upon the profession he'd worked long and hard to prepare for.
Three weeks ago, while heading out on a family celebratory vacation, Mason felt a severe pain in his abdomen and the diagnosis has been a devastating blow. Mason has been diagnosed with a very, very, rare form of cancer, Desmoplastic Small Round Cell Tumor (DSRCT). Sarcoma cancers account for about 1% of all cancers. This specific sarcoma was first documented in 1989, and so far approximately 200 cases have been described in medical literature.
Mason is an amazing person, a dedicated fiance, an honorable son, a great brother, a smart and contributing member of his university community, and of course a budding young professional. His education tells him this is a great challenge, but his passion for life and everyone he has touched along the way, will be his strength and support in beating this cancer.
Ironically, while at Embry-Riddle, Mason was a volunteer for cancer fund raising. For his abundance of giving, passion for life, incredible friendliness and respect for others, (not to mention his incredibly enviable head of hair) Mason is earned the love and respect of many in return.
On Friday June 02, 2017,   Mason Saldana, MS, GSP was the honored recipient of the Arizona Chapter of American Society of Safety Engineers Inaugural Student of the Year Award. This award is in recognition of his continual hard work, leadership and dedication to the chapter throughout the past year. Unfortunately, he was hospitalized in California and not able to attend the ceremony and receive this award in person. As always he was there in spirit.
This is Mason, giving it his all to everything in life.
The amount of this Gofundme has been carefully budgeted. There is no excess. This amount is to help him stay near UCLA for the next year. The next 6 months are going to give him a run for his money and that's what we are doing here. Making sure he is in the race. Please feel free to contact us for any financial justification.
We are all in this to help this incredible young man live a long, loving life, in service of others.
Thank you...
June 1st, 2017: Peiwen & Mason and the Big Cut <3 
The Donation: "To Kids: From your favorite islander hero, Maui! What can I say....YOU'RE WELCOME!"
+ Read More
Update 1
17 months ago
Share
"Gratitude makes sense of our past, brings peace for today, and creates a vision for tomorrow."

Gratitude does not begin to encapsulate how grateful we are for your support, contributions, and caring regard for Mason. Everyday we inch closer to our goal knowing that the bills and expenses covered by these donations will help Mason focus on staying strong and positive as he undergoes treatment.

On Tuesday, June 13th, with his freshly bejeweled fiancé, Peiwen, and his dedicated dad Jerry by his side, Mason, "Started the first slow drip towards beating this thing!" We envision Mason keeping that thumbs up attitude during the many long days and slow drips ahead.

Please continue to share, donate, and check-in in to our page!
You're family now. Ohana.

No One Gets Left Behind,
-The Saldaña Family
#MasonBeatsCancer
#SaldañaStrong

PSA: We'd like to clarify an update made to our campaign this morning! That man on Mason's left throwing up the shaka? This is Jerry [Gerald] Saldaña, Mason's father, and is registered as the "benefactor" of this campaign. For obvious reasons we'd like to keep all financial burdens and bill paying responsibilities off of Mason's plate. Mason and his dad Jerry have established an account to withdraw all GoFundMe donations into as they begin to pay off bills and find permanent housing. To keep continuity between the finances from GoFundMe and this account, everything has been registered in dad's name. Please feel free to message us with any questions or updates.


+ Read More