Taking Glacity to the Fringe!
$6,877
of $7,000 goal
Raised by
47
people in 26 months
Glacity Theatre Collective is a non-profit, 501(c)3
theatre company
 in Toledo, OH. Recently we've begun creating our own work in a process our Artistic Director Ed Lingan dubbed "Junkbox Theatre" - we all pull out scripts, or music, or ideas we created that have been lying around, then we trade them around to each other and see what new ideas they spark. This is how
HOUSE OF VINYL
was born; written and composed by Edmund B. Lingan and Timothy Lake (with some input from the cast...)
We premiered
HOUSE OF VINYL
last summer in Toledo, and were thrilled at the positive reception it got. We thought it deserved a longer life - and so we decided to apply to four Fringe festivals for summer 2016 and hope to get in one of them.
Imagine our excitement when we were the first company pulled in our category's lottery for the very first fringe we applied to - the
Toronto Fringe
! So we're taking
HOUSE OF VINYL
 to Toronto for the Fringe, June 29 - July 10, 2016.  We'll be in the "International 60 minute" category.
Of course, now that means we have some work to do:
1. Tighten and tone the script, based on feedback from our original production. We also need to make sure it will run no longer than 55 minutes, as the Fringe has very strict time limits.
2. Submit all necessary paperwork and tech specs to the Fringe, as well as the Canadian tax system.
3. Build a marketing campaign to make
HOUSE OF VINYL
stand out from the crowd at the Fringe.
4. Do some costume adjustments (Horton's red coat did not survive the first run, for example).
5. Rent a pole: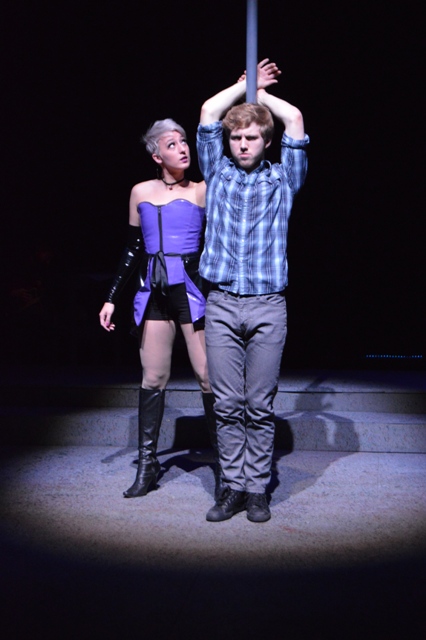 5. Arrange - and,
here's where you can help us, pay for
- housing for a cast of 11 actors and 3 technicians for 12 days.  In Toronto.  With an exchange rate that doesn't favor our American dollars.
We'll be able to start making housing arrangements in February, according to Fringe organizers, and they will help us find it - but we're on our own to pay for it. We're estimating that we need about $7000 for that. Most of the costumes and props are sitting in storage, so except for fresh bubbles and a red vinyl coat, we're pretty much set. Well, and renting the pole (it is the entire set, so it's kind of important.)
Everyone involved in this is very excited, not only to bring new life to this fun and funky musical, but because we get to represent Toledo at the Toronto Fringe - the place where shows like
The Drowsy Chaperone
and
Musical of Musicals: The Musical
got their start.
We will be so grateful for whatever help you offer! All of Toledo will, of course, be invited to be with us to launch this production before it sails across the border - we will be previewing the show here in Toledo on June 25th and 26th before we leave.  A special reception for our supporters will be part of that launch, and we hope you can join us!
+ Read More
Be the first to leave a comment on this campaign.