36
6
George+Mary Jane Washington statue
$121,988
of $100,000 goal
Raised by
47
people in 13 months
In a time of division, celebrate an African-American pioneer who brought unity to the community he founded, sustained and guided. Help us build a statue of George & Mary Jane Washington, the African-American co-founders of Centralia, WA!

George Washington "was the best man I ever knew," said one longtime friend. Said another, "When he laughed, you could hear him a block away. He was the most generous man I ever met. He gave away nearly all his money before he died. This town is his monument."


(Sculptor Jim Stafford has photos of George & Mary Jane at his studio as he creates the model for the sculpture.)

Well, we're building another monument. This life-size bronze sculpture will join a new granite bench in the middle of George Washington Park, the central plaza that George donated to the city he founded. 



This statue marks the 200th birthday of George Washington, who was born facing a life of slavery but whose journey across pre-Civil War America instead led him to the Pacific Northwest. He encountered difficulties along the way, including racist laws that nearly took away everything he built. As a young man in Missouri, he decided to come to the Oregon territory, saying, "if there is a decent place in this world, I will find it."



He settled halfway between today's cities of Seattle and Portland. He founded a town that he called Centerville (now Centralia), dedicated to giving everyone, of all races, a place to live together in "peace and prosperity," as he liked to say. Washington was dedicated to serving others, and when times were very tough in the 1890s, George brought loads of food up from Portland, Oregon and bought meat by the ton to give out to his neighbors. His work succeeded. His town survived the recession and grew again.


(Todd Watson, owner of Spectrum Painting, donated his time & resources to restore the downtown Centralia mural of George Washington in early 2017. The Centralia-Chehalis Chamber of Commerce brought doughnuts to the workers. Watson gave $500 to the statue project that day. Here's a Facebook Live video from The Chronicle newspaper. )

When George died in  1905, the town shut down in mourning. His funeral -- held in a church he founded and helped build by hand -- was the largest Centralia had ever seen.



For his bicentennial in 2017, a volunteer group is planning  a year of events to celebrate this great man and notable Pacific Northwest pioneer. The year of remembrance will end on Aug. 11, 2018, with the dedication of this bronze statue of George & Mary Jane Washington -- with your help, we'll have this permanent honor for a man whose legacy of selfless service and pioneer determination continues to inspire the people of the town he created.

KOIN television's Ken Boddie was the first broadcast journalist to cover the story of Centralia's bicentennial. Watch his broadcast here:




Read more about the bicenntennial at www.OurGeorgeWashington.com
+ Read More
Update 2
2 months ago
Share
We did it! The statue is done! Your generosity helped make it happen -- we will be dedicating the George and Mary Jane Washington statue this Saturday, Aug. 11, at noon in downtown Centralia. We'd be honored to have you join us for a free day of food, live music, games, a bounce house for the kids, and a celebration of our part in George's legacy.
The day actually starts with a 5K fun run at 8 o'clock. Then our bicentennial birthday bash will be from 10 a.m. to 2 p.m. Learn more at
https://www.facebook.com/events/611619525872675/
Thank you again for your donation. It means to much to know that our entire region and nation are proudly celebrating the legacy of a great man, the northwest pioneer George Washington.
+ Read More
Update 1
13 months ago
Share
Our sculptor, Jim Stafford, seen here casting small statues in molten bronze at his Adna studio earlier this year, will work with a foundry in Tacoma that is big enough to cast the life-size statue of George and Mary Jane Washington. Stafford's smaller sculptures are part of collections around the world. His larger pieces are installed at Centralia College and the Lewis County Law and Justice Center.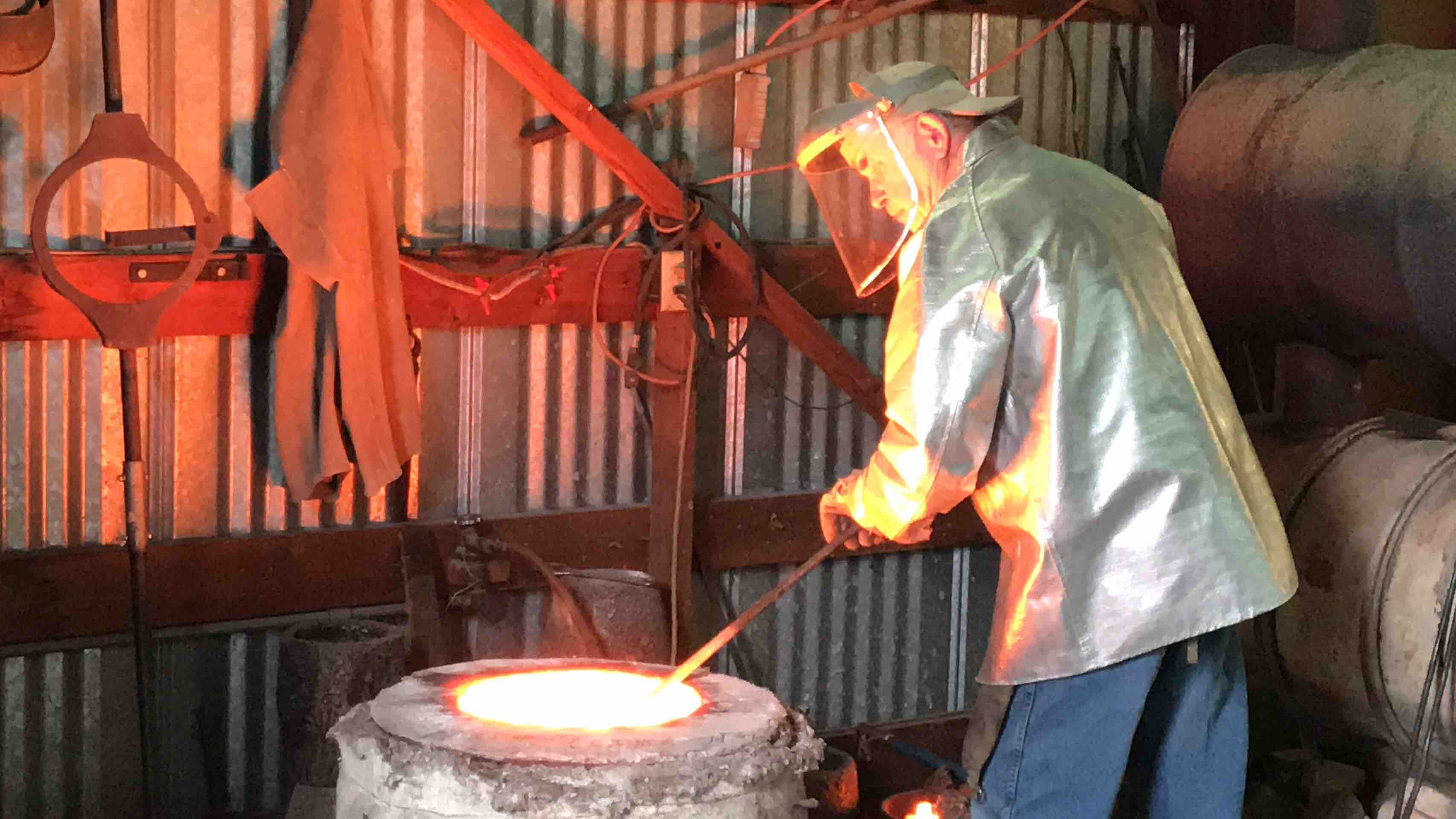 + Read More
Read a Previous Update