Help Save Foster's Eye
$1,575
of $5,200 goal
Raised by
18
people in 55 months
(Foster is full of personality, and boy he LOVES treats!)
" F O S T E R "
Beloved Therapy Horse @ Project Horse Empowerment Center Needs Eye Surgery!
Foster, great-great grandson of horse racing legend, Secretariat, had a promising beginning! As a young Thoroughbred racehorse, he won $10,000 in his very first race. However, Foster's short racing career ended at age 5 when he was left to starve one winter on a farm in Virginia with 47 other racehorses. It was a high profile and tragic rescue case in Loudoun County, Virginia in 2008.
This period of terrible starvation at such a young age left Foster with some long-term health challenges. One condition which was identified in 2009 resulted from Foster having an over-reactive immune system. Foster's condition is called Equine Recurrent Uveitis (ERU), and is commonly known as "moon blindness". Foster still suffers from ERU today, and there is no cure. Foster needs surgery to give him the best chance for a long, happy and seeing life.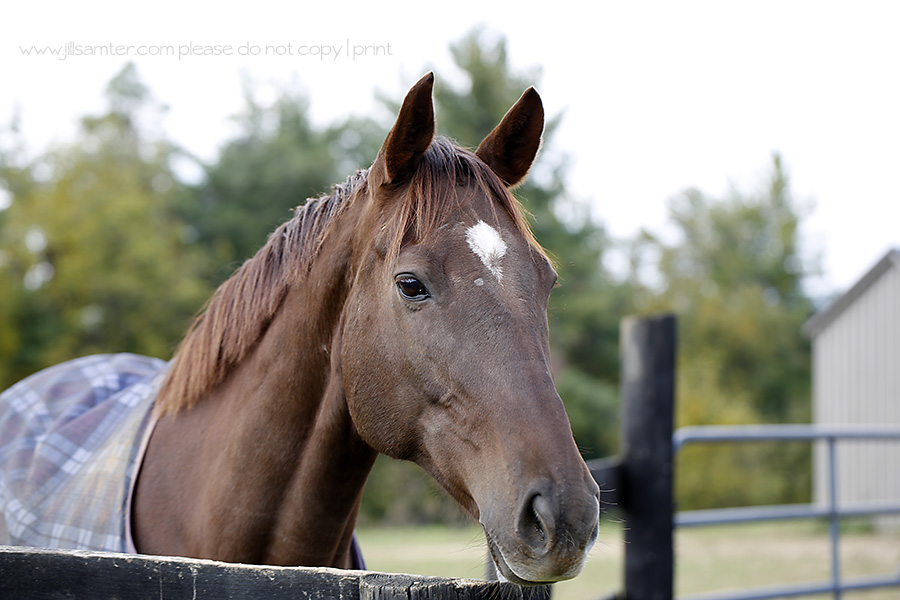 UFoster has suffered from this painful ERU condition since 2009. It leaves Foster's right eye inflamed, painful and photo-sensitive on a chronic basis. ERU can ultimately lead to blindness...
The first treatment choice is topical eye ointments. When those no longer can keep the horse comfortable, the only option is surgery. Foster's first severe "flare" of ERU came in early 2010 and he had to have surgery. A new technique had been recently developed by a top veterinarian at NC State University College of Medicine. In March 2010, Foster was among a small, elite group of horses in the world to have received a cyclosporine implant!
Foster's implant faithfully delivered special medication on a contiuous basis to his right eye for over 4 years. It was a miracle. However, these implant devices do not last forever, and last summer the implant stopped helping. Staff at Project Horse went back to treating Foster's ERU with topical ointments, which helped for the remainder of the year. Unfortunately, Foster's ERU is so aggressive that this is not a sustainable solution. To keep his eye as healthy as possible, FOSTER NEEDS ANOTHER CYCLOSPORINE IMPLANT NOW! (For details about the device, scroll down to the last paragraph.)
More About Our Beloved & Special Foster
Foster came to
Project Horse Empowerment Center
in its very early days (he was the 2nd horse they rescued and adopted for their therapy work with kids and adults). Project Horse is a nonprofit charity in northern Virginia that helps kids and adults with emotional, cognitive and behavioral challenges through innovative non-riding programs and therapy services with its amazing herd. Our clients struggle with a variety of challenges, including depression, trauma, anxiety, autism, attention deficit, substance abuse, attachment disorder, and low self esteem.
Foster, no stranger to hard times, abuse, neglect and abandonment, has blossomed into a fun-loving, smart and willing therapist! He is an outstanding role model for so many people that come to Project Horse, having suffered from similar challenges.
Foster LOVES his job as a therapy horse, and thrives on being the center of attention. Foster has a lot to teach our clients about patience, building trust, dealing with fear and anxiety, and
coping with symptoms of PTSD
.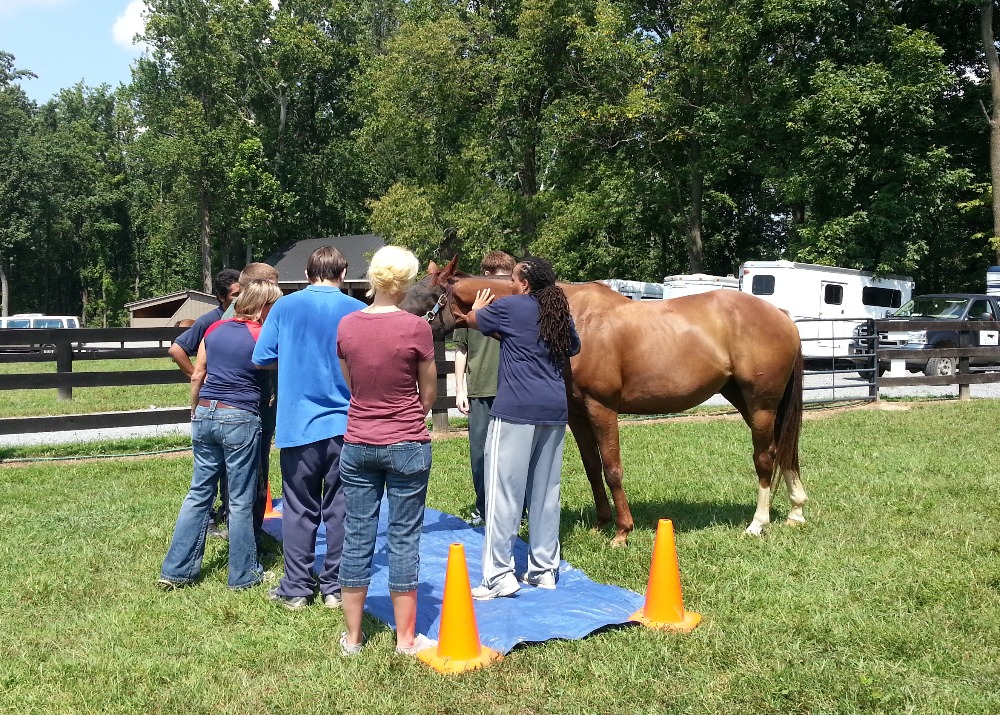 Foster is a great communicator and now understands that his humans have his best interests in mind - he will willingly show us when something is wrong or is bothering him. This is huge progress for a horse that came to us so shattered, that it was nearly a year before he'd accept a treat from our hands.
A note about other challenges Foster has faced and overcome...
On August 12, 2013, Foster suffered a severe episode of colic, due to a partial impaction of his secum (part of his small intestine). Fortunately, a dedicated volunteer found him within minutes of him going down, alerted our vet, and Foster was sent to the Marion duPont Equine Medical Center for emergency colic surgery. The options for Foster were: a) have him euthanized; b) have the impaction cleared surgically. Foster was in emergency surgery within 3.5 hours of being found getting sick. And, one of the world's leading colic experts and lecturers just happened to be on call at the hospital that night, so he performed Foster's life-saving surgery.
The surgery was a success and Foster made it through the slow recovery process like a champ. He's back to enjoying his regular life as a charismatic therapy horse. Foster now receives special digestive and nutritional supplements to help avoid any future colic.
You can see that Foster is indeed a VERY SPECIAL HORSE. We believe he was destined to be at Project Horse. Although Foster has had to deal with multiple challenges, he comes back stronger and wiser each time. He knows he's surrounded by humans who love him and can care for him. Foster now willingly shares his triumphant comebacks, and is proud to help show our human clients that they too can overcome what sometimes feels like impossible odds. And, they can go on then to lead happy, healthy and productive lives. Just like Foster.
Foster's surgery is scheduled for Friday January 16, 2015 at the NC State University College of Veterinary Medicine. We have opened a credit account in order for Foster to get the surgery but the bills will need to be paid. All donations through this campaign will go directly to help Project Horse pay the bills for pre-op, surgery, post-op and rehabilitation associated with Foster's eye implant device.
Please help today by sharing Foster's story of triumph and need on your social pages!
And stay tuned for live updates from NC State and beyond...  GO TEAM FOSTER!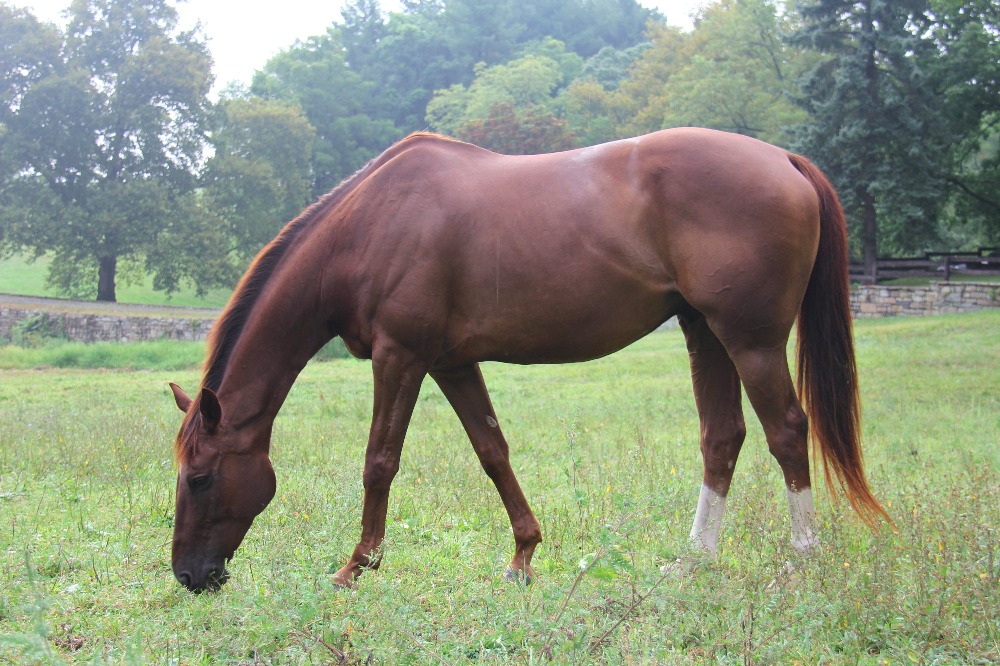 ____________________________
*The surgeon implants a small disc (about 6 millimeters in diameter and weighing about 25 milligrams) into the sclera of the affected eye. The surgically-implanted device will release medication to the eye at a predetermined dosage for at least four years. Currently, more than 500 procedures have been completed worldwide, and owners have reported a significant decrease in the number of active episodes ERU-affected horses have.
+ Read More
Be the first to leave a comment on this campaign.