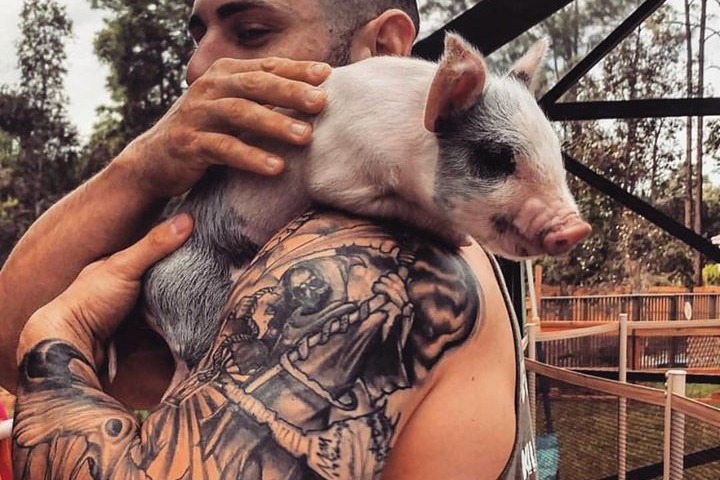 43
17
Preparing for Cows & More
$1,799
of $10,000 goal
Raised by
46
people in 4 months
Friends Not Food Rescue was started a few years ago on a small one and a half acre property in Loxahatchee Florida. We started with rescue Pitbull's/dogs, than came pigs, goats, rabbits, chickens and birds of all kinds. My passion for animal rescue quickly outgrew the capabilities of the land we had but I still wanted to do more, and so I did. I made it my life's mission and work to continue growing this sanctuary and rescuing animals to the best of my ability. 

 
I went all in on this vision and was able to purchase 5 acres  last year for these animal's and rescues to come. This has been quite a journey and has quickly become as full-time as my actual work. I've used the majority of my resources and time for this sanctuary and I wouldn't have it any other way.

With that said my everything isn't enough to get us where we need to be in order to continue rescuing and giving these animals sanctuary. That's where you come in!  Your continued donations and support have made a world of difference for this sanctuary and the animals living here.  Because of your donations we've been able to rescue, provide care, promptly provide vetting for needed surgeries and so much more! Your involvement and support has become essential to the operation and growth of this sanctuary and I couldn't do it without you!

Now here we are on 5 acres and the real work begins! The purpose of this email is to share with you our sanctuaries journey up to this point as well as our vision moving forward which you are a part of!

On this property we have the newest members of our rescue family such as Leroy the mule, our recue birds, rescue farm cats, dogs and a multitude of piggy's! With that said we have a lot going on over the next few months in terms of resuce which is where you come in.

I'm preparing a new area for coming cows, we are committed to 3 at the moment, Mary, Flo, and Molly. We also have a family of 7 piglets coming and an abundance of rescued turkeys/chickens with our new coop. It is your donations that are going to make all of this possible. Although this is the plan, as you know there are no shortage of rescues that need sanctuary so will definitely have emergency/impromptu rescues and new members joining our rescue family along the way.

Below is what is needed to make this happen and how you can get involved.
1.Fencing repair, new fencing, gates, housing/feeding area for  cows.
2.Fence repair & new fencing in pig area for current rescues as well as the new family of piglets coming.
3.New fencing & housing for the new sheep/goat area of land.
4.Dog run for rescued dogs.


Thank you for taking the time read this, for being a part of our journey and last but not least, for making this would a better and less cruel place than the one we were born into with every kind choice you make! We are in this together and together WE are the change!
+ Read More