FIRST Robotics (FRC) in Brazil
$650
of $245,000 goal
Raised by
10
people in 38 months
FIRST Robotics  & English Language Training Camps  for At-Risk and Under-Served Youth in Brazil

In July 2015, I had the honor and privilege of serving - for the second time - three community outreach/ support initiatives in Brazil.  This site is intended as a continuous fundraiser with the following goals: 
-  Raise awareness of K-12 
FIRST Robotics
   programs available domestically and abroad in general, and of 
FIRST FRC League
 activity across Brazil in particular.
-   Attract new sponsors and volunteers to each of these very worthy teams and initiatives.
Details about the programs served during the July 2015 visit to Brazil:
1)  
FIRST Robotics FRC Team 2974 US
, sponsor company
Novelis
, and
FIRST Robotics FRC Team 1382 Brazil
 worked together to trail blaze a week-long free robotics camp for middle school children in Pindamonhangaba, São Paulo, Brazil.  
Novelis also hosted a family day
 at its Pinda plant as part of its overall STEM education outreach program. Three Brazilian and one US robotics teams were able to gather there to teach about FIRST K-12 programs through demonstrations and hands-on activities, as well as to develop stronger connections with each other.  
Access to great quality K-12 education at a reasonable price is an enormous need for most families in Brazil, especially when it comes to science, technology, engineering and math (STEM) training.  The camp was a huge success.  Here is a small taste of the impact FIRST programs have in at- risk and under-served communities:
O Globo Evening News Report 
 (in Portugues, but the pictures tell the important part anyway)
Novelis Press Release July 2015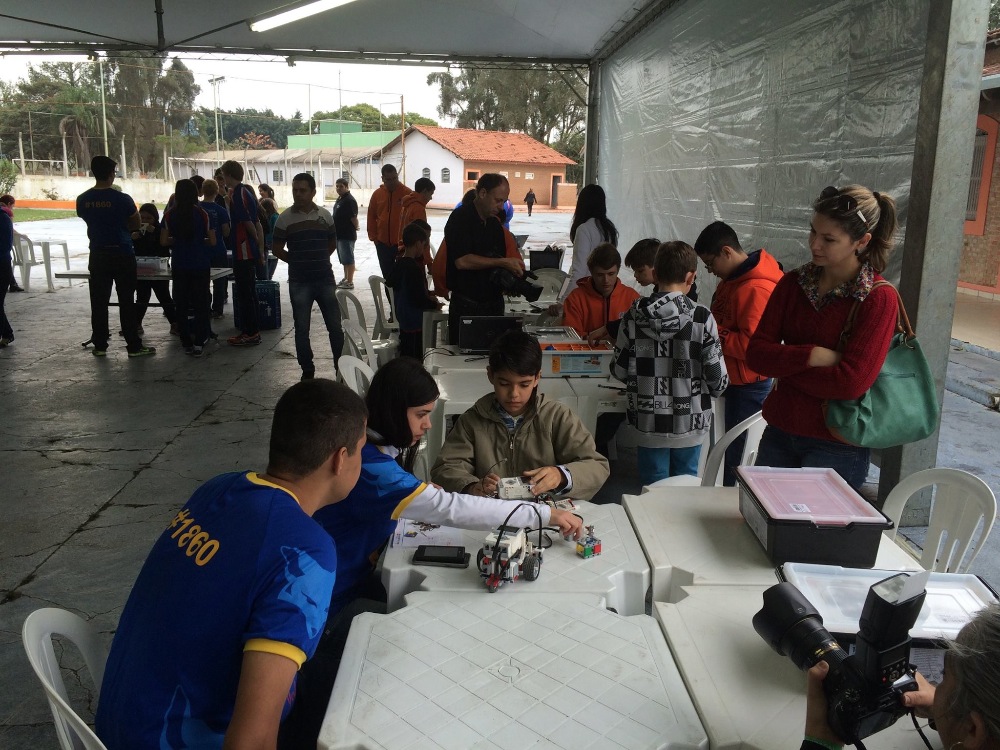 2)  I met with representatives from 
FIRST Robotics FRC Team 1772 Brazil
 and a rookie team -
FRC Team FRC 5800
 - in Florianópolis, Santa Catarina, Brazil.   FRC 1772 has seeded, and is actively mentoring, five rookie FRC teams, including FRC 5800.  So far these five teams have had very good success in engineering robots, but have not been able to participate in competitions.  These five young teams have had difficulty finding sponsors to cover their parts, registration and travel costs for competition.  My main roles include guiding grant writing and other fundraising efforts, raising their visibility across the globe, and helping them develop strategic connections.
The number of Brazilian FRC teams with enough funding to compete is small at present - only six.  We need to build the program up to at least 15 well-sponsored, thriving teams in order to trigger the opportunity for a FIRST FRC regional competition in Brazil. That regional could serve as a place for all Latin American FRC teams to compete.  That will reduce travel costs and logistics hassles to these teams, as compared with traveling to the US to compete at the regional level  A regional event in Brazil also opens up the opportunity for more competitions/year for all the Latin American teams.  Collaborative projects like the two described above have enormous potential as catalysts for FRC program growth and enrichment in both the US and in Brazil.
3)  A group of FIRST robotics sand other students of church communities from Brazil and the US carried out weekend
English language training/bible camps
  for youth at
ABECAR
 in Mogi das Cruzes, SP, Brazil.  These camps are done 3-4 times per year. Brazilians greatly value English proficiency as one of the keys to better career opportunities, gaining attention across the world for their innovative ideas, skills and talents, and building a healthy Brazilian economy.   The benefit is two-way.  There is plenty of good quality research out there supporting the notion that training in a second language helps people, especially children, develop the nerve connections within the brain.  This leads to faster, more effective learning and capability across all subject areas.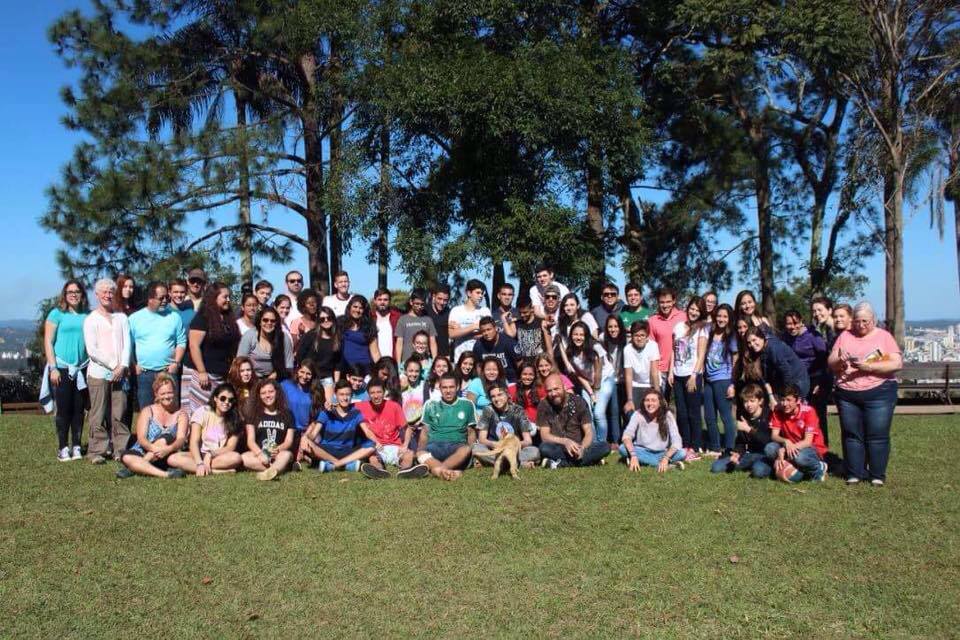 A bonus opportunity was supporting a "soup ministry" targeted to the
homeless community around a park in center city Mogi das Cruzes
.  This was sponsored by
Igreja Biblica Brasileira
, and is part of their regular teen youth ministry program.   This was by far the most spiritually moving experience of the 2015 trip.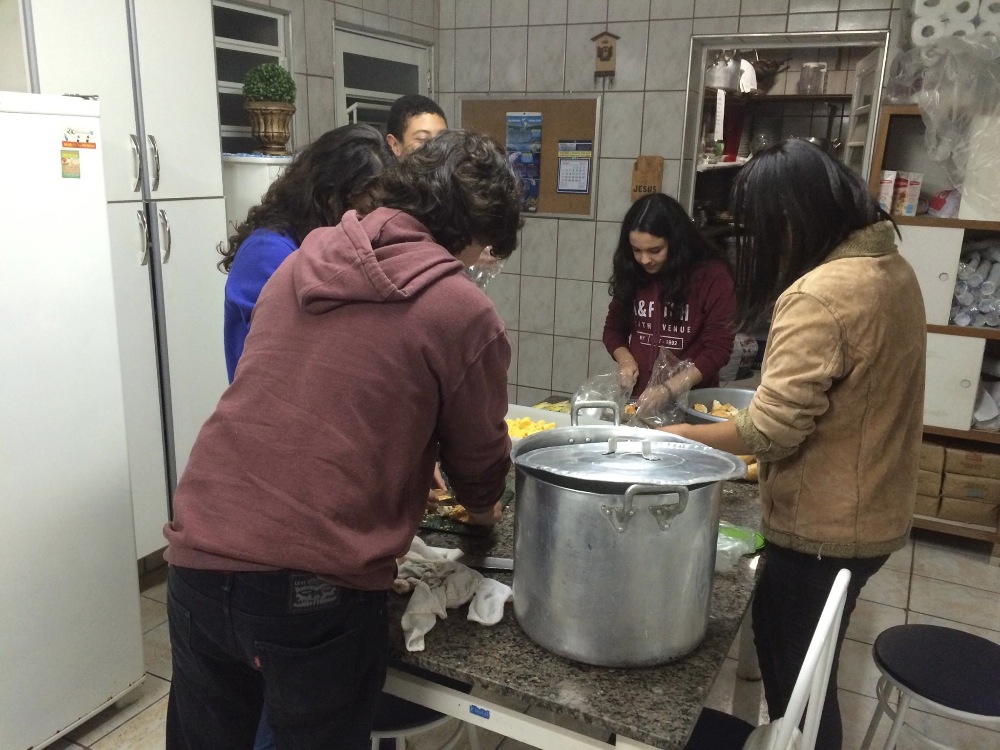 The time I have been privileged to spend immersed in a variety of Brazilian communities, culture, outreach initiatives and language has changed me in countless positive and profound ways.  My brother has a saying, "trying to learn a new language is like trying to grow a new soul."  In my experience, it's absolutely true.  
FIRST Robotics, English language camps and other youth ministries focused on the needs of the at risk and under-served of this world are ALWAYS eye opening, life-changing events for every single  child and adult who participates.  We all learn so much about the world beyond our own borders and comfort zones,  about each other's languages and the different world views inherent in them, and about transcending biases and perceived barriers.  We all develop lifelong collaborative relationships in the context of safe and deeply spiritual learning environments.
A view into our 2013 trip to support FIRST Robotics in Brazil


I believe 100% in the value of these projects and the examples they set, not only for my own daughter, but for all the youth I mentor in all areas of my life.  I believe in them because I have personally experienced the magic they do on each and every stakeholder, each and every time.
On behalf of myself,  my family,  my church communities,  and all the people we serve together...
I am deeply grateful for your time and consideration.  Any size of donation will be very helpful and appreciated.    
"Nothing you do for children is ever wasted."
"Nada que você faz para as crianças é esforço desperdiçado."
                ― Garrison Keillor,  Leaving Home
PATRICIA FLETCHER

Science Diplomat
www.linkedin.com/in/patriciafletcher
+ Read More
Be the first to leave a comment on this campaign.