Euan's Gift
£27,841
of £30,000 goal
Raised by
637
people in 49 months
Our son Euan was diagnosed with Duchenne Muscular Dystrophy just after his third birthday, in 2012. DMD is a cruel muscle-wasting, life-shortening terminal condition for which at present there is no cure, with 100 boys a year born in the UK with DMD. We have set up Euan's Gift as a fund which will enable us to split the money raised to do two things....
1) Raise funds for Euan, so we can give him and his two brothers the gift of happy memories and the opportunity for Euan to live life to the full, and to ensure he receives the best care possible.
2) To give the gift of vital support to other families affected by DMD, via  Muscular Dystrophy UK and their specialist care advisors.  Muscular Dystrophy UK pays for regional care advisors across the UK, to support families like ourselves to come to terms with the massive shock of a DMD diagnosis and what is facing them. They also support them through the tough journey of living and caring for someone with Duchenne Muscular Dystrophy.
*********
Our Events for the coming months are:
Total Warrior 24th June - Jo Fineran is taking on the pinnacle of obstacle racing at Bramham Park.
Euan and younger brother Rory will be taking on the Leeds Mini Run for All on saturday 8th July with friends from school
Yorkshire Three Peaks Challenge 17th September - Euan's Mum and Dad,  Alex and Warren will be tackling the beautiful Yorkshire countryside with a team of friends to raise funds for Euan and  St Gemma's hospice in memory of a colleague of Euan's mum
Please help us to continue with the fantastic work we have started. Every penny raised will really make a difference.
*********
Our first charity event was on Sunday May 11th 2014, when 20 runners undertook the Leeds Half Marathon. Paddy Lightfoot  and Tom Mallows put their running shoes on again for us and ran the Yorkshire Marathon on the October 12th 2014. Euan's Uncle, John Potterill-Tilney also put his running shoes back on and undertook the New York marathon on 2nd November 2014
Our next event was when a team of lovely mums, led by Euan's mum - Alex Ashurst, Katy Morris, Caroline Sutton, Lisa Parrott, Daniela Parkinson, Susie Hamlin, Lindsey McCreadie, Nancy Lester, Esther Hollis, Emma Clark, Helen Mauborgne, Hannah Taylor, Elaine Green, Shelly Walker, Lisa Henry, Amy Richards, Mags Teale Emma Black, and Sandra Cannon ran the Abbey Dash on 16th November.
On 30th April 2015 three years to the day that Euan was diagnosed, we asked people to join the "Great Bake for Euan" and hold bake sales to help raise funds but to also help make 30th April  far more positive than it was three years ago.
On Sunday, May 10, 2015 - Cheryl Westerman took on the challenge of the Leeds Half Marathon again to raise funds for Euan's Gift. 
Euan's older sibling Luke  took part in his first charity event for his brother on Saturday July 11.
Luke, along with some of his friends, ran the 2.5km Leeds Junior Run
Whilst, Euan's mum and dad - Alex and Warren -  put on their trainers again on Sunday July 12, and took part in the Leeds 10k.
Simon Mauborgne took on the challenge of The Great North Run for Euan's Gift in September 2015, followed by impressive effort a month later from Mandy Webster and Mike Gallagher in the Yorkshire Marathon.
Catherine and Nik Turner then completed the Great South 5K for our charity on October 24, after which Euan's mum and dad were joined by Jo Fineran and Stephen Sheret for the Abbey Dash on November 15.
Euan's older brother Luke than joined in a sponsorship challenge, taking part in an indoor sky dive in March 2016.
The first ever Euan's Gift Ball then took place on April 30, 2016 - with over 180 guests enjoying a glamorous night in Leeds City Centre.
Leeds Junior Mini Run - Euan himself, and his brothers Rory and Luke took part in the pouring rain on Saturday July 9 2016 and made quite a hit with the local press with his efforts.

Leeds 10k (10th Anniversary Run) was taken on again this time by  Warren Ashurst, Jack Ogalbe, Liam Craddock, Sandra Pickles, Richard Pickles, Tara Park and Patrick Lightfoot  Sunday July 10  2016.
Jack Ogalbe put on his running shoes again for us  in April 2017 and took Euan's Gift to France undertook the Paris Marathron.
To mark the anniversy of Euan's diagnosis bake sales were held again to make the 30th April a more positive day and the cakes on offer definitely brought smiles to people's faces.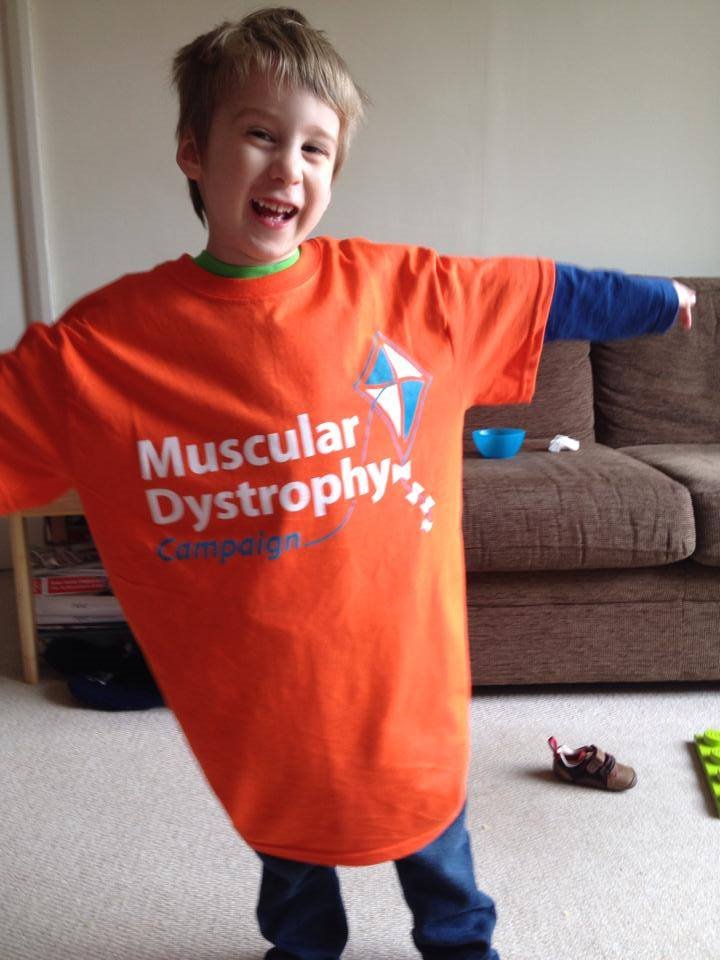 + Read More
Be the first to leave a comment on this campaign.