Replacing Soap Equipment
$80
of $1,000 goal
Raised by
1
person in 13 months
During the weekend of September 2, 2017, the remnants of Hurricane Harvey landed in the Louisville area.  While things were battened down, this was considerably heavier rain than normal.
When the remnants of the tropical storm passed, I was able to visit my studio to see some small amounts of devastation at my workshop at Mellwood Arts Center.  While this is mostly a sound structure, there are some parts that are in disrepair.
I was, unfortunately, a victim of this disrepair.
When I had arrived after the storms, I was able to see some of the damage.
Including:
·         $175 Wood Soap Cutter
·         $45 Wood Soap Log Splitter
·         $60 Shelf
·         $65 Bluetooth Speaker
·         $50 USPS Postal Scale
·         $105 Workbench
Grand total, $500 on the dot.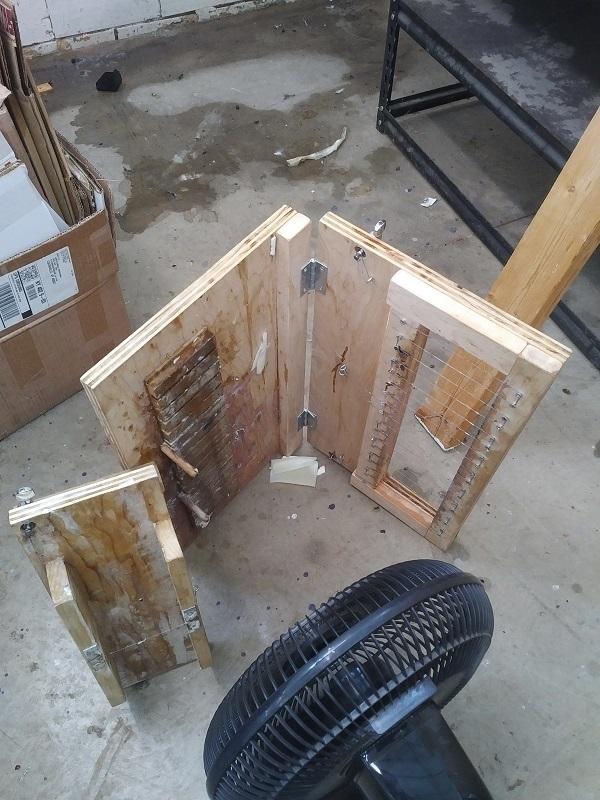 Back up a couple of weeks, I had mentioned that there was some rust that had fallen from the metal rafters of my area.  This was brought to the administration of Mellwood and nothing had apparently been done. 
When reporting the leak to Mellwood Art Center, I sent this letter on October 5:
"Hi, guys!
I'd like to report some damage that was caused by leaks during the time of Tropical Storm Harvey in Studio 241.
First, I attracted the attention of rust falling off of the window panes to the attention of Bridget and Miguel about a month before the storms.  This did not damage my equipment.  However, what was damaged by the leaking walls and windows were as follows, pictures provided
Please advise as this damage would not have occurred if the walls and windows did not leak."
They replied to me later that day:
"Hi Bill- I told Miguel about this and I need to show him this email but your issue has not gone unheard
Bridget Clark CREATIVE DIRECTOR"
This was the last I had heard from them until I wrote back on October 23:
"I am just checking in for the status of this. 
As of this weekend, it appears my best efforts of drying out my equipment from the leaks in the roof and walls, has been unsuccessful. 
My soap bar cutter has started to mold/mildew and will need to be replaced.
Please advise."
Their reply later that afternoon:
"Hi Bill,
Im sorry, I showed Miguel the damage and he hasn't said anything to me yet. Let me remind him tomorrow and I will get back to you as soon as possible.
Thank you for your patience Bill
Bridget Clark"
I replied back to them on October 24:
"Thank you for getting back with me.
I would also like to know how the damaged items will be replaced as they were fine until the walls/windows leaked.
Do I need to file a claim with your insurance?"
They got back with me later on October 24:
"That is not what time sure of and I will need to get in touch with our down town office.
Thank you,
Bridget Clark"
I am typically patient, but this was starting to wear thin in November 5:
"Good afternoon, Bridget. 
It has been nearly two weeks since your last reply and I am unable to use my soap cutter because of the mold/mildew because of the water leaking windows.
I would like my soap cutter replaced so I can be back in business before the holidays.
Please get back with me."
I did get a reply on November 6:
"Hi Bill,
I am so sorry, I was out for the past 3 days and right before I left I asked Miguel what it was you needed to do and he told me that you needed to
contact your insurance company to make a clam
. Please let me know if there is any other questions that I can help you with.
Thank you, Bridget Clark"
I replied later that day of November 6:
 "Hey there... not that I am trying to point fingers here, but email is not the best venue for communication.  :) 
If I am reading this right, should my insurance pay for this when your building damaged my equipment? This would be like my insurance paying for repairs done to my truck when my neighbor's tree fell on it.
If I am reading this wrong, would I open a claim with my insurance company and they would start the paperwork to have your insurance company pay for damages to my equipment because of your leaking roof?
Moreso... how can this be prevented again?  Winter is coming."
November 6 was the last email that I had received from Mellwood.  Today is November 18.  While I could file in small-claims or contest this with my insurance company, this would be counter-productive as I just want to get back into production very soon.
While this is not dire, NOW, I consider this as my "down time" and time to restock while I am not terribly busy.  Winter is great for restocking and building up new lines and making decisions about what to carry for the next year.
Why am I asking for $1000?  Maker of my soap cutter
no longer makes
these coap cutters, nor log cutters and I have located another source for soap cutters.  Unfortunately, the price is much higher than what I had paid for my original equipment.
+ Read More