Don't let May sink Britain!
£46,065
of £50,000 goal
Raised by
1,612
people in 23 days
****UPDATE**** WE LOVE EU

Please help us spread the love this Valentine's Day! Your support means we can spread the message further and wider.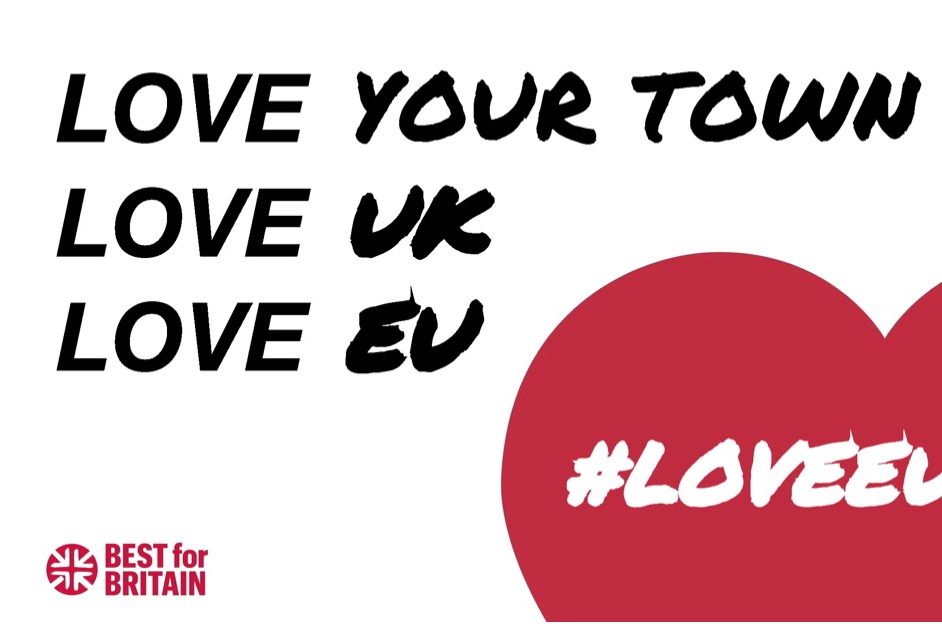 ***UPDATE***

As you may have seen in today's Times newspaper, Best for Britain has exclusively uncovered more of Operation Yellowhammer's plans. Look at these pictures to see how badly prepared our departments are:
Help us fight Brexit and stop Theresa May sinking Britain!
 





DON'T LET MAY SINK BRITAIN!!

We're a step closer to getting No Deal off the table, and those who want Parliament to take control of the shambolic Brexit process will keep fighting.

In TWO WEEKS' time MPs vote again-  we have a fortnight to ramp up the pressure to stop Brexit. We have come so far - help us get over the line.

Thanks to your generosity, we have:

- helped inflict the biggest defeat in history on May's deal in January 2019
- built support in Parliament and across the country to give people a final say on Brexit and break the deadlock in Parliament
- helped slash May's majority at the 2017 election, allowing MPs to secure the meaningful vote in Parliament

WE NEED YOUR HELP AGAIN TO WIN THIS FIGHT. 

We have never been closer to beating Brexit. But we need money to fund action in key constituencies, connect our supporters with MPs, deliver innovative campaigns, support our amazing partners, street-by-street campaigning, and MORE.

Please help us and give what you can - only two weeks to the next Parliament push and two months to stop May sinking Britain!

- £10 will buy 200 campaign leaflets

- £50 helps us reach 500 people with our campaign messages

- £100 helps us to promote Tech for UK's www.myeu.uk 

- £250 pays for an event in a previously pro-leave area

- £500 helps us connect thousands of people to their MPs

- £1,000 will allow us to poll attitudes to Brexit across the country

- £10,000 means we can put on events around Parliament pressuring MPs to stop Brexit.

We need your help right now - please help with whatever you can afford and help spread the word. You are part of stopping this Brexit mess.

We have already worked to train over 3000 activists all over the country; delivered over 300,000 postcards for MPs to neighbourhoods across the UK; partnered with the amazing Tech for UK to build resources for the whole movement like www.myeu.uk. We have also campaigned for EU Citizens' rights to be protected and for them to be able to vote in a Final Say referendum. Now is the time to help us. We need to fight to save our country from the Titanic disaster of Brexit. 

With your help we have reached voters in every constituency on social media; and we have briefed MPs on our research and we've helped shift the national debate.

It's more important than ever before that we can afford to campaign at full capacity. Thanks for all you have done, and all you will do. 

We're so close. We will fight until the end and take every opportunity on the way to fight Brexit.

Thank you,

Eloise, Deborah, Naomi, Pranay, Cary, Mia and the rest of the Best for Britain team.
+ Read More