27
11
Deborah Abel's "The Wild Divine"
$6,610
of $50,000 goal
Raised by
32
people in 10 months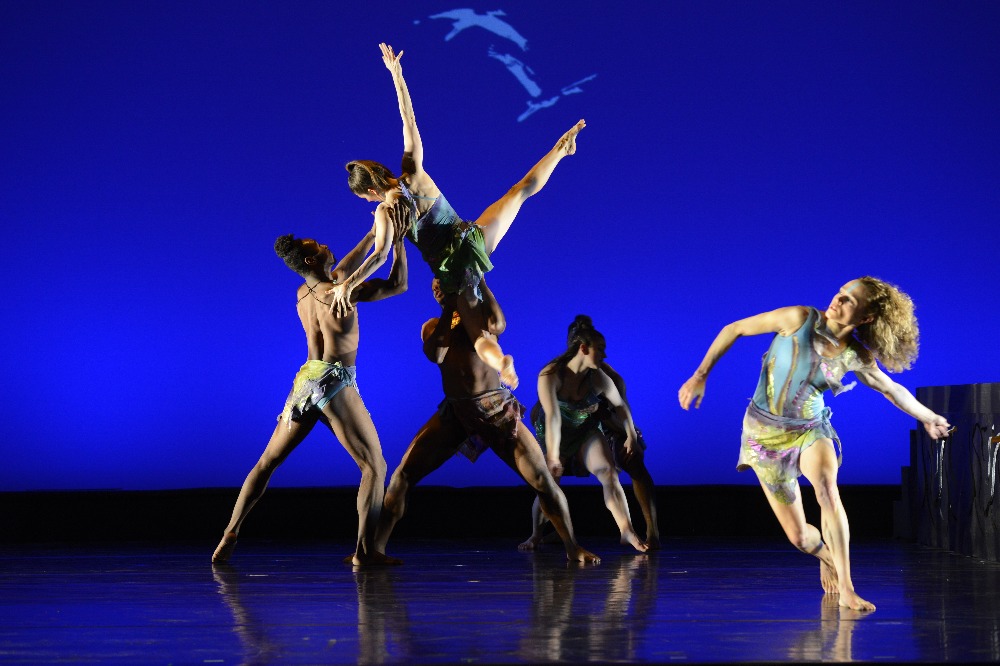 Photo: Eric Antoniou
We are so thrilled with the performance! Thanks to your support and the amazing contributions of the dancers, musicians and all the artists and support people involved, it was a great success!
The Boston Globe said "Beautifully danced... filled with movement of liquid flow and lush exchanges of weight... Gorgeous, inventive partnering including includes soaring dives, striking angular shapes, and lifts that cartwheel legs end over end."
Now the journey to take "The Wild Divine" on tour has just begun! There's some interest in New York, D.C., and India, and we are working on more... won't you help us share this artistry with others?
Thanks again for your support.
Photo: Eric Antoniou
(Here is the beginning of our story:)
Join our family of supporters to bring our newest work to the stage!
Listen to our story and see some clips from rehearsals!
Award-winning Deborah Abel Dance Company will premiere The Wild Divine on March 17 & 18 at the Tsai Performance Center, Boston University with live music performed by Sweet Rasa (Director: Lee Perlman) For tickets to the show, go to 
Tickets for The Wild Divine
We need your help to bring this work to life!
The evening-length piece tells a story of healing unfolding as we glimpse the magical states experienced on the spiritual, mystical, and emotional journey of inner self discovery and awakening.  
Photo: Eric Antoniou
Our dance genre is Bhakti Modern, a deeply felt exploration of love: love within couples, family, friends, community. Love of self and soul. Bhakti Modern draws us to the universal well of spiritual longing.
This production has an ensemble of ten dancers and eight musicians as well as lighting, set, and costume designers, visual artists, a projection specialist, photographer and videographer  -- in short, many talented artists are collaborating to create this exciting new work. Please join our community of artists, and help us to premiere our new work in Boston and to tour the work after the Boston premiere.
Your support will go to our dancers, musicians, costume designers, set and lighting designers, photographers and videographer, and all of the other crucial members of the production.  It will help cover many costs  including the theater rental, rehearsal rental space, costumes,  PR related costs. It will help with touring costs as well.
Photo: Eric Antoniou
About the Deborah Abel Dance Company
The Deborah Abel Dance company has performed original work since 1987, in Massachusetts, New York, and Connecticut, as well as in New Delhi, Jaipur, and Chennai.  Her work has been described:  "the lyricism and technical acuity of Jose Limon; the primordial thrust of Martha Graham; the sculptural peregrinations of Pilobolus. And infusing it all is a sense of breath powerful as the butoh concept of (to quote Sankai Juku founder Ushio Amagatsu) 'inward wind'-an internal force…" – The Boston Phoenix
For more info on our company and to see more videos and photos, visit our website:
https://www.deborahabeldance.org/company
We need your help to bring this inspiring work to a larger audience!
We are so grateful for your support.Where does my money go?
The Deborah Abel Dance Company is a 501(c)3 Charitable Organization. All donations are tax-deductible! Your money goes directly to cover the company's expenses for the Boston premiere as well as the upcoming tour. We've got some amazing rewards for each level of support! Find the one that excites you the most and join the journey to "The Wild Divine".
Aside from a 2.9% GoFundMe fee, plus standard payment processing fees, all funds raised will be used directly to support our journey.
+ Read More