Replace Sculpture of Cudjoe Lewis
$5,266
of $5,000 goal
Raised by
91
people in 33 months
THE PROJECT

Replace church's stolen bust honoring the last surviving member of the last slave ship to reach the United States. We need your help to bring a memorial image of Cudjoe Lewis back to Africatown!

THE STORY
In January of 2002, a commemorative bust of Cudjoe Kazoola (Kossola) Lewis was stolen from its designated courtyard in front of the Union Baptist Church of Plateau outside of Mobile, Alabama.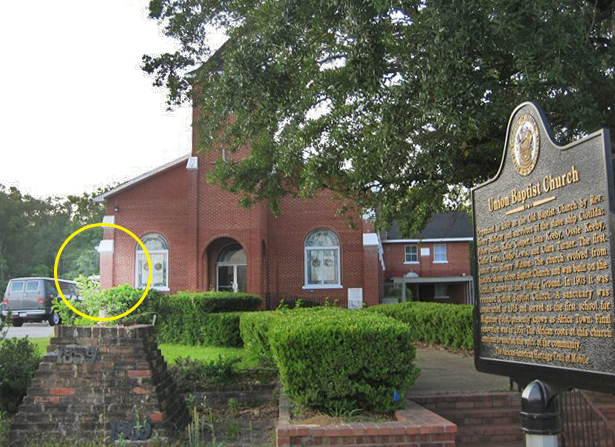 Mr. Lewis is considered the last survivor of the last slave ship to enter the United States.(1) Together  with 115 other captives, he was brought illegally to the United States on the slave ship Clotilde in 1860.(2) After the Civil War, Mr. Lewis and other members of the Clotilde group became free and established a community at Magazine Point, north of Mobile, Alabama. They called their community Africatown.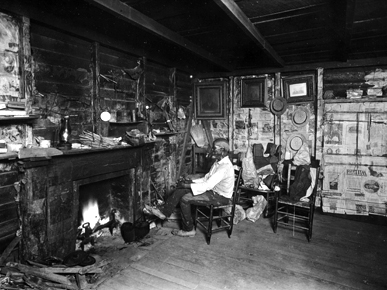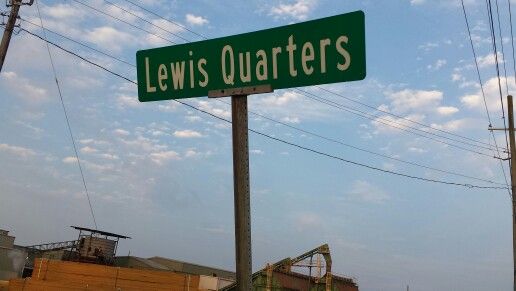 Mr. Lewis was a respected leader, church sexton, and historian for survivors of the Clotilde. He provided first-person accounts of both his experiences and the Clotilde group's saga. A tangible reminder of both slavery's African roots and its legacy, his became the face of Africatown.
"Cudjoe Lewis was a great example of strength and perseverance."
- Rev. Derek Tucker, Pastor, Union Baptist Church of Plateau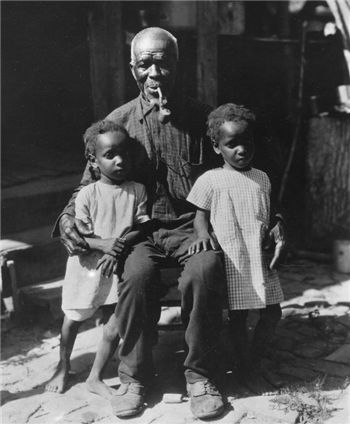 Mr. Lewis is a powerful symbol of a people enslaved who triumphed over adversity to create one of the first free African American societies in the United States.
Learn more here!
Dreams of Africa in Alabama
,
Article on Historybuff.com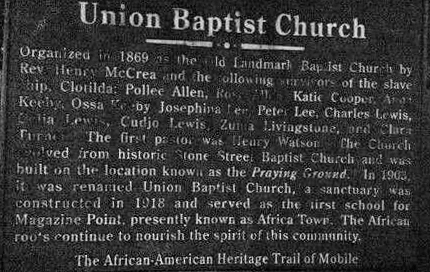 An early version of The Union Baptist Church of Plateau was founded by the Clotilde group in 1869, which is now a red brick structure with stained-glass windows and a tall steeple. In 1959, an interpretive bust of Mr. Lewis was placed in front the Church.(4) In 2002, it was lost and never replaced.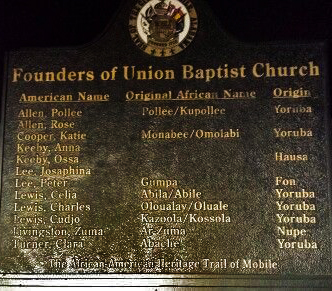 The congregation wholeheartedly agrees that it is time to replace this commemorative bust of Cudjoe Lewis,  a beloved member of its community.


"The Congregation of Union Baptist Church and residents of the Plateau community have waited many years for this momentous day to arrive."

-Rev. Derek Tucker


HOW YOUR FUNDS WILL BE USED...

This project will not succeed without your help!


Costs of similar projects can run into the tens of thousands of dollars, but the artist has agreed to donate her time and talents.  We are working with budget that ensures a quality product at a reasonable cost . We are asking for your help to raise the funds necessary to complete the project.
Any extra funds raised will go to rebuild the outdoor courtyard where the bust is housed.


ABOUT THE ARTIST


Ms. April Livingston, a native of Mobile, Alabama, will model and cast the replacement bust. She is an experienced sculptor who has exhibited her work both nationally and abroad. She holds an MFA in sculpture and teaches at the University of Mobile.
"History is being restored, as Almighty God had led Ms. Livingston on the path to Union Baptist Church to bring Cudjoe Lewis back home to Africatown, USA!"
-Rev. Derek Tucker
Below is the artist (red dress) visiting Union Baptist for a recent Sunday service. She is pictured with a group that includes Rev. Tucker; his wife, Inez; and Clotilde group descendants: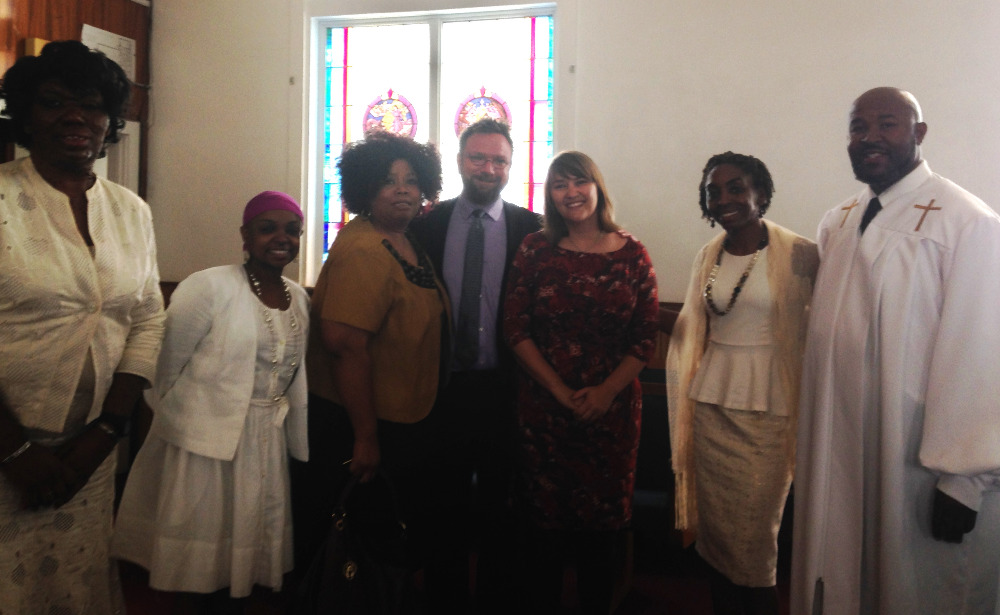 Here is a link to her website that shows previous work...
Ms. Livingston will model the bust in Mobile and then, in July of 2016, she will take a wax pattern of the bust to
Sculpture Trails Outdoor Museum and Foundry
in Solsberry, Indiana, where she will cast it in iron.
This campaign is asking for donations to cover the expenses of the project.
Your donations will pay for the clay, mold, tools, iron, sand, gasoline (round-trip) and living expenses needed for Ms. Livingston to travel to Indiana and work on this project. These funds will also cover an accompanying bronze plaque bearing important information about Mr. Lewis, as determined by the church.
To provide a sense of the process, here is a picture of a sand-mold for a cast-iron coyote that Ms. Livingston created in 2015: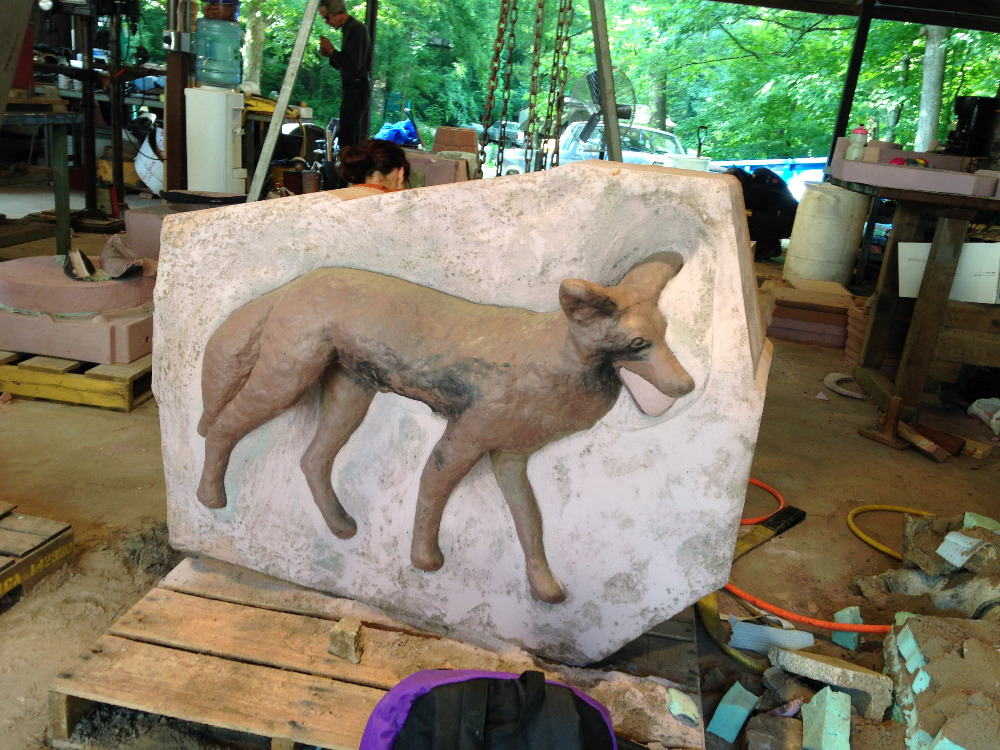 The artist hopes to present the completed bust to the Union Baptist Church of Plateau in September of 2016.
The success of this project depends on you.
Acknowledge Mr. Lewis's importance to American history and identity by making sure this bust is created.
Any donation is welcome!
Names of all donors will be listed in the church's newsletter. Another plaque will be presented to the church for display. This plaque will recognize donors at the Patron and Benefoctor levels. Those who prefer not to be recognized may donate anonymously.
If you feel you cannot donate at this time, please share this worthy project with your friends and family.
Photo credits:
The Overbey Collection at The Doy Leale McCall Rare Book and Manuscript Library
BIBLIOGRAPHY
(1)Sylviane A. Diouf, Dreams of Africa in Alabama: The Slave Ship Clotilda and the Story of the Last Africans Brought to America (NY: Oxford University Press, 2007).
(2)Roche, Emma Langdon (1914). Historic Sketches of the South. New York: Knickerbocker Press. p. 120.
(3) Teague, Matthew (June 6, 2015). "American slaves' origins live on in Alabama's Africatown". Los Angeles Times. Retrieved May 27, 2016.
(4)
http://www.mobile.org/listings/Union-Baptist-Church/408/
+ Read More