Help Christine Crush Cancer
$32,350
of $25,000 goal
Raised by
324
people in 21 months
Christine (Cannon) Meyers is my amazing older sister and I've started this page to help her and her husband with the medical bills and other costs that will be incurred due to her cancer diagnosis. While Christine is lucky to have insurance, this still means thousands and thousands of dollars out of pocket for her and her husband. Between her insurance deductible, IVF treatments, moving expenses, a nice wig, and likely things we haven't even thought of yet-out of pocket for them will likely be around $25,000. If you know Christine, you know that she isn't the type of person to ask for help, so as you can imagine, it took some convincing from myself & a couple of her close girlfriends to get her to agree to share her story. Thank you Aja & Betsy for the help!
We will also be using this page as a way for Christine to update you on her journey in the coming months. 
Christine & her husband Matt were in the process of searching for a home to purchase in Dallas and had plans to start trying for a family this summer when their lives abruptly changed forever.
On Monday April 25th, Christine went to urgent care, she had a cough that was going on three weeks and wouldn't go away. Matt and Christine were supposed to leave for a wedding in Mexico that Wednesday but she began having shortness of breath and didn't want to leave the country sick. While at urgent care they took a chest x-ray which concerned the Dr. and they advised she go straight to the ER.
While at Baylor ER, they let her know she had a plural effusion, which means she had fluid surrounding her left lung that was causing it to partially collapse, hence her breathing issues. In addition to that, she also had fluid surrounding her heart. Christine assumed this was all due to her cough and likely a pneumonia she had let go on for too long without treatment. However, while in the ER a Dr. came in the room to let Christine & Matt know that they had found a large mass in her chest. The ER Dr. said and from what she could tell on the x-ray it was likely cancer. This mass in her chest is about 8 inches long, 6 inches wide and 3 inches deep. According to Dr.'s a mass in the chest is considered large when it reaches about 5 inches, her mass is very large.
Christine then spent that night and the next three nights in the hospital, during her first stay she had her plural effusion drained through her back. They pulled out a little over a liter of fluid from her chest. Dr.'s also pulled 5 biopsies from her chest to determine what kind of cancer it was. While at home waiting for results, four days after the first hospital visit, she was back with trouble breathing. The fluid surrounding her left lung had completely returned.
She received another thoracentesis to remove the fluid surrounding her lung. This second hospital stay spanned 8 days, during her time there, they pulled bone marrow, ran a PET scan and she had to undergo surgery to remove a larger piece of the tumor for further biopsy, as the first biopsy came back inconclusive. The Dr.'s had determined it was lymphoma but still couldn't nail down exactly which kind.
During all of this, Christine also had to deal with the realization that chemotherapy would likely leave her infertile. Since Christine was still waiting on a final diagnosis from pathology, her oncologist and fertility Dr.'s decided that she could move forward with IVF in hopes of having a child one day.
On 5/18, after almost a month of waiting for answers, Christine received her final diagnosis. She has an extremely rare and aggressive form of lymphoma, ALK Negative Non-Hodgkin's Lymphoma, this cancer only accounts for 1-2% of all non-Hodgkin's cases. Her Dr. let her know that she will be undergoing aggressive chemotherapy, with possible radiation, for at least six-months. Anyone that knows Christine well, knows that she loves her hair extensions, one of the questions she asked the Dr. was if she would lose her hair and unfortunately it was the answer she dreaded. In true Christine fashion she jumped online and already has two of her favorite wigs in her online shopping cart!
Right now, she is nearing the end of IVF and we are hoping she will have a successful egg retrieval surgery very soon! While Christine & Matt have amazing friends
in Dallas, their families reside in Chicago. They will be temporarily moving back to the Chicagoland area for Christine's chemotherapy treatment so they can be close to their families and support system. Christine will likely return to Chicago on 5/25 or 5/26 depending on when her IVF retrevial surgery is scheduled. Matt will follow shortly after.
My sister is under an emense amount of stress and helping with these unexpected costs will help to alleviate at least some of what she is dealing with right now. My sister is my heart, please help me to make her life a little bit easier! 
Christine's friend Aja came up with some great hashtags for us and I encourage you to please share her story with others using the below!
Life gave her Lymphoma now let's help her make lemonade! #WhenLifeGivesLymphoma #MeyersMakeLemonade #HelpChristineCrushCancer
I really can't put into words how grateful and thankful my entire family is for everyone's support. Thank you and God bless you and yours!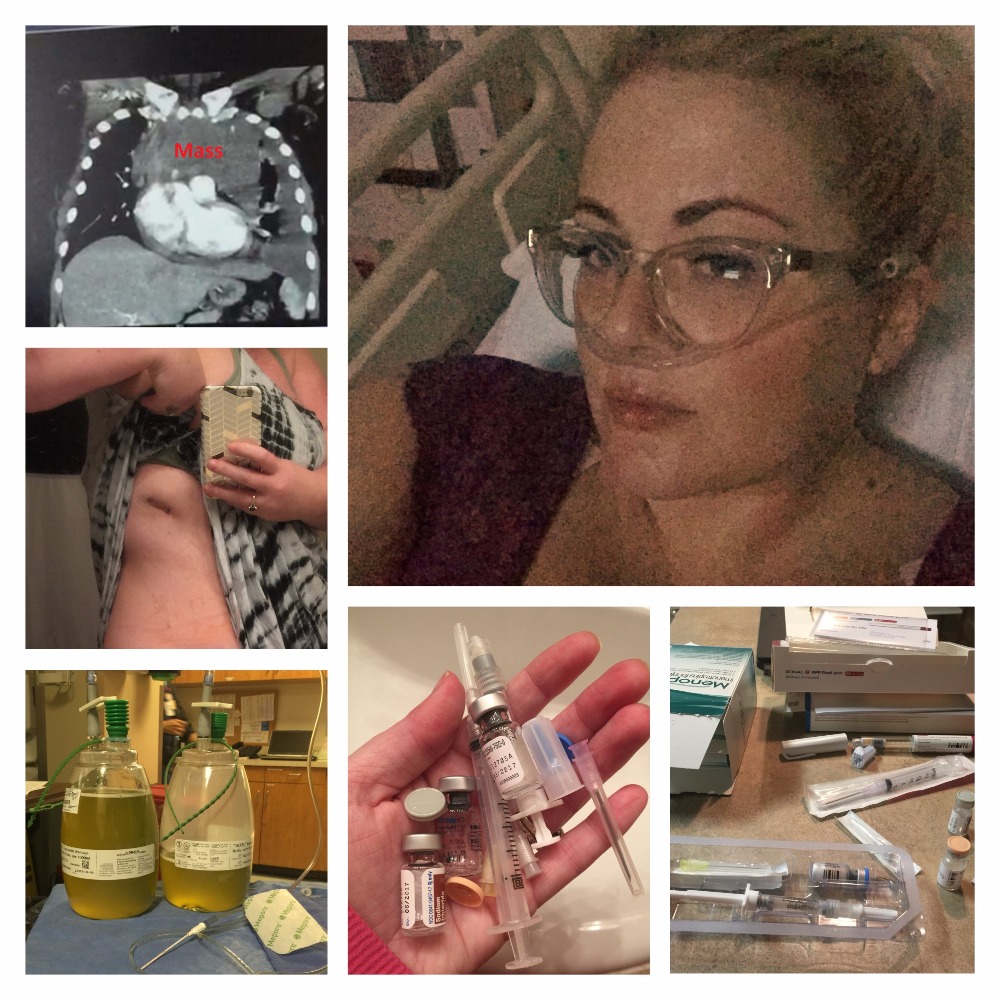 + Read More