Historical Tai Chi Book Series
$3,002
of $3,000 goal
Raised by
20
people in 37 months
Help Fund the Translation of One of the Most Important Historical Works on Tai Chi Chuan (Tai Ji Quan)
Back in 1982, while living with Master T.T. Liang (1900–2002), he presented me with a copy of Chen Kung's Tai Chi Chuan book, published in Shanghai 1936. The book was compiled from secret Yang Family records that Chen Kung acquired from his teacher, Yang Chengfu. Actually, the true story is that Chen Kung (aka Yearning K. Chen) borrowed the materials from Yang Chengfu and had hired seven transcribers to copy the entire work in one night.
Despite the manner of how Chen Kung acquired these writings, the Tai Chi Chuan world owes him a great debt, for the materials he made available to the public would most likely have remained hidden within the Yang Family, and generations of Tai Chi masters and practitioners would have been sorely deprived of this incredible body of knowledge. My teacher, Master T.T. Liang, always referred to Chen Kung's Tai Chi book as the "Bible of Tai Chi Chuan." Almost every master who wrote about Tai Chi Chuan since then has borrowed greatly from Chen's book.
My teacher constantly had Chen Kung's book on hand when teaching. It contains the entire system of learning and training of Tai Chi Chuan, from Tai Chi Qigong, meditation, the solo form and its applications, to in-depth explanations of the intrinsic energies, the two-person practices of San Shou (Dispersing Hands), Da Lu (Greater Pulling Back), and Tui Shou (Sensing Hands, popularly called Pushing Hands). It also covers the Tai Chi weapon practices of sword, saber, and staff, along with histories of important figures in the Yang Family lineage, and the classic literature of Tai Chi Chuan itself. This is truly one of the most important works ever published on Tai Chi Chuan.
Master Liang had requested of me to translate the entire work so it could be made available to all Western practitioners of Tai Chi Chuan. Since that time I have managed to translate
five
 of the
seven volumes
to complete the series.
We only have two books left in the series, so I am asking for help to raise enough to finish the next in line: 
Tai Ji San Shou & Da Lu: Mastering the Two-Person Application Skills, vol. 5.
It's not only important to the Tai Chi community to see this work fully presented in English, but I personally want to fulfill my promise to Master Liang, and also to help the descendants of Chen Kung.
A few years ago I spoke to Chen's grandson, Donald Chen, who told me that his father (the son of Chen Kung) who is living in Shanghai is hoping to make available a never-before-published work of Chen Kung's, titled
The Mechanism of Tai Chi Chuan.
Donations for helping me complete my series will also go to funding Chen Kung's family so they can complete their work as well.
I believe that having this entire work made available in English will be a major contribution to all present and future practitioners of Tai Chi Chuan, so please help if you can to preserve this incredible work. By first getting it into English, the series will then eventually spread into other foreign languages well. Portions of my works have already been translated and published into Spanish and German, and I wish to ensure that the entire series is published in several foreign languages for the betterment of Tai Chi Chuan worldwide.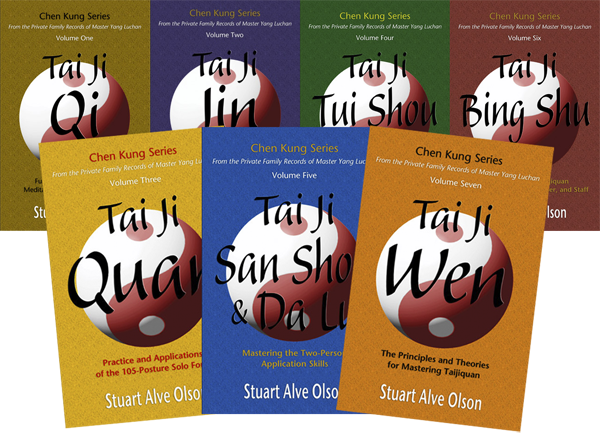 About the Books
I started translating the materials in 1982, and have since been able to complete four of the seven volumes in the Chen Kung Series:
1)
Tai Ji Qi: Fundamentals of Qigong, Meditation, and Internal Alchemy, vol. 1.
2)
Tai Ji Jin: Discourses on Intrinsic Energies for Mastery of Self-Defense Skills, vol. 2.
3)
Tai Ji Tui Shou: Mastering the Eight Styles and Four Skills of Sensing Hands, vol. 4.
4)
Tai Ji Bing Shu: Discourses on the Taijiquan Weapon Arts of Sword, Saber, and Staff, vol. 6.
5)
Tai Ji Quan: Practice and Applications of the 105-Posture Solo Form, vol. 3.

The books that need funding include the following:
6)
Tai Ji San Shou & Da Lu: Mastering the Two-Person Application Skills, vol. 5.
7)
Tai Ji Wen: The Principles and Theories for Mastering Taijiquan, vol. 7.


Please watch the attached video for more information on these final three books in the series.
About Me
I am a longtime teacher, translator, and writer on Taoist philosophy, health, and internal arts. In 2006, I formed Valley Spirit Arts with Patrick Gross to present my books and DVDs, and I'm the head teacher at the Sanctuary of Tao in Phoenix, Arizona. For more information about me and my other works, please visit
www.valleyspiritarts.com
.
I want to thank all of you who have kindly read through this proposal and I sincerely appreciate your generosity and support.
Stuart Alve Olson
+ Read More
Be the first to leave a comment on this campaign.