79
18
Help send me to Mexico for HSCT
£9,328
of £50,000 goal
Raised by
119
people in 3 months
As the oldest of four siblings, family was always the centre of my life. When I met my husband Brian 23 years ago, we were little more than children ourselves but we knew we wanted to start a family of our own. It wasn't long before our daughter was born and she became our reason to thrive. Brian worked tirelessly and as soon as I was able, I began my course at college. Things were going well and, despite all the pressures that family life brings, I got my diploma and was even awarded student of the year.
I began working for a city centre bank and, after our son was born, I worked nights so we could make ends meet. Finding a work-life balance was really tough and I suffered terribly from fatigue but I put it down to my working through the night. Both my children have special needs and we always wanted to ensure that they wanted for nothing. If that meant doing the school run and sleeping through the day, only to leave the dinner table for work in the evenings then so be it.
I was over the moon when I got a job, close by with City Building. I helped organise emergency repairs across the city and I loved working with the tradesmen, getting to know them by name and being that friendly voice at the other end of the phone. My new job gave me a flexibility that I'd never had before and I quickly worked my way up to supervisor. Despite feeling permanent pins in needles in my hands, I was sometimes working 50 hour weeks to cover shifts and help deal with seasonal emergencies. It never bothered me because my job was where I felt I belonged.
At first I dismissed the pins in needles in my hands but very quickly it became so severe that it could be ignored no longer. It was thought that I might have carpal tunnel syndrome and I was given splints for my arms to allow me to continue working. This didn't alleviate my symptoms and it wasn't long before I began to notice a difficulty in walking around. The doctor sent me for tests and I tried insoles in my shoes to support me with my journeys to work and back. I was still using public transport at the time but I was so close to passing my driving test and as someone in her early thirties, I was really excited to get out and see the world.
Unfortunately, the feeling in my hands got so bad that, over time, I couldn't grip the wheel the way that I could before. This was the same with anything that I tried to open, be it a jar or a carton. I began to get really concerned and after years of trying to discover what was wrong, I was diagnosed with Relapsing-Remitting MS (RRMS). I was devastated but determined that it would not prevent me from getting on with my life. At 33 years of age and with a young family, I wasn't going to let this disease beat me.
I trialled different types of medication and continued to work all the while. This became more and more difficult as I went into a swift decline. In little more than a year, I went from full mobility to walking with aids. My work accommodated me as best they could and adapted my workspace to make me as comfortable as possible but dealing with the mental toll of losing so much was almost as difficult as the physical one. I carried on regardless, clinging onto the hope that I could push the disease into remission.
My decline refused to slow down. Before long I had to rely on a wheelchair to move from place to place. I had to take more and more time off work as the effects of each new drug took its toll on me, without any positive results. I finally had to retire from my work and this was an almighty blow. I had lost my job, my freedom and I was terrified of losing my future. At my darkest of times it was my husband Brian and my two kids that guided me through and held my hand through the drug trials and the month long rehab sessions in hospital.
It was at that time that I was told that I had Progressive-Relapsing MS. This meant that my body would not be able to recover any movement that had been lost on its own and I was told to come off the medication for RRMS. This is only diagnosed to 5% of the MS population and there is no traditional treatment. By this time I had lost my ability to perform my own personal care and I now have to use hoists so that I can move out of my bed. I have been house bound for long periods of time and at 39 years of age it's an indescribable feeling to watch the world pass you by and to have so little control over even the small things in life.
It was at the time of so little hope that I was made aware of HSCT. This is a system reboot and its target is to stop the disease completely in its tracks. Many countries have been using the treatment for a long time but in the UK, it is still at the clinical trial stage. Clinics go by your EDSS score between 0-10 with each step showing an increased level of disability. 0 = minimal and 10 = death, I'm at 8 and will soon be no longer eligible for treatment. The UK are only accepting sufferers at the lower end of the scale but there are more established clinics around the world that are willing to accept level 8. I'm 39 and not willing to give up without a fight.
Any support that you could give me and my family would be quite literally life changing. Please help me stop this disease in its tracks.
Carol Scarry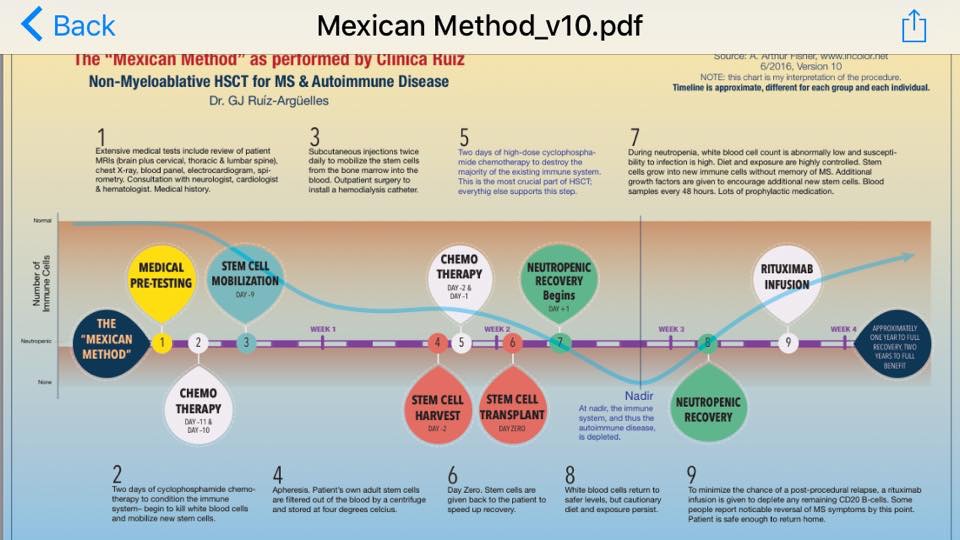 + Read More