1st Bodyweight-Only Fitness Center!
$4,165
of $32,000 goal
Raised by
25
people in 50 months
What if there was an alternative to the standard, over-crowded, intimidating and un-guided gym?
My name is Matt, and
my passion is fitness
.
Though I love all kinds of physical activity and nutrition knowledge, my real specialty is bodyweight fitness (a.k.a. Calisthenics or Street Workout).
I started my fitness journey in the gym lifting weights, but when I discovered the amazing workouts known as
Calisthenics
, it was like starting over.  After the past several years, it had become a major part of my life, and I was ready to share what I had learned with everyone!
I started small; over a year ago it was just a local group of a few calisthenics enthusiasts like myself and we had ourselves a regular Saturday workout.  Today the interest has grown to
over 100 group members
, a huge following on social media and 4-5 workouts per week.  We are called:
Calisthenics Revolution
So, what's next?  Well, the plan has come together and I am ready to open our very first gym location to offer our unique skills and amazing fitness style to everyone. 
All that's left is funding, and that's where I need your help!
"Calisthenics is much more than aerobics blocks and jumping jacks - it has taken on a new form in street and bar workouts. No more weight machines and no more treadmills. Following in the footsteps of the world's greatest athletes, Calisthenics Revolution (CR) has developed bodyweight exercise programs designed to unleash the body's maximum potential. Group workouts, weight loss, personal training, open gym, yoga movement and other classes form the basis of the program. Truly holistic benefits include: strength, power, coordination, balance, joint health, physique, weight health and mobility. CR's state-of-the-art, bodyweight-specific facility is designed to capitalize on those benefits. The gym's retail offerings will further enhance the program with supplements, workout gear and equipment, nutrition and other services.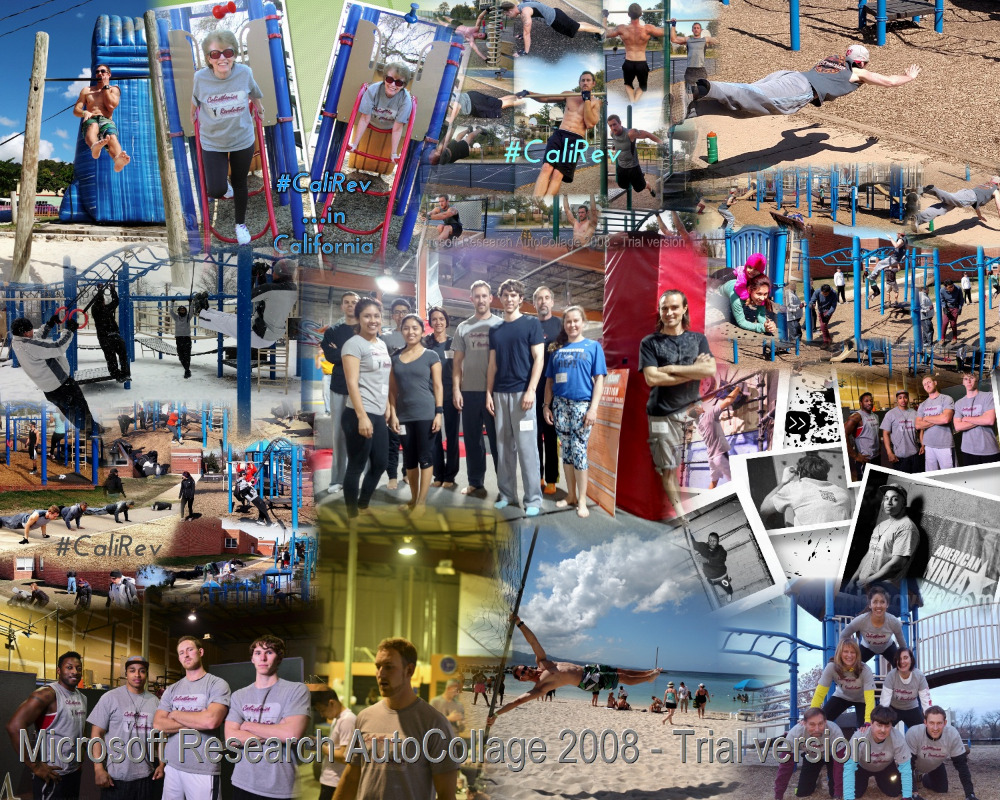 Calisthenics Revolution: the holistic approach to fitness!"
We need a small amount to open our very first location, but that contribution will serve so much more!  It gives people the opportunity to learn the techniques and exercise in the way humans were meant to - by moving our bodies!  True functionality, raw physical strength and amazing control over our bodies are what we do (
check us out on YouTube
).  But it's something that nearly
anyone is capable of
!
I wish that someone had offered what I (and many others like me) had to learn through trial and error when I first started.  That is now a reality thanks to our local group, but we have the potential to make this so much more with the right funding!
Please join us in support of this incredible movement and help our first fitness center come to life!  All contributors are welcome to a free session once we have opened, as a special thanks.
Here's a breakdown of what your funds will support:
- Pre-Operation Equipment Purchases ($15,000)
- Pre-Op Legal Fees ($2,000)
- Fitness Center Buildout ($15,000)
- Utilities, Supplies, Etc. ($Any Overage)
If you believe in fitness then this is the place to start - please show your support by contributing here! 
We thank you sincerely for anything you can spare!  :)
+ Read More
Be the first to leave a comment on this campaign.