136
8
C. W. Henry LaunchPad
$12,807
of $12,500 goal
Raised by
92
people in 27 months
This is the GoFundMe for fundraising
C. W. Henry's Multimedia Library Center: The LaunchPad
. 
Imagine an engaging, comfortable space where students and teachers come together to learn, explore, investigate and discover…a space where students are information producers, not just consumers…  
 As you enter the LaunchPad, our Multimedia Library Center, you may see some students creating imovies on desktop computers while others curl up on cozy chairs, lost in the pages of a favorite book. At the Makerspace, budding engineers use paper circuits to design greeting cards that light up!
 In order to transform our Computer Lab into a 21st century Multimedia Library Center, we need high quality fiction and non-fiction texts, a library management system, mobile bookshelves, comfortable seating, and MakerSpace supplies.
 Appropriate library systems and technology will enable our students to check out books, conduct thoughtful and informed research, and improve their media literacy skills. Our MakerSpace will foster innovation without the fear of failure. We believe these opportunities will improve reading levels and test scores, develop technological skills, and instill a lifelong passion for reading.
Each dollar donated to this GoFundMe page will be matched by The Neubauer Foundation
and will go towards making The LaunchPad a success for every student. Funds raised before November 30, 2017 will be matched by the grant.
Donation Levels: -All donors
will have their name inscribed on a plaque in the Launch Pad.
-$100 level donors
will also have a book inscribed with their name in our Launch Pad.
-$200 level donors
will receive a handwritten thank you note from a student as well as the book.
-$300 level donors
will have a piece of furniture dedicated to acknowledging their donation in addition to the above.
-$400 level donors
will receive 2 tickets to our highly acclaimed school musical and a framed signed playbill poster from the cast.  A picture of you and the cast will hang in the LaunchPad in addition to the above.
-$500- above level donors
will be invited to a luncheon to personally acknowledge their contribution in addition to the above.
-$12,500 level donor(s)
- The Launch Pad will be renamed as The (your family/organization name) Launch Pad. 
Here is what our
current space
looks like : 
And here are some
examples
of changes we would like to make in order to have a space that includes books, a check-out system, flexible seating, research opportunities, and a makerspace: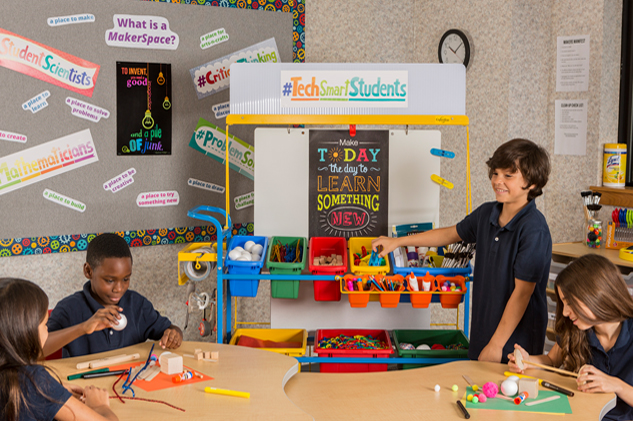 + Read More
Update 2
20 months ago
Share
HOLY COW! You are all amazing human beings. Our school community is over the moon with how generous and supportive you all have been!

From everyone at Charles W. Henry School:
THANK YOU!

We have exceeded our matching grant goal, and we are still seeing some donations come in! Thank you again for your support, donation, and overall belief that our students deserve the best!

Donations to the School District of Philadelphia are tax deductible under IRS Code Sec. 170(c)(1).

Thank you again so very much for your kindness!
+ Read More
Update 1
23 months ago
Share
Wow! Thank you so much for all of your support thus far! Each donation gets us more and more excited to see our Launch Pad project come to life! As a thank you, we have added some gifts for our contributors! Please see the description of our project for donor gift levels.!
+ Read More
Read a Previous Update