76
7
CNEC's Beloved Therapy Dog
$3,150
of $3,000 goal
Raised by
74
people in 8 months
The Bronco Foundation recognizes, more than ever, that achieving mental health and well-being is paramount in our schools.  We are seeking your help to pay for the insurance, licensing and care of Owen, CNEC's  beloved therapy dog.   He is in his second year with us, and we hope to keep him until he retires and lets his little brother Charlie take over.  

Owen comes to work everyday with his owner, Claire Steinbronn, a Granite Ridge AB teacher.   Many students will tell you that Owen is one of the best things about our school, and we know how lucky we are to have him.  Thanks to Ms. Steinbronn, he  is so much more than just a dog - he brings joy, comfort, friendship, and understanding  to countless students every single day and makes our campus a happier place be.

Having a therapy dog at a school has numerous social benefits.  A visit with Owen opens the door to many class discussions, promotes greater self-esteem, and makes even the shyest kids interact with others.  You can see the immediate joy Owen brings to the many children and staff that he works with each day.  
 All of our teachers and staff members know that Owen is available to them at any time, which has resulted in Owen working with a wide range of students, including those with learning disabilities, autism, Down Syndrome, and students who are blind.   Last year, a special needs student hid under the chairs in the front office every day, because she didn't want to go to class.  Each day, Owen would go under the chairs and lay with her and get her to come out.  He would then escort her to her class and stay with her until she was comfortable.  We have many other examples where Owen has been the only answer to help a child.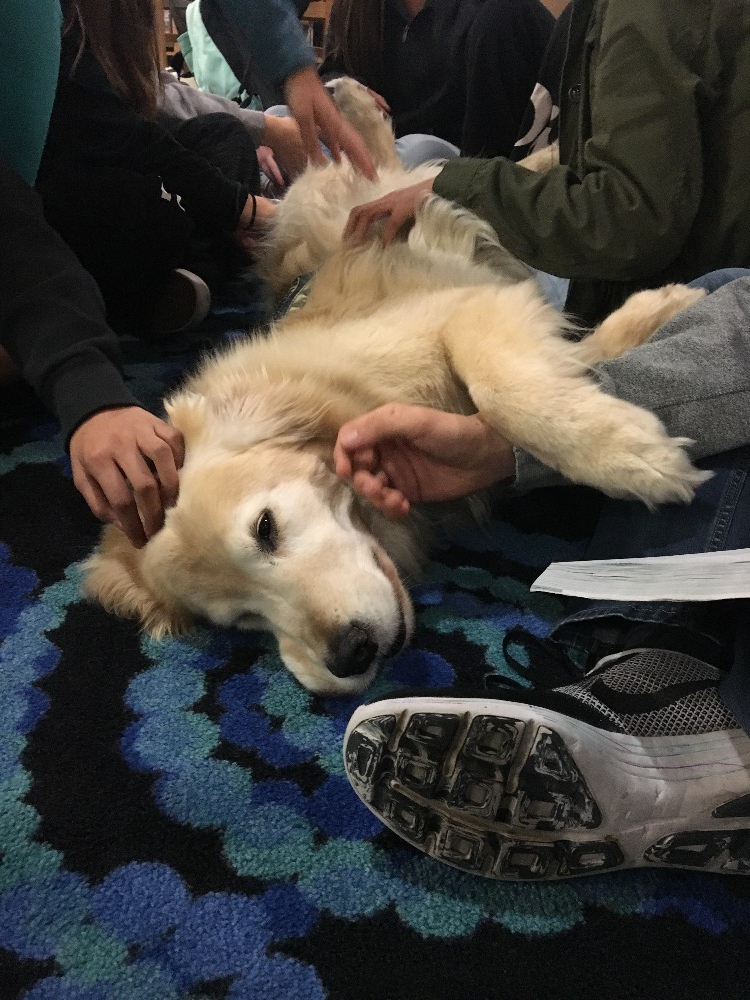 During finals week, Owen spends every morning in the library for students to come and de-stress by petting him.  Our psychology team occasionally employs Owen to help a student through a difficult time.  When CNEC's wrestling coach suddenly passed away, Owen sat in the grieving room for many hours to provide comfort. 
One of Mrs. Steinbronn's students wrote a letter about what Owen means to her:

Our district has recognized the value in therapy dogs but has not yet added the expense to their already extremely taxed budget.   We have been so lucky to have Mrs. Steinbronn donate so much of her own time and money to training and sharing Owen with us,  but that expense should not be falling on this teacher and her young family.  The purpose of this GoFundMe campaign is to help alleviate the costs associated with bringing Owen to CNEC everyday, including:  (1)  liability insurance required by the district ($950 annually);  (2)  health insurance, because Owen is more susceptible to illness and injury being on campus everyday; (3)  monthly grooming to keep him soft, beautiful, and bug-free at all times; (4) licensing costs; and (5) other incidentals.  
To enjoy more wonderful photos of Owen in action, please watch his slideshow
HERE
,
 and feel free to follow him on Instagram  @thegoldenowen!  
Thank you in advance for your tax deductible support!
The Bronco Foundation
+ Read More
Update 2
8 months ago
Share
The Bronco Foundation wishes to sincerely thank all of our generous donors and those who helped spread the word about Owen. We can't believe we reached our goal so quickly! Our CNEC community is a better place because of all of you - and Owen! His owner is also extremely appreciative; please read her note of thanks:

Dear Bronco Family

I wanted to thank you from the bottom of my heart for all of your kind words and donations you have made to support Owen. I am blown away by the amount of love and generosity that you have shown in the last few days. I already feel so blessed that I get to be a teacher at CNEC and having Owen by my side makes my job even more spectacular. Watching him interact with the staff and students is the highlight of my day. Seeing the joy he brings to each person he meets is something that melts my heart every moment. Thanks to your amazing generosity, I can continue having Owen on campus and be with him as he spreads joy to each person he meets. Thank you again for your amazing support.

Sincerely,
Claire Steinbronn
+ Read More
Update 1
8 months ago
Share
Read a Previous Update