Hey Let's Buy Neverland Ranch!
$495
of $75.0M goal
Raised by
16
people in 52 months
So it looks like Michael Jackson's incredible Neverland Ranch in gorgeous Los Olivos, California is soon going up on the auction block.... 

LET'S BUY IT! Seriously, I mean, let's freakin' buy it! And in doing so we can SAVE NEVERLAND from the terrible fate that will inevitably befall the place if someone much worse than us buys it! Let's leave that 9 to 5 upon the shelf and live it OFF THE WALL! At Neverland Ranch!

You can moonscroll straight down to the exciting "Reward Levels" at the bottom of this page to donate and/or continue reading for more info and photos....

On April 5, 1990 I met Michael Jackson at the White House, when the first President George Bush presented him with the coveted "Entertainer of the Decade" award. I shook Michael Jackson's gloved hand and we looked each other right in the eye. Little did I know that our handshake on this fateful day nearly 25 years ago would forge a permanent bond and seal an unspoken deal that would eventually lead to my owning and caring for Michael's beloved Neverland Ranch, which the King Of Pop himself had acquired only two years earlier! 


When I met Michael Jackson, I was writing an article for SPIN magazine. It was specified that there were to be no personal interviews that day, but as I shook Michael's hand I took a gamble, asking him if he'd be kind enough to provide any words of wisdom for the people out there. He obliged....

"I love you all," he murmured, a crazy twinkle in his eye. 

He loved you all! What better way to celebrate, cherish, and reciprocate that love than to HELP SAVE NEVERLAND RANCH?!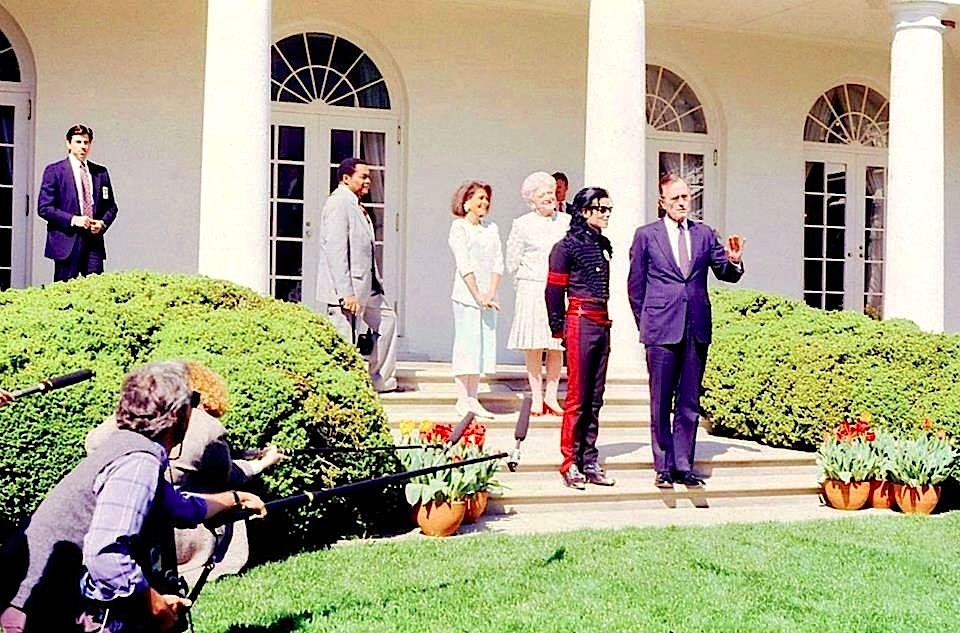 (A photo I took of Michael Jackson and President George Bush in the Rose Garden of the White House, Washington, D.C., 4.5.90)
It's said that Neverland Ranch will sell for around 60 million dollars, but to be safe (and prepare in advance for upkeep and operational costs) let's just go ahead and raise $75,000,000! 


(Michael Jackson waves a gloved goodbye to me in the driveway on the front lawn of the White House, Washington, D.C., 4.5.90)
As you'll see in the "Reward Levels" section below, I am offering many invincible incentives to those who help me buy and save Neverland Ranch! But since these GoFundMe levels only go up to a max of $15,000, there are thousands (millions, actually) of possibilities for you to get more deeply involved! If you seriously want to contribute a substantial sum well above and beyond the reward levels (y'know, we're talkin' 6 or 7 figures here) contact me and we'll discuss such mindblowing and rewarding opportunities as official co-ownership programs and Neverland Ranch "timeshares" and whatnot! The more the merrier!

Note: I slapped this fundraiser page together somewhat quickly when I heard Neverland Ranch was going up for sale, but stay tuned for tons of exciting updates, edits, and embellishments - plus more stories and never-before-seen photos from the day I met Michael Jackson at the White House (as well as the fancy afterparty that night where we wined and dined and Michael spoke to the crowd)! 

I'm giving you
On count of three
To show your stuff
Or let it be....

Well they say the sky's the limit
And to me that's really true
But my friend you have seen nothing
Just wait 'til I get through....

Come on! You know it!

Who's BAD!?!?

COME ON!!!

Let's make HIStory!

______________________________________________
About Me: 


Hi. I'm Mark Blackwell, screenwriter, artist, and co-founder of NYLON, the acclaimed international entertainment and fashion magazine. Previously I was Senior Editor of SPIN and Editorial Director of RAYGUN Publishing (where I helped produce "Raygun,"  "Bikini," a Time Warner music magazine called "huH," MTV Europe's "Blah Blah Blah," and several other cool publications.) My screenwriting credits include Walt Disney's "Max Keeble's Big Move" and the Lindsay Lohan romantic comedy "Just My Luck." I also make art out of jellybeans (my prize-winning jellybean portrait of Elvis Presley hung in Graceland for a while) and I once appeared on "Live with Regis and Kathie Lee" with my award-winning sculpture of Godzilla made entirely out of cheese.
______________________________________________
Disclaimers and Whatnot:
Everything about this fundraiser and its rewards will be subject to all local, state, and federal laws, ordinances, restrictions, etc. known to man, space, time, the world, the United States, California, and Los Olivos. Who knows what raising 75 million dollars and buying Neverland Ranch will entail? Not me! 
In the unlikely event that this fundraiser does not raise the stated goal of $75,000,000 (or if it does and we try to buy the joint, yet someone outbids us...or if Neverland Ranch does not actually go up for sale...or if anything whatsoever goes wrong...etc.) all contributions will go to some other great project (such as the documentary film I'm shooting about an aspiring rap artist in North Carolina who has Asperger Synrome and who wants to make enough money in the music business to have his arms surgically lengthened and/or another at-this-point super secret certain-to-be-a-blockbuster-and-successful-ongoing-franchise movie I'm working on). In any such case, the rewards will of course drastically change, but I promise you'll receive something entirely worthy of whatever level contribution you've made!
When I do purchase Neverland Ranch, the rewards could still possibly change (for the much-better or the slighly-worse) based on all sorts of logistical matters of which I am entirely unaware at this point. For example, in the event that I do not own enough furniture to fill Neverland (I really don't think I do, to be honest) and/or haven't had time to fully furnish it by the time you arrive, you might have to bring along an inflatable mattress or something if your reward is spending the night in Neverland. Hopefully it won't come to that, but either way, you'll STILL be spending the night in freakin' Neverland! The "picnic" might consist of a couple sandwiches from Subway and some Pepsi (there will be few pyrotechnics, by the way, so don't worry about setting your head on fire) OR it could be the most lavish spread of catered delicacies and highbrow beverages you'll ever encounter in your entire life. Some of the rewards are for one person only, y'know, it's all kind of common sense based on what I've offered, plus everything's negotiable on a case by case basis, such as bringing more of your friends to the stellar Neverland Ranchwarming Party, etc. None of the rewards include transportation expenses to California, Los Olivos, or Neverland, but depending on where you live or whatever, we can discuss that. And, of course, if, say, a thousand people contribute enough to spend a night at Neverland, the "booking" of the dates will certainly be a nightmare and will be subject to all kinds of insane scheduling and logistical issues, etc. Also, I am in no way affiliated with the Jackson family and therefore when I, as the new owner of Neverland Ranch, proclaim you to be an "Official Jackson," it is only in the beautiful spirit of Neverland and the memory of Michael Jackson. 
In short: please simply trust that I will do my very best to make all the rewards absolutely positively the most amazing experiences they can possibly be.
______________________________________________
In Summation: 

Hey, let's buy NEVERLAND RANCH!!!
+ Read More