Give the gift of a voice
$1,577
of $21k goal
Raised by
21
people in 22 months
The Gift of Speech
For forty years, I have managed to communicate as best as I can, within the limitations of Cerebral Palsy. My thoughts, ideas and feelings come as quickly as any other person, but they cannot be expressed without effort.
I have never been able to speak.   There are over two million adults in North America who are just like me and cannot speak.  For the first time in my life, I believe this will change!  There is a  possibility to communicate and talk as fluidly as I think.
The Beauty of Bliss symbols....taken to the next level
I am sitting in front of my computer working on many projects. My childhood frustrations of not being able to communicate with the people are gone forever! I learned Bliss. Now, I am fully literate able to communicate with the help of my tablet.
Over the years other communication systems developed, but they support only basic communication for the non-speakers. The picture based systems are inconsistent without uniform standards for their images. Picture based systems do not offer verbs or nouns. they just use words, making the actions we describe using the these devices very limited. For non-speakers to communicate, we select basic pictures with words attached or type every letter of the words we want to share. Bliss allows us to form sentences as English speakers do, but Bliss is flexible because regardless of the Natural language or country where the non-speaker lives, the symbols will fit French, Spanish, German almost any language spoken structure. The non-speaker can form complex sentences and express ideas clearly and more accurately.
The Software we are calling TalkToo
The changes in technology has given me an opportunity to take Bliss symbols and turn them into a tool that will allow non-speakers to communicate faster. A symbol represents a word. Instead of typing all the letters of the word, I can select a symbol. If the symbol is not there, I can combine things together to make new 'words'. To make it really easy to understand; Bliss symbols are like sign language, visual and easy to use. One click and I can have the word 'acceptance' rather than pressing ten keys to spell the word.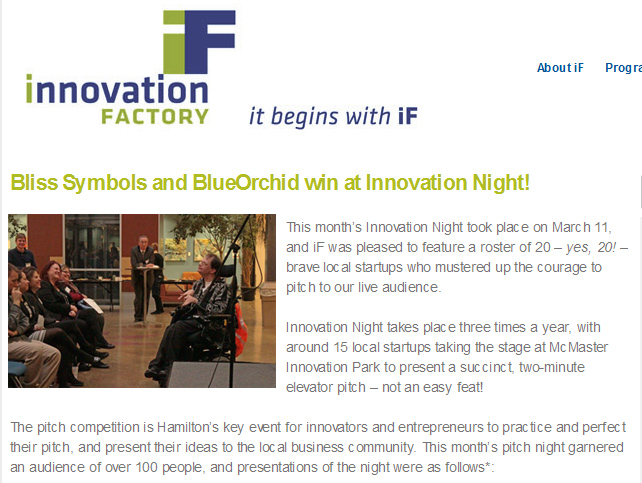 Innovation Factory's version of Dragon's Den/Shark Tank where Paul won for best presentation March 2015
A project has started to take the symbol language that I know and turn it into an actual talking interface, a text-to-speech software, but from the symbols. We are developing a very exciting piece of software that is 'cloud' based and customize to the end users. The software will have many "rungs" to it, allowing the user to learn, communicate and flourish in a speaking world.
Bliss TalkToo will deliver a range from:
         ■  Basic ability to communicate
         ■  Natural voice and personal speech expression
         ■  Interactive dialogue
         ■ Translate Blissymbols to many languages,
              allowing for translations from the spoken
              language to Blissymbols
         ■  Integrate into email and text messaging.
A Bliss user will write in Blissymbols and hit send, then  you, the recipient will see text in your natural language. When you respond, the Bliss user will have incoming mail displayed in Blisssymbols with the words attached.
You will not need to know Bliss, the software will translate it automatically.
It will be built with a translation ability, so when in Rome, Bliss can speak Italian.
TalkToo will be Free to the World
Our goal is to get this software finished. The people that have been helping on the project have been volunteering, but now it is time to start paying for the computer programmers. We want to raise the money here so we can give the program away to users. The most important thing is to get non-speakers talking. We want to give them the tools to make that happen.
The software will be given away to anyone, regardless of the cause of the speech loss, income or location. Any profits that can be made from add-on services will go back into developing the software  and donated back to the CP charity.
We will be on cell phones, tablets, laptops and desktops. Your help will ensure that we can get to the goal of making this available for anyone who needs it.
Exceeding the Goal
We know how much it will cost to get this round of the software done. If we can raise more than the goal, then we can start working on the list of items that will add even more value. One of those is a predicative keyboard. It sounds easy but this is not like your cell phone, we need to match symbols to words and then back to symbols, all in nano seconds. This will be the first thing we add in when we exceed the goal.
The more we raise, the more we can return back to the community. Additional training for users, new languages, special services and bonus functions are possible if we exceed. I will not say our list is endless, but the opportunities are still being understood.
I believe that communication should be viewed as a ladder, where each rung brings higher level of independent communication.
Our Team
I am Paul Marshall, the PM of PMG Software Solutions. PMG Software & Solutions. I have been involved in the Bliss and AAC communities for more than thirty years. I studied computers and programming at university and I am very excited about this opportunity to bring this software to my communities and beyond. I know first-hand how this can change a person's life.
My Facebook page
Article: 
Globe and Mail, June 2013
On the other side, I am Michael Greene, the MG of PMG Software & Solutions. I met Paul two years ago and marveled at the energy and determination he had to find a solution to the problems he faced with the computer. I come from a business background with an understanding of computers and project management.
Currently we have two programmers working with us, one in Mountainview California and one in Toronto Ontario. We plan to add two more to the team to complete the first round build.
Help Us Give the Gift of a Voice
Everyday more adults are added to the growing numbers of non-speakers. Strokes or car accidents, there are over forty different causes why we lose our ability to speak. We cannot fix the causes, but we  can all help. 
The difference  between success and failure is silence. 
Please support us in our project.  Funds collected are in U.S. dollars.
+ Read More