22
12
Bike for Bakhita Girls
€625
of €2,000 goal
Raised by
21
people in 19 months
Dear DIS Community, Family & Friends, 
Over the last 10 years and as a keen cyclist, I have wanted to cycle from Dresden to my former home, Vienna. As a result of several factors, not least my ageing body and several injuries, I have yet to complete this journey. At our recent Africa night, I shared with the community my intention to complete this bike tour in July 2017, to celebrate 10-years at DIS, as well raise some money for the Bakhita Girls. Paula Zimmermann the co-director and alumni of DIS presented information about the Bakhita Girls project, as well as their present goal to build a community room in Tanzania. 
"Bakhita Girls" is a nonprofit organisation in Ifakara in central Tanzania, devoted to the empowerment of young women through the provision of education. 
Bakhita Girls Webpage
Bakhita Girls project seeks to give underprivileged girls and particularly young mothers within the community access to a good education while strengthening existing, locally-owned educational institutions and schools. The scholarship programme includes 39 girls; two of them have already completed the secondary school and are currently studying in university.
Bakhita Girls project is planning the build of a community centre in Ifakara to create a place which can function as the central port of call for our Bakhita girls, but also as a place to go for girls and women of all ages from Ifakara.  
So this is where I need your help. My intention is to Bike for the Bakhita Girls from the Frauenkirche, Dresden, to St. Stephan's Cathedral at the heart of Vienna. 
The journey I have planned is approximately 760km, which I will attempt to complete in 7-days. I have started my training plan and trying to get fit enough to deal with the 100km+ on a daily basis. I would ask that the DIS community, family and friends sponsors/support me with this tour. All donations will go towards the costs of the community centre for the Bakhita Girls. My overall goal is to get sponsored €2/km, therefore aiming to raise a total of €1520. 
I have created a Facebook site for you to follow my progress and would ask you donate any amount, big or small. Donations can also be made in cash at the school's reception. 
Bike for Bakhita Girls - Facebook Site
Bike for Bakhita Girls Facebook Site
I will post updates of my training schedule and donations as the start date approaches. I will depart on Saturday, July 1st and hopefully arrive in Vienna on Friday, July 7th. I will post on a daily basis to this Facebook page so my progress can be tracked. 
Below are the links to the Bike for Bakhita Girls Paypal and gofundme sites I have created. Using PayPal incurs no costs, so 100% of the donation will go to Bakhita Girls. The gofundme site incurs some small cost. 
Unfortunately, I am unable to issue a tax deductible receipt for any donations. 
PayPal site for donations
Link to gofundme.com/Bike- for-Bakhita-Girls-Fundraiser
Thank you, for your support! 
Steve Ellis
Please view the tour below:  
Complete Route:
Day 1
Day 2
Day 3
Day 4
Day 5
Day 6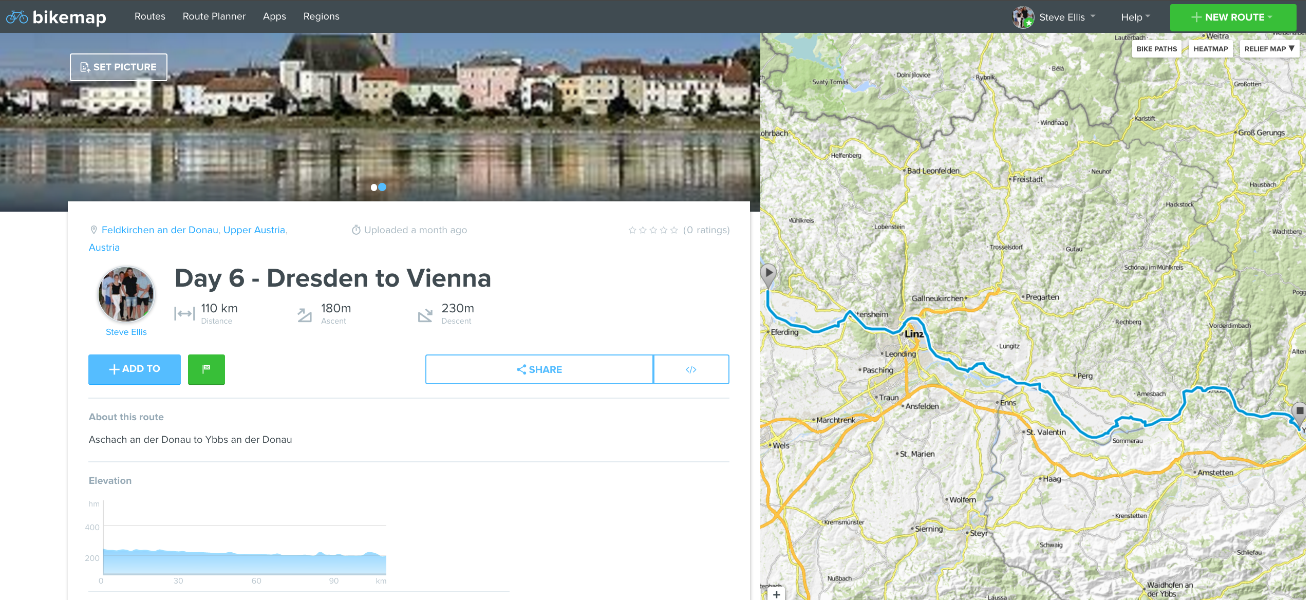 Day 7
+ Read More